A Resilient Duplex for Fort Severn First Nation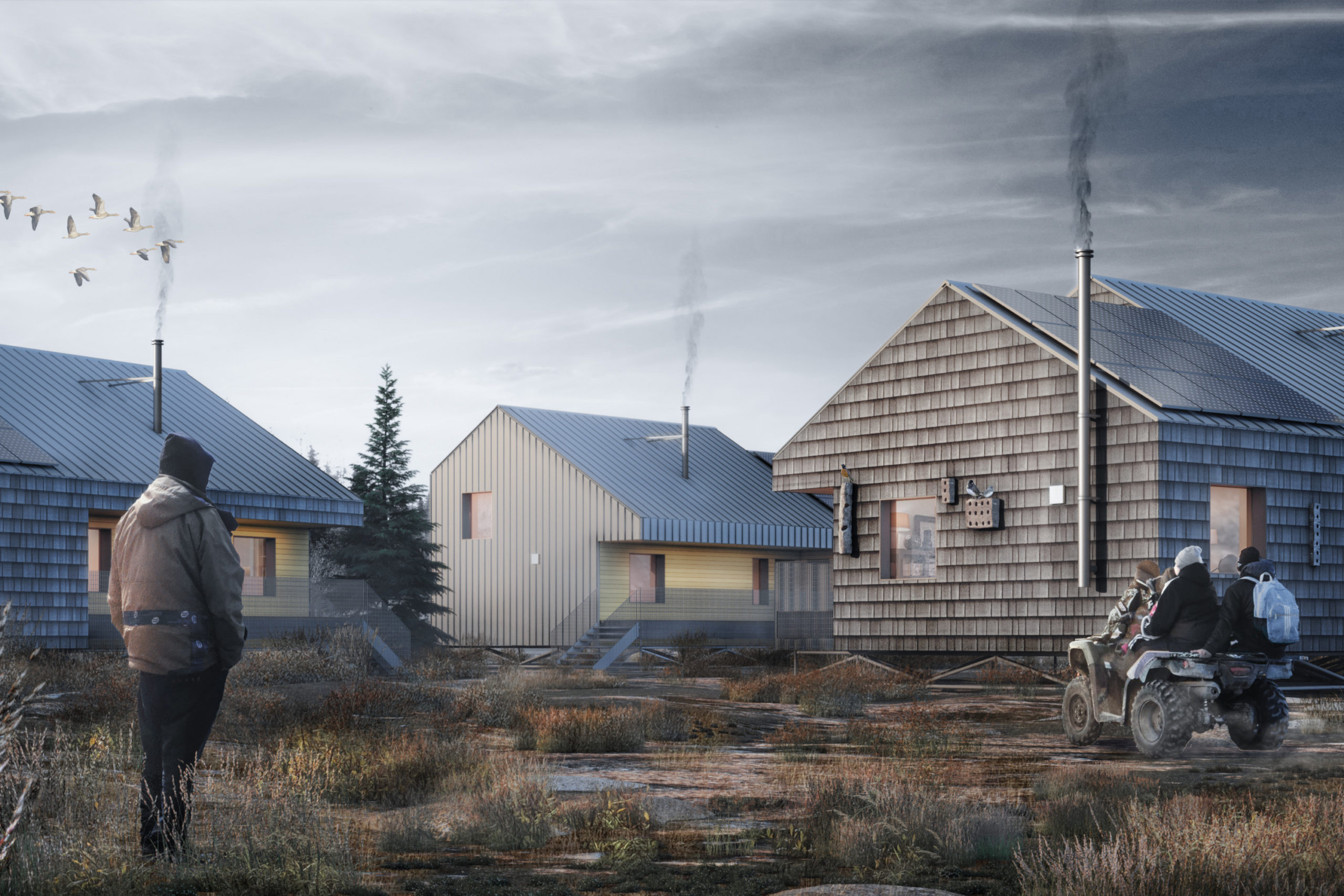 Location

Fort Severn, Ontario

Client

National Research Council of Canada / Fort Severn First Nation

Architects

Two Row Architect and KPMB Architects

Completion

2020

Project type

Residential
View full project credits
In 2019, Two Row Architect and KPMB were invited to participate in the National Research Council's Path to Healthy Homes program, which aims to produce a best-practices manual for architects and engineers working with Indigenous communities, who are in desperate need of affordable, resilient, culturally appropriate housing. According to the 2016 census, 25 percent of First Nations people live in overcrowded housing, and 20 percent of the Indigenous population lives in homes that need major repairs. The Assembly of First Nations estimates that by 2031, Indigenous communities will need to build over 130,000 new housing units and renovate 20,000 more.
The Two Row / KPMB team was paired with Fort Severn First Nation, the northernmost community in Ontario. The team worked closely with band leaders and community members to develop a housing typology that would help elders live independently in the community for longer, while also providing units for young families, who often end up living in overcrowded conditions with parents and siblings for lack of other options. The duplex uses stick-frame construction techniques that are familiar to the crews working in the community today, and upgrades the envelope using principles inspired by the Passive House movement. The result is a durable, easily transportable construction system that can be adapted into a variety of unit configurations depending on the evolving needs of the community.
A holistic, collaborative design process
In June and September 2019, members of the project team made two week-long trips to Fort Severn to conduct an existing conditions assessment and a series of community engagement sessions. This included meetings with band leaders, site visits to housing units currently under construction, and a multi-generational community workshop in which we asked Fort Severn residents of all ages to describe what they love about their community, the challenges they face with their current homes, and how new housing could better meet their needs and aspirations. This community engagement process was the key input that determined the project team's needs assessment and design strategies.
Design strategies
Support a resilient community
The Resilient Duplex is an iteration of a housing system designed to be adaptable to a variety of contexts and needs. With elders and young families identified as the groups that are most in need of housing, the Resilient Duplex imagines a configuration that allows those two groups to live as neighbours and support each other. A single-storey accessible elder's apartment (which could also accommodate a single person or a couple without children) is attached to a two-bedroom unit with a flexible loft. The two units share an entry porch, encouraging interaction between neighbours.
Connect to the land
Rather than continuing to organize the community into rows of individual street-facing lots, the Resilient Duplex site plan proposes two six-unit clusters connected by a network of raised walkways. Each cluster shares a driveway and an accessible ramp for residents with mobility challenges. The clusters are configured to keep parking and outdoor workspace at the edges of the site, while allowing the natural landscape to flow through a central communal courtyard. The goal is for every unit to have a view out onto this natural landscape, to connect residents more to the land and landscape while at home.
Acknowledge the elements and the seasons
Many Fort Severn residents expressed a desire to live in homes that felt more connected to the daily and yearly rhythms of their location. In Fort Severn, the temperature rises above freezing only from April to October, and in the winter the community gets only a few hours of sunlight per day. The design of the Resilient Duplex orients the building to the south so that the living space can benefit from natural light and passive solar heating, while bedrooms occupy the darker northern exposure. The orientation of proposed clusters is calibrated to the prevailing wind direction, to minimize snow drift buildup in winter and channel cool summer breezes through the communal outdoor spaces.
Build for extreme climates and remote logistics
Some of the biggest housing challenges facing northern communities stem from the extreme climate and the logistics of transporting materials to remote locations. Fort Severn is a fly-in community; construction materials are shipped only once or twice a year, by ship or ice road. The temperature rises above freezing only from April to October, and in the winter the community gets only a few hours of sunlight per day. The Resilient Duplex's engineered stick-frame envelope, inspired by the principles of the Passive House movement, is designed to combine high energy performance with ease of construction and maintenance. A light-weight space frame foundation eliminates the need for concrete and can be hand-adjusted as the ground shifts.
Design for seven generations
For too long, northern communities like Fort Severn have had low-cost, short-term solutions imposed upon them. By contrast, the Resilient Duplex is designed to be used for seven generations. Its design strategies all work together to achieve long-term technical performance (using simple, durable, low-maintenance assemblies); long-term cultural relevance (including flexible layouts that can be reconfigured to accommodate changing community needs); and long-term affordability (investing in a building that will last, instead of chasing the lowest construction cost).
For more information on the project, click here to view the full research book produced for the National Research Council.