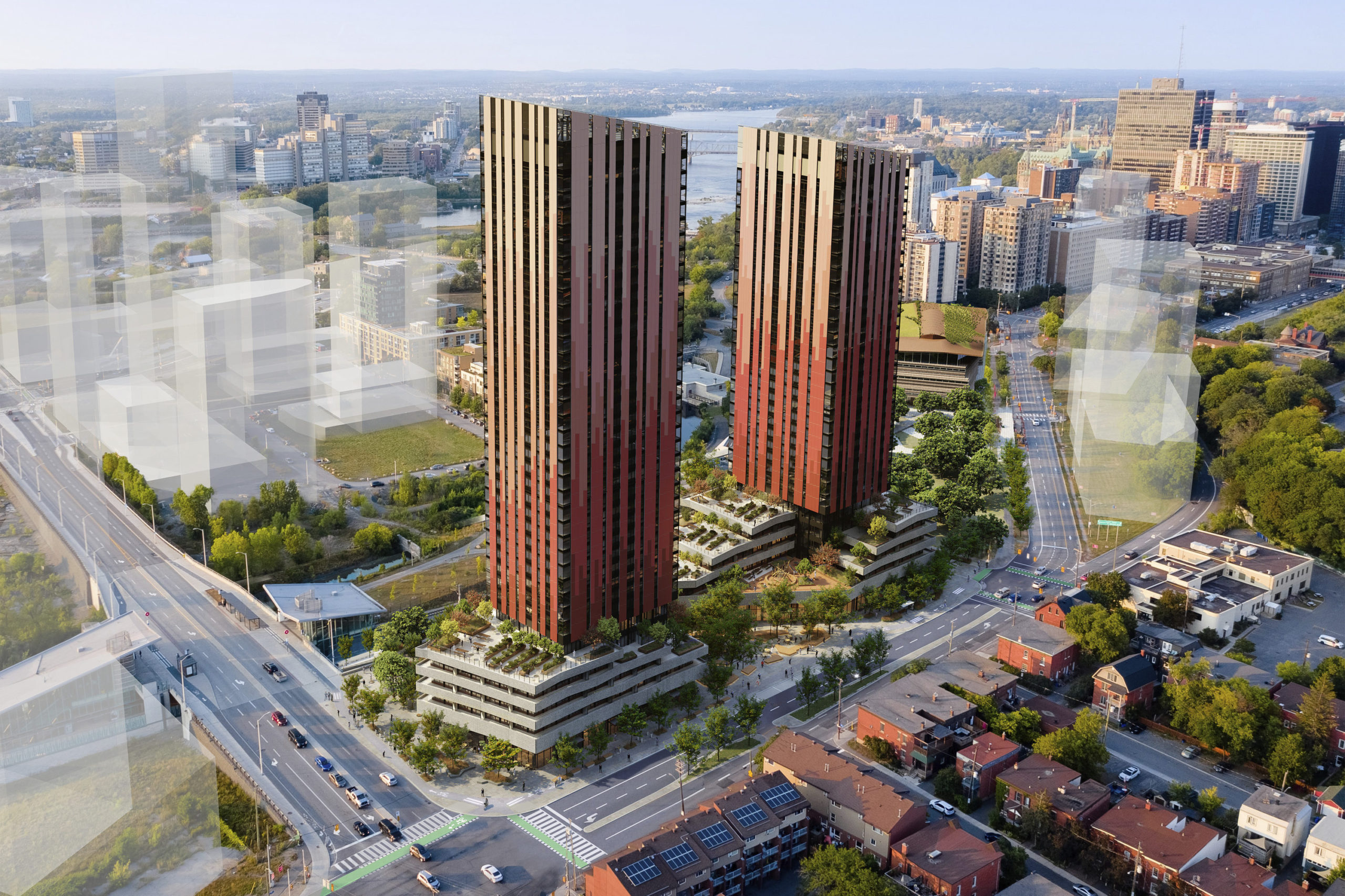 Location

Ottawa, Ontario

Client

Dream LeBreton

Architects

KPMB Architects and Perkins & Will, supported by Two Row Architect and Purpose Building

Completion

2026

Size

1,200,000 ft² / 111,484 m²

Project type

Mixed-use, Residential
View full project credits
Creating an Integrated Community in LeBreton Flats
LeBreton Flats Library Parcel, designed in joint venture with  Perkins&Will, with support from Two Row Architect and Purpose Building, is the first major housing development in Ottawa built for a post-pandemic world — a world in which the deep connections between sustainability and social equity have never been more apparent. Other collaborators include PFS Studio as landscape architect, EllisDon as construction manager, and Innovation Seven as the project's Indigenous engagement consultant. 
Building Affordable Housing
Founded on key partnerships to make affordable housing goals attainable, the project will also respond to the critical need for affordable housing with 600 new rental units and 41% designated as affordable housing.
"For this project, we've designed an environment that is sensitive to the contexts of the growing neighbourhood and ultimately, supports the social and economic well-being of the people who will call this home," said KPMB partner, Bruno Weber. "It is critical that we respond to the housing affordability crisis and do so with empathy, compassion, and hope." 
The affordable design strategy for the project proudly includes a partnership with Multifaith Housing Initiative (MHI) that will support the organization in providing affordable units to groups that typically face barriers to adequate housing, including Indigenous peoples, veterans, newcomers, adults with cognitive disabilities, and women and children. 
Prioritizing Sustainability
Set to be one of Canada's largest residential zero-carbon projects and designed to LEED Gold Standards, the development will employ climate-responsive strategies throughout its design. A high-performance building envelope and orientation will modulate solar exposure and minimize energy consumption. And the integration of trees and other plants will remove carbon dioxide from the environment, mitigate climate change and promote sustainable lifestyles.  
Bruce Kuwabara, founding partner, remarks, sustainability is essential to creating "a connected and integrated future" and LeBreton Flats Library Parcel is primed to be "one of the most environmentally conscious, inclusive communities in Canada." 
Fostering Community
Located in a transit-oriented community near the Ottawa River and next to the City's new Central Library and supportive public amenities, the development will provide future residents with a meaningfully integrated community. Residents will have access to shared spaces such as gardens, a fitness centre, and a day care centre, creating multiple opportunities for people to interact, forming real time social networks, and nurturing a comprehensive community by design. 
Honouring Indigenous History & Identity
The development site has been home to and visited by Indigenous people for thousands of years, including the Algonquin people who travelled on the Ottawa River, and the Huron, Odawa, Ojibwa, and Iroquois peoples. In collaboration with Indigenous architects, Two Row Architect and consultants Innovation Seven, the design for LeBreton Flats Library Parcel will honour the site's identity as a place of connection and community. The gathering place situated between the development's two towers pays tribute to Indigenous ideas of connectivity and will be used as a central social space for residents and visitors. The cladding on the building's podium mirrors the Gatineau Hills in autumn, and the building's façade aims to respond to the historic landscape and pay homage to the Algonquin people and the typology of the land.