40-44 Broadway Avenue / St. Monica's Roman Catholic Church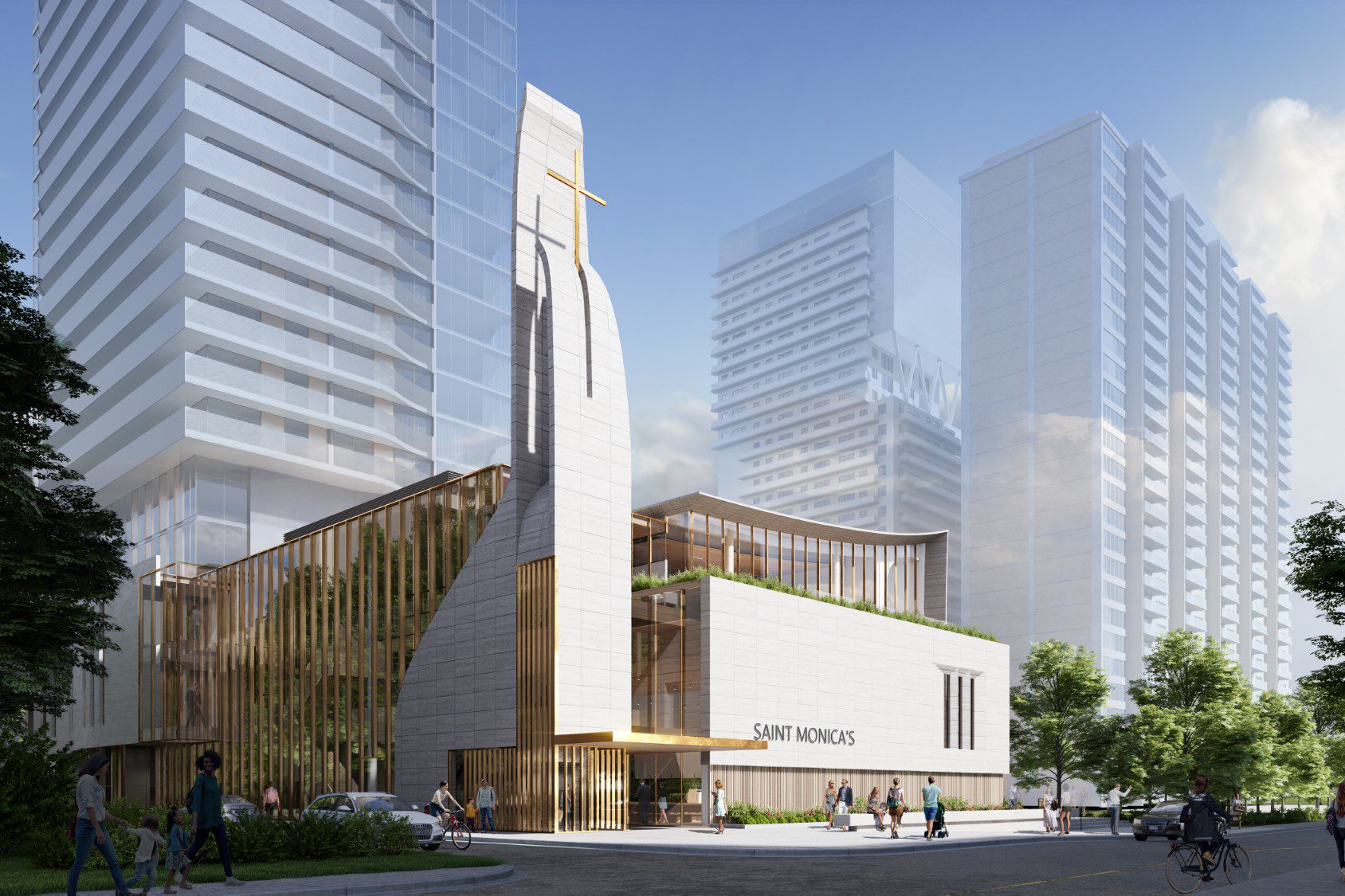 Location

Toronto, Ontario

Client

Collecdev

Completion

TBD

Size

Place of Worship: 30,300 ft² / 2,800 m²; Residential: 396,550 ft² / 36,840 m²

Project type

Place of Worship, Residential
View full project credits
A light-filled beacon of modern faith and inclusion
In rapidly transforming Midtown Toronto, the intersection of Broadway Avenue and Yonge Street is among the many zones undergoing incredible change. A neighbourhood abundant with single-family homes, it is seeing the addition of more high-density, mixed-use residential communities offering greater access and diversity to growing locales. In this context, St. Monica's small footprint needs to stand on its own as a strong expression of faith for the increasing number of parishioners. Through the majestic steeple and eye-catching curved roof, the church captures that expression – small but mighty.
KPMB drew from our previous experience with worship spaces to create distinct and scared experiences set within the Narthex, the Parish Hall, the steeple, and the program elements of this congregation. Designing a welcoming journey from sidewalk to pew was of critical importance. In its new configuration, the church will be set back from the sidewalk to create a plaza that connects to the community, a gesture of city building that aligns with the city's recommendation for midtown streets.
The interior of the worship space is a private sanctuary, protected from the city life of the street and lending privacy to the worshipers. Openings provide natural light, which is both symbolically and atmospherically significant. The entire congregation sits beneath a distinct roof, a design that was inspired by the veil worn by Saint Monica. Residents above will look down onto it. The steeple was inspired by the form of two hands delicately holding a cross. A symbol for the community, the steeple visibly represents the faith of the congregation, and creates a public identity on the street. It reaches to the sky as a sacred beacon and brings balance to the residential tower.
Sensitive to community concerns, the residential tower will be set back to the north, allowing the church to provide a more human-scale transition from the street and maintain a welcoming streetscape. The organic façade of the residential building establishes a relationship with the Church, drawing on the softly curved lines of the rooftop and existing in balance with the vertical steeple. Materially, both buildings draw from the same source, expressing warmth, quality, and timelessness as illustrated through use of wood and limestone. At the same time, both environments will have unique personalities, striking a balance between distinct character and common ground.
At 40-44 Broadway, all passers-by – be they parishioners, residents or visitors – will experience how the Church's presence enriches the daily experience of this neighbourhood. Liveable cities are built on the accessibility and diversity of their institutions, and that is what we seek to create here.