Bruce Kuwabara delivers the annual George Baird lecture at the University of Toronto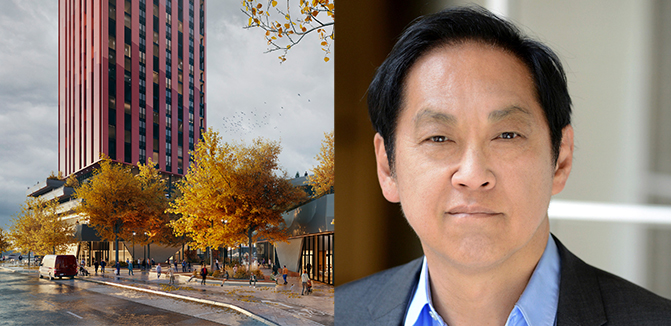 Article content
October 12, 2023
On October 19, founding partner Bruce Kuwabara will deliver a lecture at the John H. Daniels Faculty of Architecture, Landscape, and Design at the University of Toronto (UofT) on the profound influence of architect George Baird, professor emeritus and former Daniels Faculty dean.  
Having been both a student and a emerging architect under Baird's guidance, Kuwabara will share how this mentorship shaped his own architectural philosophy and the impact it has had on the work we do at KPMB — which he co-founded in 1987 as Kuwabara Payne McKenna Blumberg Architects. 
Over the course of the last three decades, we've been committed to designing beautiful, sustainable buildings that put people first. 
During his lecture, Kuwabara will present a selection of projects and buildings, demonstrating how the firm uses architecture and design to address today's salient issues, from climate change and housing affordability to mental health and truth and reconciliation. 
Buildings like the Governor General's Award–winning Julis Romo Rabinowitz Building & Louis A. Simpson International Building at Princeton University; Dream LeBreton, a housing development in Ottawa designed to support the social and economic well-being of its future residents; and Agnes Reimagined, a bold new vision for the future of the Agnes Etherington Art Centre at Queen's University. 
Kuwabara's lecture is part of the Daniels Faculty's Fall 2023 Public Program, a series of free lectures, book talks, panel discussions, and exhibitions happening at the architecture school until November 30.