New images for Agnes Reimagined offer a glimpse into the museum's future
April 12, 2023
Named after its founder, Agnes Etherington, and located in what was once her home, the Agnes Etherington Art Centre at Queen's University fulfils Etherington's mission to "further the cause of art and community."  
Since its founding in 1957, Agnes has grown to amass over 17,000 works — including trailblazing contemporary art, Canadian historical art, Indigenous art, and African art — and is one of Canada's foremost university-affiliated museums. 
Following an international call for architects in early 2022, the museum selected KPMB Architects and Indigenous Affairs consultant Georgina Riel as collaborators on Agnes Reimagined, a bold new vision for the museum's future. 
"Agnes Reimagined offers a rare opportunity for a paradigm shift in museums in Canada and the world, through clear-sighted collaboration, a commitment to innovation, all through the journey of decolonization and the recovery of Indigenized worldviews," said founding partner and project lead, Bruce Kuwabara. 
Throughout 2022, the design team, which includes landscape architecture firm PFS Studios, has been involved in a community-engaged design process to ensure that "Agnes's future architecture is a proposition for new ideas, not a container for old systems."    
Two images have emerged out of these community engagement sessions (which will continue throughout 2023) showing how the redesigned building will capture the museum's commitment to be a catalyst for positive change. 
As Emelie Chhangur, director and curator at Agnes remarked, "To change museum culture, we must first change its architectures." 
The images depict an exterior composition and a ground floor concept. In the exterior view, a new curvilinear addition is in dialogue with the historic Etherington House, which will be transformed into a live-in artist residency and community-facing cultural hub.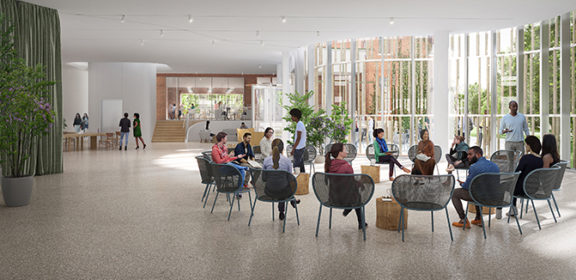 The image of the ground floor — or "Agnes's Living Room" — introduces an important tenet of Agnes Reimagined: enacting values of equity, diversity, inclusion, indigenization and accessibility. 
Moving away from a single front entrance, the design of the ground floor incorporates a series of accessible entry and exit points, giving visitors more flexibility as they move around the space. Glass facades keep visitors in harmony with the outdoors, offering views of a rewilded landscape and Queen's University's new outdoor Indigenous gathering space. 
The ground floor also accommodates a new café, an arts & events hub, and a welcome centre with two large porches. 
Shaped by ongoing talking and sharing circles contemplating how to design an inclusive, equitable space that upholds Indigenous traditions, experiences and world views, the new building aims to support a major increase in exhibition and alternative programming spaces for curatorial experimentation and public engagement.  
This includes: the first-ever Indigenous self-determination spaces for the appropriate care, ceremony and access by Indigenous communities of their ancestors and cultural belongings currently residing at Agnes; a live-in residence that ensures artists' practices are at the centre of their work and provides opportunities for extended stay by Indigenous community members visiting at Agnes; and new art study spaces — all of which reimagine the entangled civic, social and pedagogical role of a 21st-century university museum. 
The Agnes Etherington Centre, recognized by the Ontario Association of Art Galleries for its significance to the cultural character of the province, has long been a changemaker. This years-long renovation will build on its legacy as a museum rooted in community building.