Center for Computing & Data Sciences at Boston University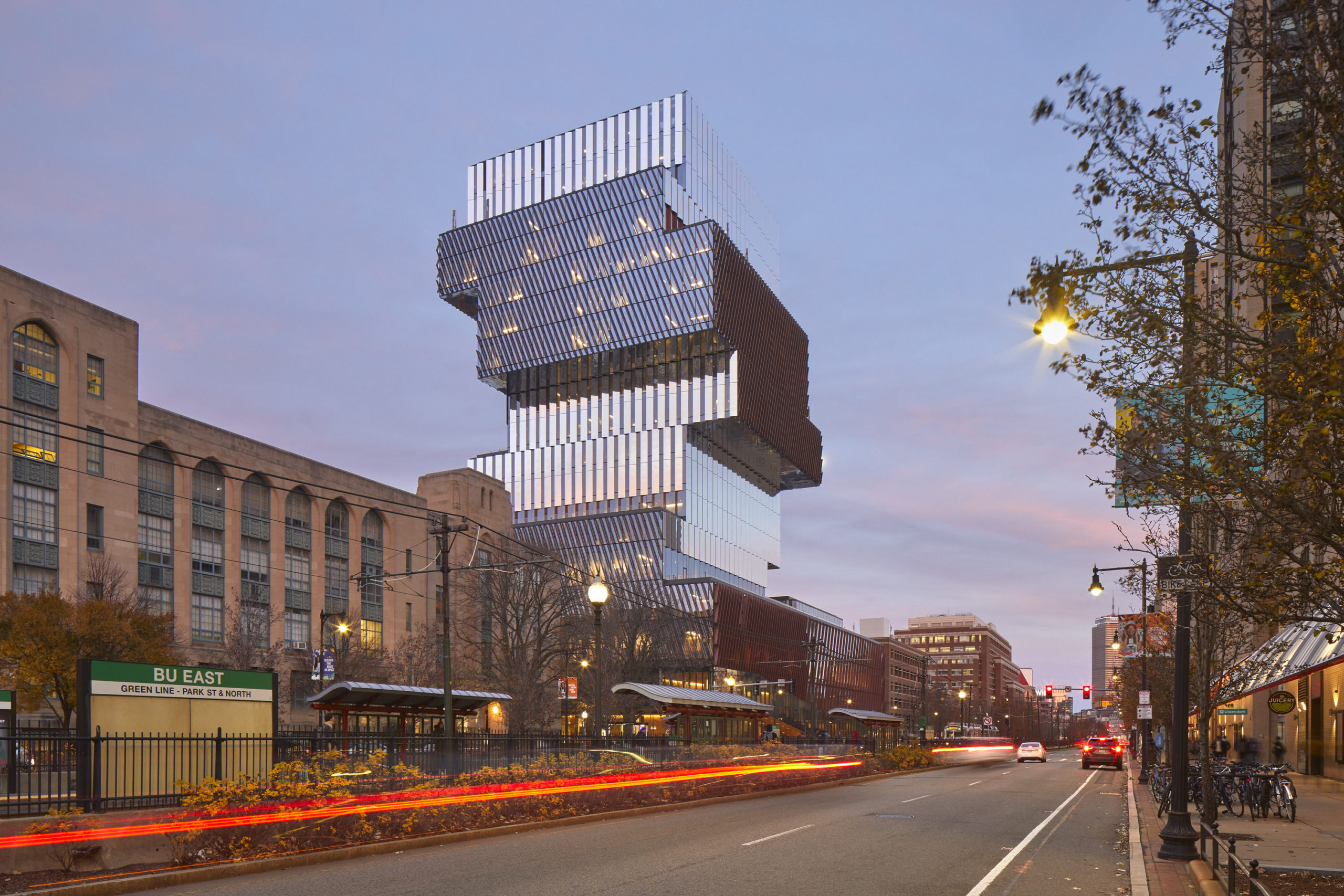 Location

Boston, Massachusetts

Client

Boston University

Completion

2022

Size

345,000 ft² / 32,052 m²

Project type

Education, Interiors, Tower
View full project credits
"The Center for Computing & Data Sciences at Boston University provides a place for ultimate connectivity, delivers on sustainability goals, prioritizes the well-being of students, faculty, and visitors, and sets a high standard for design excellence." – Paulo Rocha, KPMB partner and design lead.
Named as one of the 10 projects shaping architecture in 2023 by Azure Magazine, the KPMB-designed Center for Computing & Data Sciences at Boston University is an exemplary project and a defining landmark for the university. It transforms the Boston skyline, meets laudable sustainability goals, and encourages collaboration amongst students, faculty, and staff. 
Sustainability in Action
Towering boldly over the banks of the Charles River at 19 storeys, and spanning 345,000-square-feet, the Center is the largest, sustainable, operational fossil fuel-free building in Boston. The Boston Globe called it is "the most environmentally friendly tower in the city." 
Striving to be energy efficient, the building uses onsite renewable energy through its geothermal system for heating and cooling. Energy consumption is minimized throughout the Center by utilizing a high-performance envelope with external sun shading devices and enhanced heating, ventilating, and air conditioning (HVAC) systems. 
The Center also elevates the ground floor for future resilience to climate change and protection against floods, and will be one of the first buildings at the university to implement its Zero Waste Initiative.  
Working closely with Dennis Carlberg, the Associate VP for Sustainability at Boston University, the Center was designed to meet the goals of the university's Climate Action Plan and will contribute to its target of carbon neutrality by 2040. The building also aims to attain LEED Platinum and meet the city of Boston's goal of carbon neutrality by 2050. 
"This building provides a powerful example for ourselves and others of how to build a carbon free future. It is a symbol of climate leadership," said Carlberg. 
Connecting Campus, River, and City
Realized as a vertical campus, the Center gives each department its own identity while facilitating interaction with a central atrium, multiple classrooms and general-purpose spaces, a cafe, and an event space. 
Prioritizing human-centered design, the building maximizes opportunities for collaboration, interconnectivity, and innovation. The vertical design brings together the university's mathematics, statistics, and computer science departments, building community amongst the 3,000 students, faculty, and staff working in those areas. 
With the well-being of its occupants in mind, green roofs and terraces are placed throughout the Center to connect students, faculty, and staff to the natural environment, and offer expansive views of the Charles River, the city of Boston, and the surrounding campus. These open spaces also serve as general-purpose areas that allow for increased connection and collaboration amongst the various departments that now call the Center home.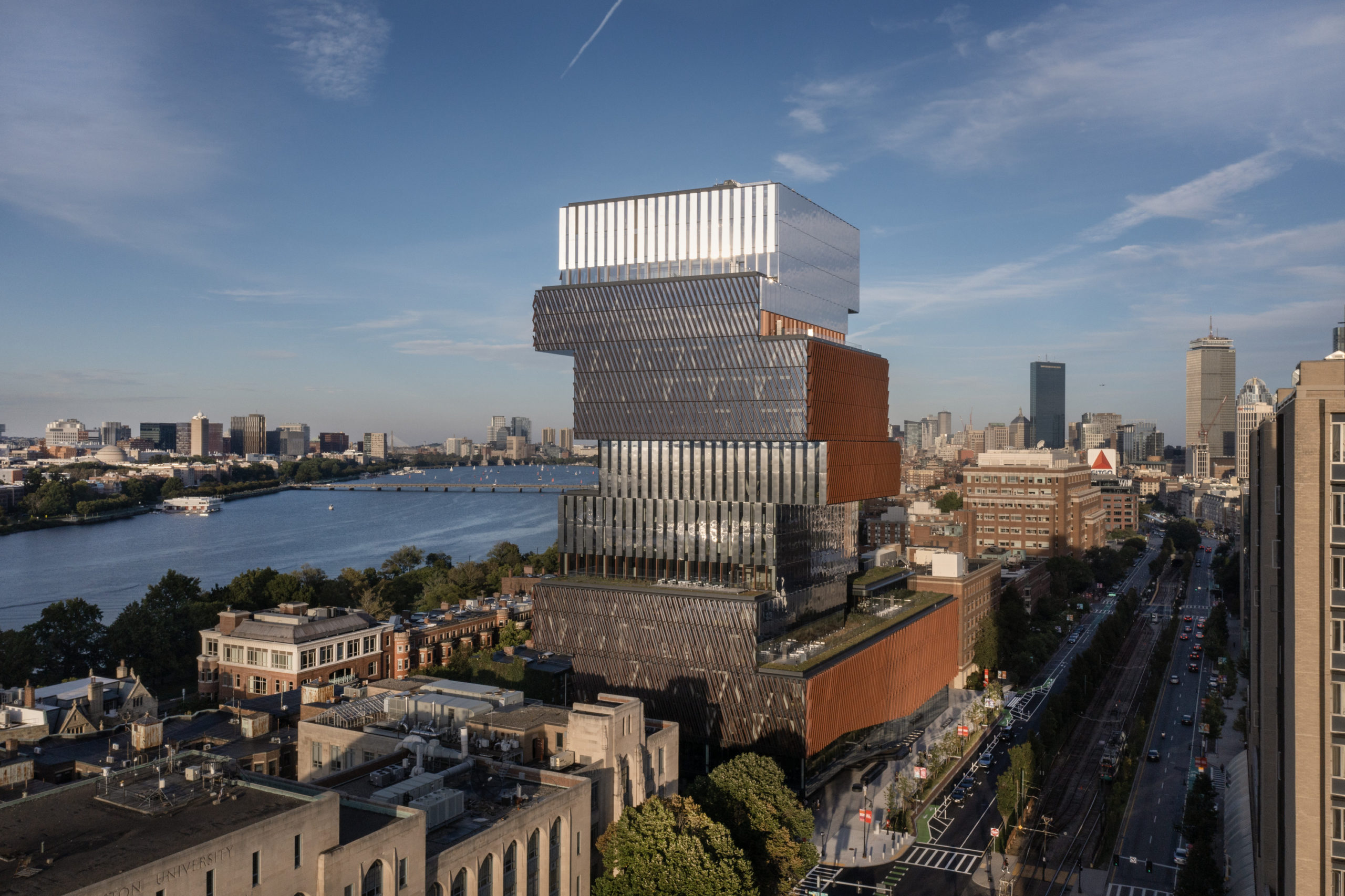 A Gathering Place
Boston University asked for an iconic building; a building that people would find "remarkable."  We rose to the challenge, designing a unique building that has been called "a stack of books," "Jenga," "outstanding" — a building that stands apart from and alongside the existing urban fabric. 
"It's a pretty dynamic building. It's playful. It's not what people are used to," Rocha said. 
A clear example of this is the building's transparent, four-storey podium which occupies most of Commonwealth Avenue and spans the Charles River. The podium functions as an urban porch for arrival, study, and gathering, and each of its storeys is connected by a central atrium and a cascading staircase. 
Inside, it accommodates larger programmatic volumes such as registrar classrooms and offers a series of zones for connection: the café, the cascading atrium stair, and the street studio. 
We designed a building that is not only environmentally sustainable but socially sustainable and reflects the university's commitment to being a leader in computing and data sciences.