Mitchell Hall delivered virtual seminar on biophilic design at Ingenium 2023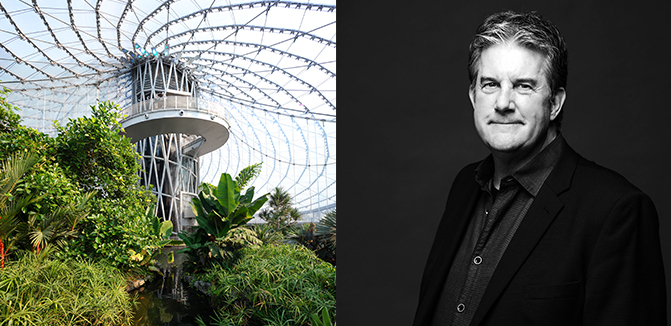 Article content
November 13, 2023
On November 9, partner Mitchell Hall, along with Lee McCormick and Sarah Chernis (Architecture49), Bryan Smith (SMS Engineering), Monica Giesbrecht (HTFC Planning & Design), and David Bowick (Blackwell), delivered a virtual seminar on the design principles, successes, and challenges of biophilic design as part of Ingenium 2023. 
Offered annually by Engineers Geoscientists Manitoba (EGM), Ingenium is a series of professional development seminars offered to EGM members and members of the public. The seminars cover a wide range of topics related to architecture, engineering and construction, and equip attendees with both technical and soft skills. 
Drawing from their shared experiences, Hall, McCormick, Chernis, Smith, Giesbrecht, and Bowick shared insights gained while working on The Leaf, a new indoor horticultural attraction with four distinct plant biomes in Winnipeg's Assiniboine Park.  
One of Canada's largest ethylene tetrafluoroethylene (ETFE) buildings, The Leaf is characterized by many sustainable features, including natural ventilation and an open-loop geothermal system, and is on a mission to shape how communities perceive and interact with nature and sustainability.