Introducing The Leaf, a new horticultural sanctuary in the prairies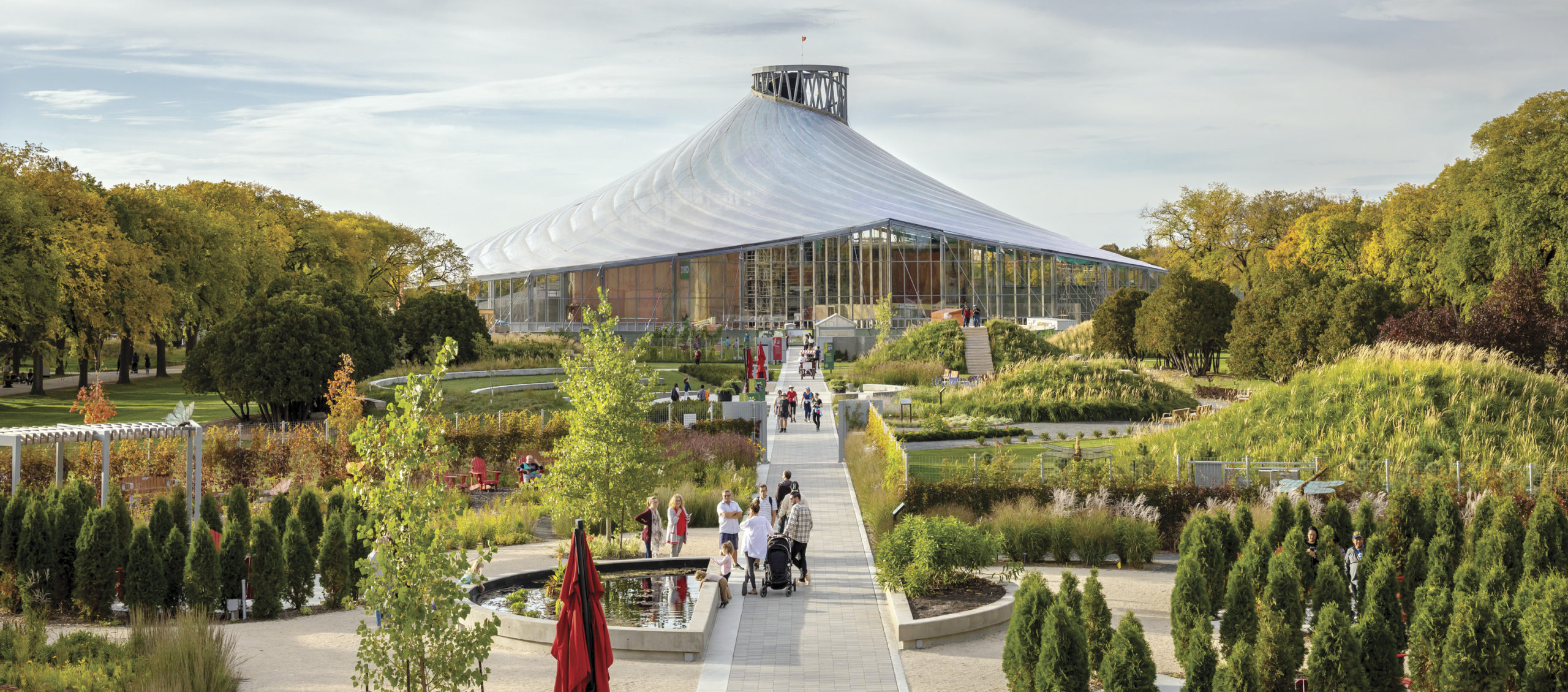 Article content
October 10, 2023
Making headlines in Wallpaper*, Monocle, Architectural Record, and other publications, The Leaf is a new, unique horticultural jewel nestled in Winnipeg's Assiniboine Park. Hailed by Wallpaper* as "a feat of engineering and an ode to the Canadian prairies," it's home to four plant biomes including a butterfly garden, a research and education centre, a café, and a restaurant that serves food made with ingredients grown in the Park's gardens. 
"We wanted to create a transcendent experience," says KPMB partner and lead architect Mitchell Hall. "The structure is inspired by nature with a roof that opens up like a petal with diverse biomes inside encouraging curiosity, learning, and delight at every turn." 
The hallmark of the design, The Leaf's ethylene tetrafluoroethylene (ETFE) roof, takes its shape from nature and the Fibonacci sequence. The gentle spiral net found in sunflowers and nautilus shells is extrapolated in the roof's intricate cable net structure, which elegantly unfurls around the body of the building, reminiscent of a blossoming flower. The roof provides a resilient and lightweight material with exceptional transparency that allows ample sunlight to reach the indoor biomes and cater to the needs of the plant species housed within. 
The organic, curvilinear form echoes both the simplicity and complexity of the many plant species housed within The Leaf and in the nearly 400 acres of surrounding parkland, which includes the Indigenous People's Garden. 
Inside, an interactive environment with a focus on the relationships between plants and people transports guests to tropical climates with hundreds of plant species from around the world. Guests can learn about biodiversity as they walk the grounds or visit the Tannis M. Richardson Indoor Classroom for a variety of educational programs held throughout the year. 
Designed to educate, inspire and capture the imagination of all ages, The Leaf is a new landmark for the city of Winnipeg and Canada.