Harrison McCain Pavilion shortlisted for a 2023 Architizer A+ Award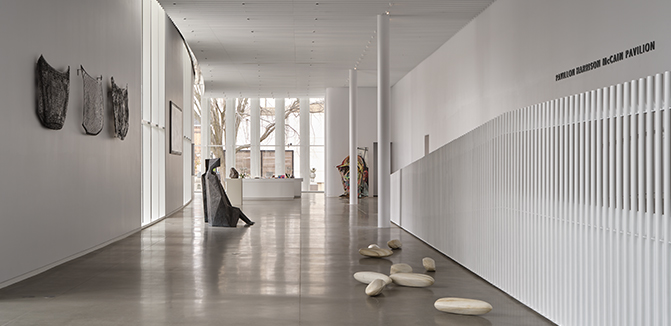 Article content
May 3, 2023
The Harrison McCain Pavilion at Beaverbrook Art Gallery is among five finalists shortlisted for a 2023 Architizer A+ Award in the Pavilions category.
For over a decade, Architizer's A+ Awards has been honouring exceptional architecture and spaces. With a steadfast commitment to fostering an appreciation for thoughtful design across the globe, the A+ Awards champions the architects and designers that are integral to bringing great buildings to life. 
Since its founding in 1959, the Beaverbrook Art Gallery has housed an impressive and diverse art collection, including pieces by the Group of Seven, Lucian Freud, and Salvador Dalí. Starting as a modernist, single-storey building with 300 works of art, it expanded over the years, growing its collection and its halls. 
Now, the New Brunswick cultural institution is home to nearly 7000 global, multidisciplinary works of art, an artist-in-residence studio, a multi-purpose theatre, a sculpture garden, and new gallery spaces. 
Its latest addition — the Harrison McCain Pavilion — is an elegant 9000-square-foot pavilion that manifests the gallery's mission to bring art and community together. 
Inside the Pavilion, sculptures by Maritime artist Cal Lane, stone works by Acadian artist Marie Hélène Allain, and a black limestone piece by Indigenous artist Ned Bear adorn the "living room." A café and gift shop create opportunities for connection. Membership, ticketing and visitor services, and support spaces cater to the unique needs of visitors, and a fireplace infuses the space with warmth. 
"Designing the Harrison McCain Pavilion presented an important opportunity to provide a greater sense of inclusivity and accessibility into a Fredericton landmark," said founding partner, Shirley Blumberg. "We hope the new addition will become a catalyst for even more meaningful engagement with the community."   
Read more about the Harrison McCain Pavilion. 
Winners of the 2023 Architizer A+ Awards will be announced on May 30.