Year in Review: A look back at the highlights from 2022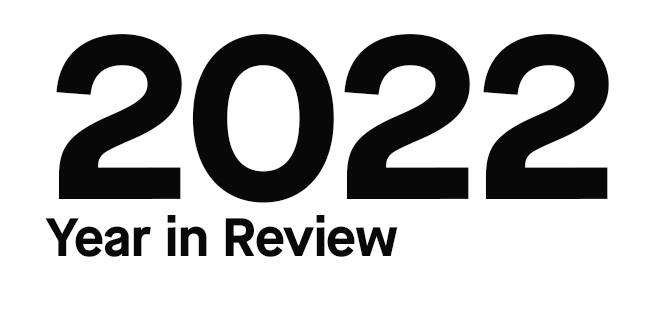 Article content
December 30, 2022
With 14 new promotions, two Governor General's Medals bestowed, groundbreaking research underway with KPMB LAB, and numerous projects unveiled and officially completed, 2022 was a year of growth and new beginnings.
We're proud that each accomplishment demonstrates our commitment to improving people's lives through the built environment, designing innovative and sustainable buildings, and finding creative ways to address the housing affordability crisis. 
To all our clients, collaborators, project partners, and consultants, we extend our appreciation and gratitude for your steadfast support of design excellence. Join us in celebrating some of the projects, awards, and happenings that made this year memorable.
Prioritizing sustainable design 
In December, we previewed the largest, sustainable, fossil fuel-free building in Boston—the Center for Computing & Data Sciences at Boston University. Targeted to attain LEED Platinum, the Center will help the university meet its goals of net carbon neutrality by 2040 and was called "the most environmentally friendly tower in the city" by The Boston Globe. 
This year we also unveiled plans for LeBreton Flats Library Parcel, a housing development in Ottawa that is set to be one of Canada's largest residential zero-carbon projects; we fêted the opening of The Leaf, a new botanical sanctuary in Winnipeg's Assiniboine Park designed for LEED Gold Certification; and we received two awards at the World Architecture Festival in Lisbon for the Downsview Framework Plan, a plan that reimagines the Downsview Airport north of Toronto into a thriving residential and commercial district supported by sustainable urban systems. 
Building housing for all 
For Kindred Works, a nationwide portfolio of mixed-income rental homes and gathering spaces across Canada, we began reimagining United Church of Canada properties – and others – into new rental apartments that will provide housing for 34,000 people over the next 15 years. All suites are designed to be entirely accessible and one-third of these apartments will be affordable housing units offered at below market prices.  
In addition to incorporating sustainable design, the LeBreton Flats Library Parcel will aid in addressing the country's housing affordability crisis. Hundreds of units at LeBreton Flats Library Parcel will be offered below market rents. Through a partnership with Multifaith Housing Initiative (MHI), affordable units will also be provided to groups that typically face barriers to adequate housing, including Indigenous peoples, veterans, newcomers, adults with cognitive disabilities, and women and children.  
Although the redevelopment at Downsview will take several decades to realize, affordable housing is a part of the Framework Plan with the objective to provide future residents with access to affordable housing units, the city's transit system, and community-led initiatives. 
Cielo Condos, a mixed-use residential project adjacent to the Bloor Street United Church, broke ground this year and was shortlisted for a Best of Year Award by Interior Design Magazine. 
Fostering community through arts & culture 
New Brunswick's Beaverbrook Art Gallery reopened its doors in September with a new addition—the Harrison McCain Pavilion. Marking the final and most public phase in the gallery's three-phase expansion, the Pavilion manifests the gallery's mission to bring art and community together. 
After a three-year closure for an extensive revitalization, Massey Hall, one of Canada's most beloved entertainment venues, reopened in November 2021 with three sold-out shows by Canadian musician Gordon Lightfoot. In 2022, it received the SWA Trillium Award and Heritage Toronto's Crafts and Trades Award. 
This year, we were awarded the commission for the Agnes Etherington Art Centre at Queen's University and we named as part of the design team for Arts Commons in Calgary; we received a Canadian Architect Award of Merit for the new Montreal Holocaust Museum; and celebrated the grand opening of the Jenny Belzberg Theatre at the Banff Centre for Arts and Creativity. 
We were pleased to support organizations and exhibitions fostering Toronto's artistic future, including the Toronto Biennial of Art, Thomas Demand's HOUSE OF CARD exhibition at MOCA Toronto, and Mi'kmaq artist Jordan Bennett for his solo exhibition at OCAD University's Onsite Gallery. 
Championing people, causes and organizations  
TimberFever, a design-build competition for architecture and civil engineering students, returned for its 7th year and we were proud to be a sponsor, supporting the next generation of architects and designers. Judy Taylor, a principal here, also served as a mentor for the students. 
Partnering with Indspire, we funded bursaries for Indigenous people in Canada pursuing post-secondary education in architecture, landscape architecture, urban planning, and related design fields. We also created the KPMB Indigenous Design Excellence Award (IDEA) to help provide financial support to Indigenous students at Laurentian University. 
In support of DesignTO, a non-profit arts organization in Toronto, partner Mitchell Hall joined social-environmental psychologist Dr. Celeste Alvaro and Alice Liang, Principal Emeritus at MontogomerySisam and a long-time collaborator of the Centre for Addiction and Mental Health (CAMH), for a conversation about the intersection of architecture and mental health care.  
This year we also transformed a firm-wide tradition into a city-wide competition. Gingerbread for the City, helped take our city-building efforts to another level. Local architecture firms brought out their creativity and competitive spirit and all proceeds were donated to the Red Door Family Shelter. 
Celebrating the team 
The Toronto home and studio of KPMB architect Robert Hill was designated as a heritage property by the City of Toronto, setting a new standard for architecture preservation in the city. 
Our team also expanded this year; we celebrated the promotion of eight Associates, three Senior Associates, one Principal, one Controller and one Manager, CA Support. 
Designing a better future is — and has always been — a priority for our team. We're passionate about advancing our rapidly changing world through architecture and design. As we wrap up the year and celebrate our accomplishments, we're also celebrating the incredible experience, expertise and contributions of each member of the KPMB team that has led us to where we are today.