Yale University celebrates Adams Center for Musical Arts grand opening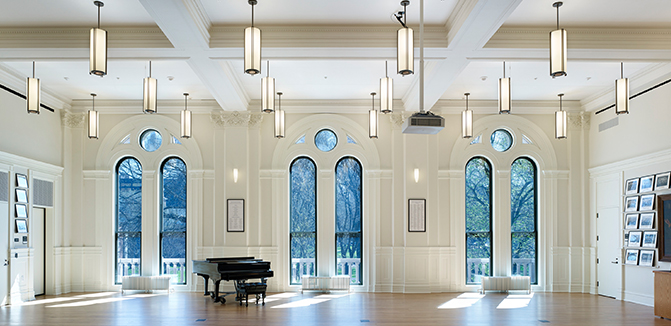 February 17, 2017
Click here to view Yale School of Music
The Yale University community and distinguished guests on Thursday celebrated the grand opening of the new Adams Center for Musical Arts. It was an event in the stunning orchestra rehearsal hall at which a great debt of gratitude was paid to Stephen '59BA and Denise Adams, whose continued generosity helped make the complex that bears their names a reality.
"This is a day not just for music," Yale University President Peter Salovey said, "but it is a day for Yale University, as well, because this is a day where our University places an exclamation point on a place to study music that is second to none for graduate students and undergraduates, alike.
"One Yale — a place that celebrates a great college set alongside a great professional school, a place that gives our superb musicians from across all of our campus magnificent facilities to make music together during their bright college and their bright university years. We are really humbled by the extraordinary generosity and vision of Stephen and Denise Adams, our principal donors to this project … Their profound profound love of music, and of Yale, is what shines throughout this shining new light of campus architecture."
Salovey also acknowledged the visionary leadership of School of Music Dean Robert Blocker, saying, "Every project that I have witnessed at Yale needs someone who has (an) uncompromising eye, and when that project has someone with that eye, it always comes out wonderfully. And Robert was the uncompromising eye behind this."
In the Adams Center, Blocker sees his — and the Adamses' — dreams for Music at Yale.
"I recall with relief, now, and consternation at the beginning," Blocker said of the School upon his arrival more than 20 years ago, "the Yale Band, and their members carrying disabled members who could not walk the stairs, carrying them up in their motorized chairs so they could play in the Yale Band. That's the dedication of a Yale student. It was a very humble beginning in this building [Hendrie Hall] from where we've come. And all during that time though, music was coming out of this building.
"Now in this building," he said, "I see students with their shoes off and their sock feet propped on the table in the atrium in the commons having a coffee and talking about music. That's what this is supposed to be. This is a building for the students."
It's also a building for faculty and staff, Blocker pointed out, thanking colleagues as well the project's designers and many donors, the YSM board, and officers and deans from across the Yale campus. Blocker also announced that one of the two benches outside the Adams Center will be adorned with a plaque thanking YSM Chief of Staff Stefanie Parkyn and the School's Associate Dean, Michael Yaffe, for their enormous contributions as co-chairs of the building committee. The second bench, he said, will acknowledge the tireless efforts of School of Music operations manager Tara Deming and assistant operations manager Christopher Melillo.
The ceremony on Thursday began with an Adams Dedication Fanfare composed for the occasion by YSM Professor and Yale Bands Director Thomas C. Duffy. The piece, whose melody uses the letters in "Adams," was performed by students from YSM's brass studios. Other performances included a reading by pianist Chuhan Zhang '18BA/MM of Chopin's Scherzo No. 4 in E major, Op. 54, and the "Alleluia" from Mozart's Exsultate, jubilate, K. 165, sung by soprano Jessica Pray '17MM, with Blocker at the piano.
After introducing several generations of Adamses, Blocker admitted, "This is a bit overwhelming," explaining, "There's no way to acknowledge or thank the countless hundreds of thousands of people who dreamed about a day like this for Music at Yale and who worked all through their careers to make it possible."
In describing the Adams Center as a complex that links the newly renovated Hendrie Hall, which was originally built for use as the Yale Law School, with the previously renovated Leigh Hall, which originally served as the Yale health center, Blocker touched on the symbolism of those connections, asking, rhetorically, "Don't we have a moral obligation to ensure the birthright of beauty for humankind, the birthright of music? Don't we have a moral law that says, 'Through music and through art, we can bring hope to this world'?" He acknowledged the "healing that music and musical arts can bring to humankind."
"It's important to me, to our supporters, to our board, I think to everyone," Blocker said, "that these kinds of physical connections actually exist here and that we live in them and live through them and live from them with the music, the research, the teaching that we do. It's a very, very important symbolic space."
The Adams Center, Blocker said, is "a community where mutual learning takes place, where students from Yale College, where students from the School of Music, where students from the other professional schools can come and find a place to seek beauty, seek solitude, and be renewed and be inspired." Addressing the Adamses directly, he said, "This is really about One Yale, and we're very, very proud of that and thankful to you."
As is tradition at the School of Music, attendees sang Schubert's An die Musik, as set to text by Franz von Schober and translated by YSM faculty bass-baritone Richard Cross. This performance, which featured violinist Sarita Kwok '05MMA '06AD '09DMA, pianist and YSM Deputy Dean Melvin Chen, and Yale Glee Club Director Jeffrey Douma leading those gathered a bit more poignant than usual.