Architectural Digest: Why Architect Minoru Yamasaki's Legacy Is of Growing Importance – involving the renovation of Robertson Hall at Princeton University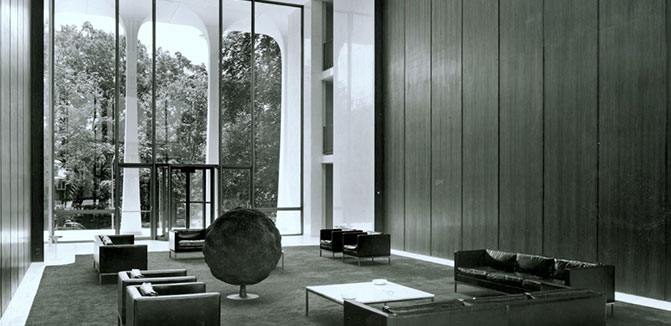 Article content
Click here to view Architectural Digest
by Daniel Pembrey
A collection of new projects highlight how the late architect—best known for designing the original World Trade Center—is enjoying a renaissance
Minoru Yamasaki may be best known for designing the original World Trade Center and for being a leading practitioner of the new formalist style seen in so many civic and institutional projects of the postwar era. However, his works are richly varied by location and type, and, with most now exceeding the half-century mark in age, they are increasingly becoming the focus of exciting renovations and redesigns.
One such renovation involves the Fairmont Century Plaza hotel in Century City, Los Angeles (a one-square-mile city-within-a-city that is also seeing the construction of two residential towers designed by Pei Cobb Freed & Partners). Yamasaki's elegantly curved 1966 hotel was built on land sold off by 20th Century Fox following the financial failure of Cleopatra. The hotel became synonymous with movie-world glamour, and, by the 1980s, it was known as the Western White House, given the amount of time Ronald Reagan spent there. Says interior designer Glenn Pushelberg of Yabu Pushelberg, "We wanted to work from this notion of modernism of the '60s and make it relevant for today, by adding more texture, drama, and greater comforts for this era, for a tailored timeless hotel."
A different project altogether is underway at Princeton University, involving the renovation of Robertson Hall, the main building of the Woodrow Wilson School of Public and International Affairs—nearly 48,000 square feet in total. Yamasaki designed a temple on a podium beside the focal point of Scudder Plaza. It serves as an exemplar of new formalist structures. "They are beautiful buildings that need to be preserved," says David Jesson, a principal at KPMB Architects, which is handling the sensitive renovation for Princeton, "but by preserved I mean that they may need to be updated to satisfy current work environment needs, while appreciating the original design."
The original wood-and-plaster screen surround at the fourth-floor lobby is now encased in clear fire-rated glass, maintaining the natural light infiltration from the skylight above the main lobby while updating fire separations between floors to meet current building code.
Meanwhile, for one of the most daring Yamasaki-related projects, head to his hometown of Seattle, and indeed to within a couple of miles of where he attended high school. Yamasaki's Rainier Tower (1977), renowned for its improbably yet gracefully tapered base, is a much-loved feature of Seattle's downtown area. As the space around it finally became needed for more office capacity, NBBJ, architects of the surrounding Rainer Square development, faced unique challenges in terms of how to preserve the views and light enjoyed by the older building while also respecting its design.
A new tower features corresponding curves, both in the long sweep of the façade (which also transitions the floor plate from office-size to residential-size, above) and in the "indent" nearer the base. "We matched the width of the new metal prism panels to the vertical metal panels of the Rainer Tower," says Mindy Levine-Archer, a partner at NBBJ. "On a sunny day—and these do occasionally happen in Seattle—the reflections created appear to merge the two buildings into a singular composition."