Was The Brady Bunch's Mr. Brady Actually a Good Architect? Shirley Blumberg on fictional architects in Architectural Digest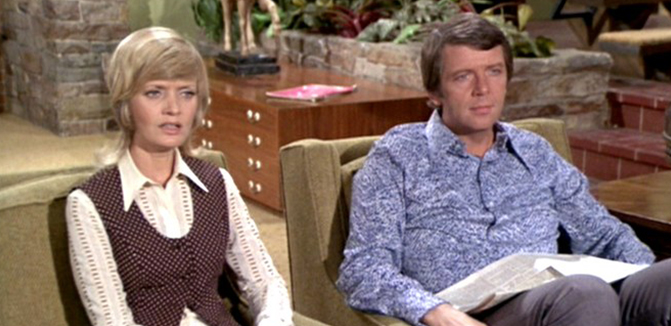 Article content
Click here to view Architectural Digest
by Timothy Latterner
In the pantheon of great movies and television shows, some careers seem to pop up more than others. Architect, for instance, whether it's assigned to a suburban dad or a visionary genius, tends to be one of them. Interior decorator is another popular on-screen occupation. But are these characters actually any good at their given profession? Considering what's actually depicted isn't always accurate, AD spoke with experts—from interior architects to furniture designers—to find out if these characters could really cut it in the real world.
Mike Brady, The Brady Bunch: Architect
Mr. Brady may be the classic American dad, who raised six children with great values, but what he didn't do that much of was actual work. On the beloved family sitcom, Brady could only occasionally be seen at his drafting table in the den, and after designing the midcentury split-level ranch to fit (or barely fit) his wife, six children, dog, and live-in housekeeper, it doesn't seem like he did much else.
"I don't even remember any of the buildings that Brady designed, just that he had a drafting table in a very large office off the main sunken living room—or at least that's what the camera slyly suggested," says architect Chris Grimeley. "It's clear in retrospect that Brady had way too much time on his hands to be a true capital-A architect."
Howard Roark, The Fountainhead: Architect
Based on the acclaimed Ayn Rand novel, this tale of a lone genius who refuses to collaborate with others is one of the seminal works where an architect's job is the basis of the movie, instead of just the back-story. Roark refuses to bend an inch toward what his corporate clients want for the Enright Building, and Roark is just as happy deserting a project altogether than compromising his artistic vision.
"While the film appears histrionic, the issue of artistic integrity in architecture is very real," says Shirley Blumberg, partner at KPMB Architects and member of the Order of Canada for her work. "And yet, there is an art to how a strong design vision is communicated, how persuasive an architect is to achieve a built resolution. By this measure, Roark falls short."
Roark is portrayed in the film (and Rand's original novel) as one man, working alone, who can take all of this on by himself. But in reality, architects work collectively in groups to create something that is supported and embraced on a larger scale. According to Adrian La Tona, an architect at Integrated Design Solutions, the idea of Roark working in solitude "had myself and several coworkers laughing aloud quite a few times! The idea that architects are lone geniuses fighting to make a world in their own image or 'style' is as much a fantasy as a Jurassic Park film. In reality, we collaborate with enormous teams of designers and stakeholders to solve complex aggregated problems aimed at improving everyday life."
Wilbur Post, Mr. Ed: Architect
You can't really blame Wilbur Post for not being able to focus on his work all that often. If you had a talking horse in your backyard, it'd probably be tough for you, too. Wilbur lived in the suburbs and would work from time to time on projects like a local shopping mall or residential properties; mostly, though, he just tended to focus on the horse.
"As an architect, Wilbur's character played it straight, though still eccentric. Most of his projects were large-scale, yet he seemed to produce each design in a day or two—renderings included. His tools of the trade were a pencil, a crank pencil sharpener, and a parallel bar on a tilted drafting table—all very quaint, if not obsolete, today," says Jane Greenwood, principal at Kostow Greenwood Architects.
"Other than having his studio in a barn—great idea!—and sharing design ideas with a talking horse, Wilbur Post was a mainstream architect of the era: white, male, and a sole practitioner," says Greenwood. "I guess some things never change!"
Grace Adler, Will & Grace: Interior Designer
Whether we're evaluating the original Will & Grace or the recent reboot, it seems Grace Adler wasn't as inept as an interior designer as she was in her love life. In the original series, Grace and her best friend Will cohabitated as roommates in an apartment that she decorated.
"I am guessing that as a designer, Grace incorporated Will's basic tuxedo sofa from his previous bachelor apartment, and her choice of a leather tufted chair screams 'young lawyer,'" says interior designer Barry Goralnick, regarding the apartment Grace and Will shared in the original series. "The neoclassical secretary is definitely aspirational and might have been something she wanted to include that stretched Will's budget. The fact that this apartment still looks good after all these years, and feels like a perfect match of client and design, tells us that Grace is a good designer. When it comes to whose taste is reflected in the apartment, Grace has clearly put her client first."
David Murphy, Indecent Proposal: Architect and Professor of Architecture
The film's protagonist, an architect and professor of architecture who's lost all his and his wife's money in the midst of building their dream house, must really love real estate—at least enough to give his wife to a mysterious billionaire for a night to rake in a million dollars to finish the house.
"First of all, how does a down-on-his-luck, starving architect afford an ocean-view site in California?" says Michael Poris, principal and founder at McIntosh Poris Associates. "For 1993, the film's year, the house would have been of the time—a formal object on the site, rather than something that really emphasized the setting overlooking the ocean."
Sam Baldwin, Sleepless in Seattle: Interior Architect
Our protagonist in Sleepless in Seattle, Sam Baldwin, is an interior architect who has moved from the big corner offices of Chicago to a tiny neighborhood of Seattle, where he's seemingly grown into the client-facing side of the business.
"Overall I would consider Sam to be a good architect. He understands what his clients want and how he can work with his team members, like the contractor, to give them what's best for them. You can tell that the clients trust him, as does his team, and you can't expect anything better than that," says Steven South, senior designer at Interior Architects.
Aidan Shaw, Sex and the City: Furniture Designer
Aidan Shaw, the second-most-important man in the story of Carrie Bradshaw's life, meets Bradshaw at the opening of Shaw's furniture store downtown. From the bits and pieces audiences could glean, the furnituremaker's designs all seemed classically American, albeit perhaps a little boring.
According to furniture designer Shuya Iida, who is also the founder of Shuya Design, "in the past, I think he was a good designer. Simple and stylish design was very famous around ten years ago. But now, it looks too mass-production. All furniture companies are making pieces like these designs for very cheap prices because they can be made by CNC machine. Most customers are looking for more handcrafted styles."
Melanie Parker, One Fine Day: Architect
A rom-com that showed off the female protagonist's ability to be a single working mother, find love, and look stylish at the same time did leave a lot to be desired in terms of showing off the actual architectural talent of Melanie Parker (played by Michelle Pfeiffer).
According to Shirley Blumberg, "given the poor quality of the building design, the model is hardly worth saving. Parker is clearly not a good architect. This [movie] has all the horrible tropes and stereotypes of women in architecture."
Ted Mosby, How I Met Your Mother: Architect
For nine seasons, this beloved sitcom centered on on Ted, an up-and-coming architect looking for love in New York City. Even when his professional dreams are realized and he's commissioned to design the next addition to the New York skyline for a massive corporate bank, Ted is only seen at his drafting table a few times, and on the job site for a couple episodes. Mostly, for the majority of the show he is pictured going on dates and drinking at the local pub with his friends. Regardless, he lands on the cover of New Yorkmagazine as the next big architect to watch.
"This show might make great romantic comedy," says Blumberg. "But it is doubtful that Ted Mosby could make great architecture. He is too easily distracted by a pretty face."
Alice Kinney, Home Again: Interior Designer
Although this film seems more dedicated to the love life of Alice Kinney—played by Reese Witherspoon—than her interior design business in her colorful California home, there's a lot to be gleaned in this Nancy Meyers film.
"I actually thought it was a really accurate portrayal of the challenges of small businesses when they first start out," says Alyssa Kapito, an interior designer in New York. "She's totally taken advantage of by Lake Bell's character, and I think that is a pretty common situation when people go out on their own. New business owners sometimes can feel the need to go beyond what is professional in order to stay afloat, but I love how she totally stands her ground."