Wallpaper*: Canada's major new modern art museum is dazzling and unexpected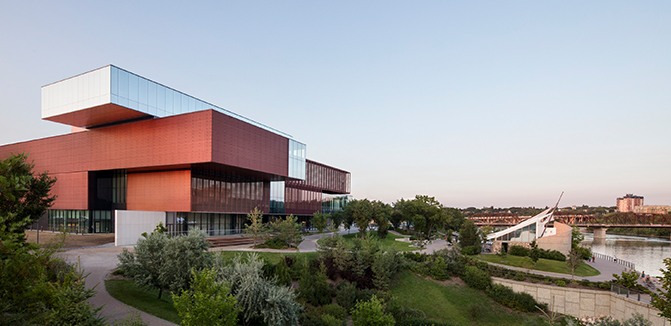 October 30, 2017
Canada has a major new modern art museum but it's not in Toronto, Montreal, Ottawa or Vancouver. Instead, the striking 126,000 sq ft glass-and-steel Remai Modern has just opened in the remote prairie town of Saskatoon, located in the country's vast agricultural midwest. Designed by Toronto-based practice KPMB, the state-of-the-art new gallery is impressive for its substantial permanent collection, including the most comprehensive assemblage of Picasso linocuts in the world, but also for its generous acquisition and programming budget, the result of one of the largest philanthropic donations in Canada's arts history.
The building stands in a strategic location overlooking a bend in the South Saskatchewan River so that it embraces both the water and the city. 'Wherever you are in the building, you always come back to the river, you always sense the river,' says Bruce Kuwabara, founding partner at KPMB. Kuwabara and his team eschewed the prevalent and somewhat tired trend for improbable and parametrically-designed curvilinear forms and walls to create an elegant and what he calls 'proto-modern' building of cantilevered rectangular vessels, partly clad in perforated copper-coloured metal screen.
The new museum's opening exhibition – 'Field Guide' – is an eclectic but engaging mix of collection pieces and new commissions or acquisitions by 80 Canadian and international artists that cleverly fill every stairwell, corridor and landing as well as the more conventional museum galleries. It includes a recent and brilliant video installation by internationally renowned Canadian artist Stan Douglas as well as pieces by the likes of Thomas Hirschhorn, John Baldessari, Philippe Parreno and a major collaborative installation by indigenous artists Tanya Lukin Linklater and Duane Linklater.
The Remai Modern has inherited the 8,000-strong collection of works from its much-loved local predecessor, the Mendel Art Gallery, located just a short walk north along the river, but with its new and high-profile international director Gregory Burke (a New Zealander formerly at Toronto's power plant) and chief curator Sandra Guimarães (a long-time collaborator at Portugal's Serralves museum) it has signalled its ambitions to be not only a local art gallery but also an essential stopover on the global contemporary art circuit. 'This museum should be a place to see the world,' said Guimarães at the press opening.
As with many large projects of this scale there have been delays, budget increases and concerns among the local and well-established artist community about what the museum should be, concerns that the curatorial team hope will be allayed now that it has opened. One constant however has been the unwavering commitment of local developer and philanthropist Ellen Remai (pronounced 'ray-mee') to make the project all about the art.
Despite already donating a cool CAN$50 million towards the building, international programming and permanent collection (the linocuts were a Remai acquisition), she just announced a new and substantial gift of up to CAN$50 million over the next 25 years towards the purchasing of art. 'This sort of big budget for acquisitions is unheard of in Canada so they're pretty lucky,' says Ian Wallace, a renowned Canadian artist whose 2011 photolaminate on canvas At the Crosswalk IX is part of the museum's opening show. 'They will be able to build an amazing collection over time.' The Remai Modern would be an achievement anywhere – in a city of 260,000 it is nothing short of remarkable.