University dorms open for summer business, Ponderosa Commons – The Globe and Mail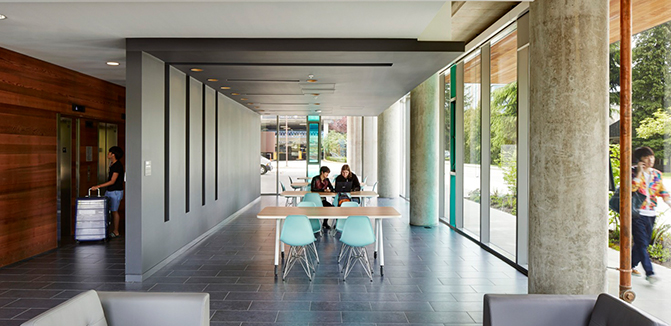 Article content
Click here to view The Globe and Mail
by Paul Attfield 
With total 2017-18 enrollment sitting at 35,880 full-time undergraduate students and 9,350 full-time graduate students, not to mention scores of part-timers, the University of British Columbia can be a busy place through much of the fall and winter.
But with exams coming to an end in the next couple of weeks, the university and its campuses, particularly the main one at Point Grey, situated a 20-minute drive from downtown Vancouver, can lose some of their vitality.
Injecting more life into the school throughout the summer months was just one of the main factors at play when the university decided to build its Ponderosa Commons residences.
While the extra 1,150 beds were sorely needed to help offset the university's constantly growing waitlist, the ability to run the units — which include studios and two- and four-bedroom pods — on a 12-month basis was important. Students who rent there, along with select other residences, have the option to sub-let their units to other UBC students and visitors over the summer, with prices at Ponderosa listed for around $145 per room per night on Expedia.ca.
"Summer is the nicest months by far in Vancouver and the campus is under-used," says Gerry McGeough, UBC's director of planning and design. "So from a sustainability [standpoint] it allows us to get better use of buildings and our lands."
The location of Ponderosa Commons, consisting of three buildings on three neighbouring sites which fully opened two years ago, was carefully thought out. When UBC conducted its latest campus plan in 2010, much had changed since the previous one drafted in 1992. While academics was still a guiding principle for the plan, concepts of well-being, community and compact development were also important.
As a result, the university decided to use the new construction project as a way to enliven the academic core of campus, building it in an area that was traditionally reserved for teaching facilities. This had the added effect of not only adding vibrancy to a sleepier part of campus, but also increasing safety with a greater density of students.
"It was really about invigorating the core of the campus 24-7, so it was a full-on community within the campus," says Karen Marler, principal of Vancouver's HCMA Architecture and Design, one of firms behind the project.
Guided by the principles of live, study, work and play, the project pulls together a number of different facets, combining areas for visual arts and art history, the department of psychology, a yoga studio, and a pizza parlour. In addition, the project also features Collegium, a space that Ms. Marler describes as akin to an Air Canada airport lounge, a members-only space providing kitchen facilities, study areas and hang-out spots for commuter students.