Undulating glazing defines KPMB Architects' lakeside education hub – MARK Magazine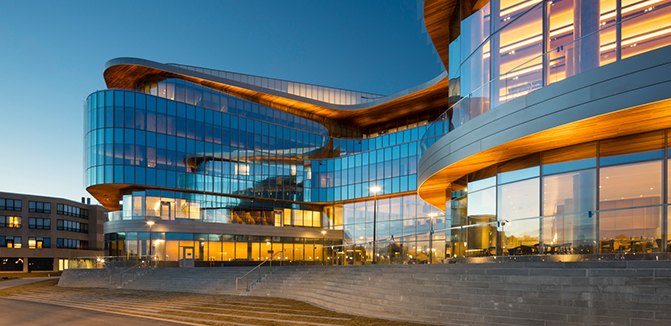 April 26, 2017
Click here to view MARK Magazine
The sheer number of students on any given university campus can be quite daunting and it is not difficult to walk past hundreds of people each day. Some will become lifelong friends. Others are acquaintances that are passed in the corridor at the same time each week amidst the rush of making it from lecture to another – hopefully on time. Perhaps a smile is exchanged; nothing more. Some 25-km north of Chicago, at Northwestern University, KPMB Architects approached the expansion of the campus as an opportunity to bring students (and faculty staff) together across all aspects of the Kellogg School of Management with an 'innovative Global Hub'.
The building's footprint might look suspiciously like the letter 'K' but its corners are rounded as a reference to the flowing movement of Lake Michigan – as if worn down by the tide – responding to 'the natural and man-made geography of the site'. The undulating glazing of the six-storey structure forms an enchanting blue beacon which reflects not only the practical needs of the client but, additionally, the beauty of the surrounding environment.
The heart of the project is where the architect's concept most comes to life. A collection of interior environments – classrooms, meeting rooms and offices – are arranged around two central atria stacked one on top of the other. The Collaboration Plaza – a 550 sq-m, three-storey space with a timber-clad ceiling – is the education hub's biggest promotor of interactive space within the Kellogg community.
On either side, 10-m wide staircases descend into the main space – less of a circulation devise and more like an Italian piazza; sit and eat lunch, collaborate on a project or simply enjoy the view out over the water towards the Chicago skyline. The space enables the opportunity to create connections between the faculty's students, not only forcing them to cross paths but to meet one another in a way that they weren't able to do before.