Tour Boston's most sustainable building — the Center for Computing & Data Sciences at Boston University — with KPMB's Lucy Timbers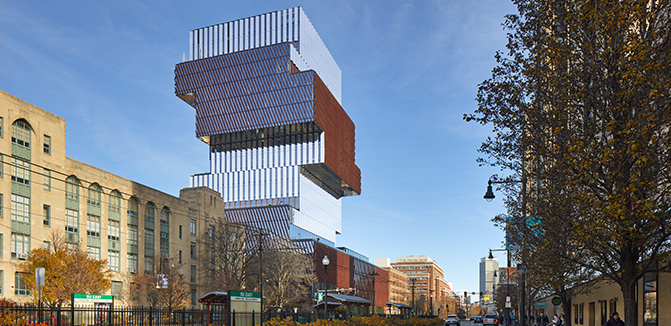 Article content
April 6, 2023
"The Jenga building." "The stacked books building." "The most environmentally friendly tower in the city."  
Everybody's talking about the Center for Computing & Data Sciences at Boston University — even Mayor Michelle Wu remarked that it "sets an example for the entire country."  
Towering boldly over the banks of the Charles River at 19 storeys, and spanning 345,000-square-feet, the Center is the largest, sustainable, operationally fossil fuel-free building in Boston. It's an exemplary project and a defining landmark for the university. It transforms the Boston skyline, meets laudable sustainability goals, and encourages collaboration amongst students, faculty, and staff. 
On April 13, senior associate Lucy Timbers, who served as project architect and project manager for  the building, will join Urban Land Institute (ULI) Boston/New England and project partners for a public talk. 
Hosted by ULI Boston's Young Leaders Group and open to all, attendees will enjoy a presentation, a panel discussion, and a tour of the building. 
Event Details: 
ULI Boston/New England Boston University CCDS Project Team Panel & Tour
Speakers: Lucy Timbers (KPMB), Dennis Carlberg (Boston University), Brianna Castellanos Lynch (BR+A Consulting Engineers), Dave Litwin (The RMR Group), John Dalzell (Boston Planning & Development Agency)
Location: Center for Computing & Data Sciences, Boston, MA
Date: April 13, 2023
Time: 11:45am – 2pm