"Toronto's ceramics shrine shattered expectations." Looking back at the Gardiner Museum's incredible transformation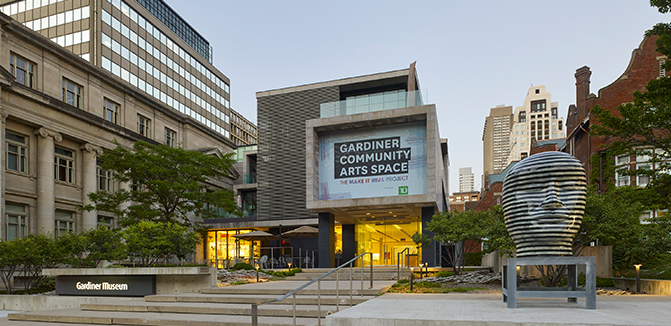 July 22, 2017
Click here to view The Toronto Star
Fourth in a series taking a second look at Toronto's architectural showpieces 10 years after the building boom.
Back in 2003, when the original Gardiner Museum of Ceramic Art was stripped of its pinkish-grey granite in preparation for an ambitious makeover, Helen Gardiner broke down weeping.
The philanthropist had co-founded the museum in 1984 with her husband, the businessman George R. Gardiner who once oversaw the Toronto Stock Exchange and famously brought Kentucky Fried Chicken to Canada, to house their collection of Italian Renaissance pottery, 18th-century European porcelain and ancient American ceramics. George Gardiner had died in 1997 and, though it was unanimously accepted that this transformative expansion was crucial to the museum, this was certainly more than a renovation for Helen.
"She wept when we demolished the museum because we changed everything that she built with her husband," remembered Alexandra Montgomery, who was executive director of the Gardiner at the time. "But she was a practical woman. Unlike many other founders, she understood the need for change."
"She was crying because she said it was like a baby lamb that had its wool sheared off," recalled Bruce Kuwabara, who was design partner on the project working alongside Shirley Blumberg and Paulo Rocha.
"I said, 'Aww. That's too bad,'" he added with a laugh. "But she really became the leading figure because the Gardiner didn't have a Weston or a McCain or a Thomson or a Koerner. They had Helen Gardiner."
And Gardiner was indeed rock-solid in her resolve to see her cathedral of ceramics carve out a lasting place in Toronto culture.
At the time before the renovation, the Gardiner had a rather more muted presence in the city. When Ontario's SuperBuild initiative was announced and untamed visions of starchitect-crafted attractions began dancing in the city's imagination, few probably rushed to consider the Gardiner, a handsome museum that Star architecture critic Christopher Hume nevertheless described as never making much of an impact "culturally, architecturally or civically" pre-renovation.
But as Montgomery and Helen Gardiner and others campaigned for funds, they started to find that the Gardiner's relatively small size could be viewed as a positive.
"Compared to the other organizations that participated in the SuperBuild program, we were the rounding error," Montgomery said. "We were the smallest company, probably a 10th of the size or smaller. Everyone else had hired McKinsey & Company and these amazing consultants who created these 100-page documents, and we had a small 40-page document.
"Helen Gardiner and I went to see anyone and everyone who would talk to us. There was an understanding that because our project was small, we could turn it around quickly."
That isn't to say they eluded skepticism.
"People actually laughed at us in the beginning," she recalled. "It seemed like such an extraordinary feat to raise $20 million when at the time we might have raised less than $500,000 a year."
The first priority of the reinvention came down to space.
Almost immediately upon the original construction of Keith Wagland's Gardiner, museum leadership pondered expansion. (In fact, they insisted that the two-floor original building have the capacity to add a third storey.) Elegant though it was upon opening, the original museum didn't anticipate the need for an exhibition gallery and generally felt cramped. For instance, classes for kids were conducted in the small lobby, so other visitors would have to weave around the clay-clawed little ones.
Cradled by the Royal Ontario Museum across the street, the Lillian Massey building to the north and Annesley Hall to the south, the original Gardiner, tucked far back from Queen's Park, had an unfortunate tendency for anonymity. With a mere $20 million budget, KPMB reimagined the Gardiner as a chic stack of terraced glass boxes clad in luxuriant Indiana limestone and black granite. The new light-flooded third floor included a restaurant (originally occupied by celebrity chef Jamie Kennedy) and the stunning Terrace Room, a sought-after event space and the location of some of the city's best views.
And that was a key goal of the design — to not only respect the stunning architecture around the Gardiner, but enhance it.
"You have this incredible sense of connection to the things in this city that are so crucial," Kuwabara said.
The Gardiner was celebrated upon its 2006 opening — Hume declared it "the most compelling, even exhilarating" recent example of architectural excellence in Toronto, while the Globe and Mail heralded a "lustrous reinvention" — and enthusiasm has scarcely dulled since.
"It's restrained and it's quite elegant — that's the KPMB vocabulary," said Marco Polo, former editor of Canadian Architect magazine and professor in Ryerson University's department of architectural science. "There's a Canadianness about it, a kind of modesty. It doesn't speak with a really loud voice, right? It's discreet and it's very well-executed."
It's also, crucially, a draw. Decorative arts as a widespread trend, Montgomery explains, "kind of ended in the '80s."
"The world had moved on," she said. Outstanding though its collection of ceramics had always been, the Gardiner needed to thread a connection with its community. Now, it's the site of successful art education programs for adults and children, engrossing lecture and panel sessions and the popular Family Sundays. In each of the past three years, attendance at the museum has risen between five and eight per cent, reaching 36,233 last year, not including school groups and classes.
Meredith Chilton is in a unique position to appreciate the Gardiner's evolution. When she initially joined as curator in 1983, the building was still just a "hole in the ground." She left the Gardiner in 2004, just as renovations were beginning, and returned in 2014 to find a museum transformed.
"It had turned from being a fairly quiet, beautiful space where you could contemplate ceramics into, simply, a dynamic place to be," she said.
"It just had a wonderful vibration about it."
Helen Gardiner, who worked so hard to see the revitalized Gardiner realized, died roughly two years after its opening of pancreatic cancer. During construction, she visited the site frequently from her nearby home on Prince Arthur Ave. While she might have been initially overwhelmed during the original building's tear-down, she came to adore the new Gardiner that went up in its place.
She might have been working in support of her husband's legacy, but more than a decade after the Gardiner's redesign, it's Helen Gardiner's relentless advocacy that many close to the museum most remember.
"She worked tirelessly as our best and greatest ambassador," Chilton said. "Her heart was at the museum. She was the most remarkable woman and it was a huge privilege to have known her.
"I would say George always hoped this might happen," she added. "He was always open to the museum being expanded, and I think he'd be quite astonished and happy to see it."