This month, find KPMB at RDV/Index-Design and the Winter Cities Shake-Up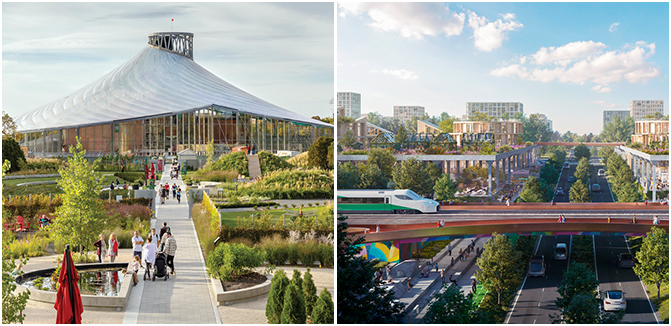 February 13, 2023
This month, KPMB will be at the RDV/ Index-Design conference in Montreal and the Winter Cities Shake-Up conference in Winnipeg, speaking about two exciting projects — The Downsview Framework Plan and The Leaf – Canada's Diversity Gardens — designing architecture for a climate-resilient future, and inventive strategies for thriving in winter cities. 
Conference: RDV/ Index-Design: Sustainable Design and Transition
Speakers: Kevin Bridgman, Laurence Holland
Location: Montreal, Quebec
Date: February 15, 2023 
This February, the RDV/Index-Design conference invites architects, designers, and professionals from related industries to learn about best practices for building environmentally conscious projects, innovations in sustainable building materials and technologies, and more.  
Speaking about the award-winning Downsview Framework Plan — a framework for the redevelopment of the Downsview Airport north of Toronto — partner Kevin Bridgman and associate Laurence Holland will share insights on creating a master plan, engaging in community consultation, and crafting design principles that are equitable, accessible and sustainable. 
The Framework Plan, created with Henning Larsen Architects, SLA Architects, and Urban Strategies, with input from local and Indigenous communities, envisions the former Bombardier Airbase into a flourishing connected residential and commercial district.  
Under this plan, over 80,000 residents will be provided with access to public transit, affordable housing units, community-led initiatives like markets, maker spaces and urban farms, and thousands of jobs. 
Read more about the Downsview Framework Plan. 
Conference: Winter Cities Shake-Up
Speakers: Mitchell Hall (KPMB Architects), Lee McCormick (Architecture49), Monica Giesbrecht (HTFC Planning & Design), David Bowick (Blackwell)
Location: Winnipeg, Manitoba
Date: February 17, 2023 
Winter Cities Shake-Up brings together architects, designers, urban planners, community organizers and professionals from related industries for a creative exchange on how to make winter cities welcoming and prosperous, even in the coldest months of the year. This year, the team behind The Leaf – Canada's Diversity Gardens will discuss the benefits of biophilic architecture in colder climates. 
Located in Winnipeg's Assiniboine Park, The Leaf is a horticultural attraction where visitors can journey through the botanical worlds of four distinct biomes. Designed by KPMB as design architect in association with Architecture 49, Blackwell, and HTFC Planning & Design, The Leaf celebrates Canada's cultural diversity with each biome dedicated to showcasing the nature and plant life central to our lives here and across the globe. 
This vibrant space gives visitors the freedom to connect with their natural surroundings and serves as a sustainable precedent focusing on horticulture, the environment, and the healing power of nature.