The Winnipeg Free Press Recognizes The Design Excellence Of Manitoba Hydro Place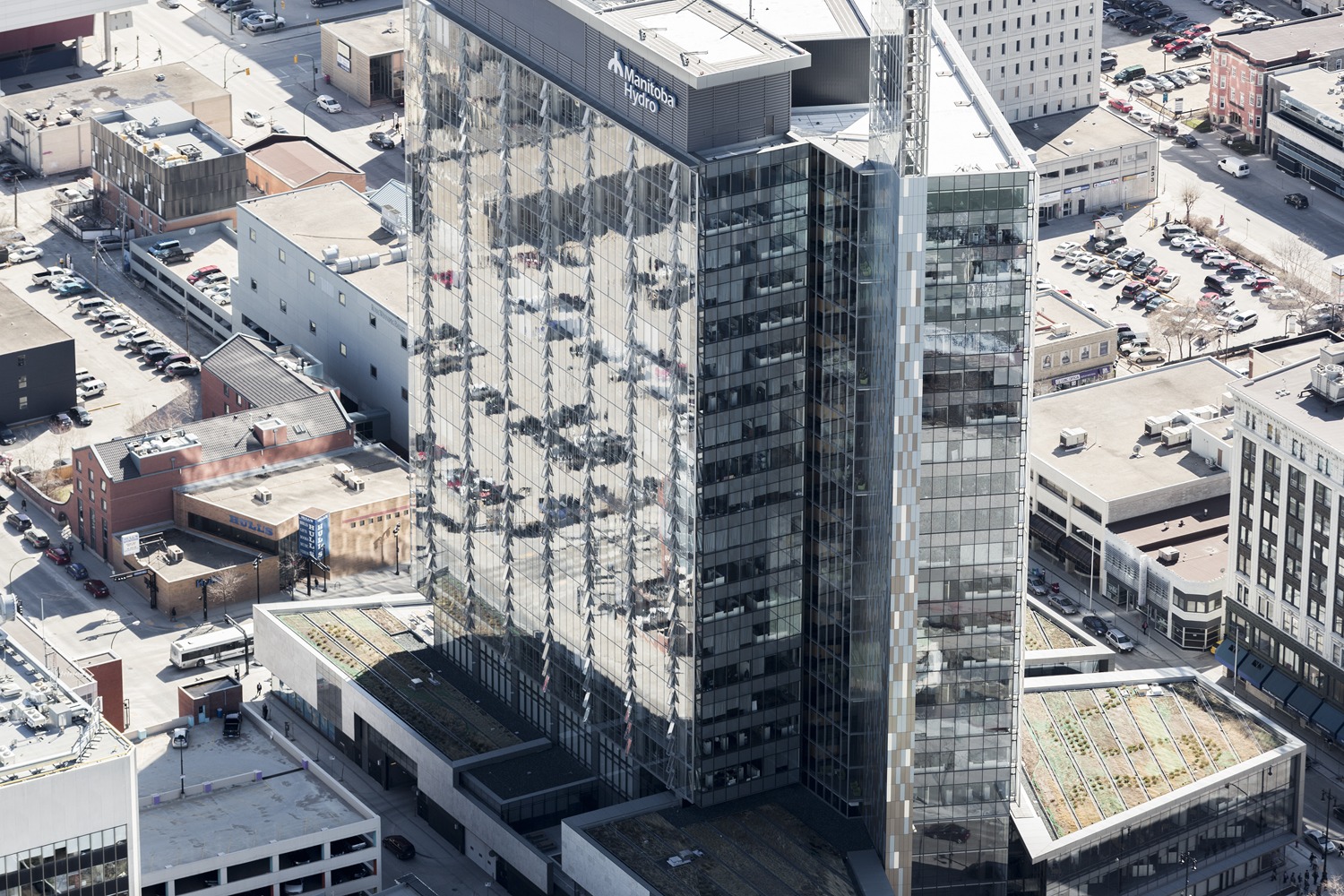 Article content
May 1, 2022
View the article on The Winnipeg Free Press (Subscribers only)
On the heels of  Earth Month and the latest assessment report from the United Nations Intergovernmental Panel on Climate Change, many are thinking about the buildings where we live, work, and play and how they can be made more regenerative  and energy efficient.
Arts and life writer Alison Gillmor reflects on the livable efficiency of Manitoba Hydro Place, 13 years after its completion, in a feature article for The Winnipeg Free Press (full article below.)
Livable efficiency
Manitoba Hydro Place isn't just kind to the utility's energy bill, it's also comfortable for the people who work there
As our province's electrical power and natural gas provider, Manitoba Hydro thinks about these things a lot, so when it came time to construct its new downtown headquarters on Portage Ave., the provincial Crown corporation looked to innovative green building approaches, as well as a new way of thinking about the collaborative connections between architectural vision and engineering function.
Designed by Toronto-based Kuwabara Payne McKenna Blumberg Architects (KPMB), Manitoba Hydro Place is a 690,000 square-foot, 22-storey office tower that opened in 2009. The original mandate for this award-winning structure was driven not just by the need to make its construction and operation more environmentally friendly, but also by the desire to create a space for its employees that was functional, comfortable, healthy and, yes, beautiful.
"It was the first large scale office tower in Canada to achieve Platinum LEED certification," says engineer Mark Pauls. (LEED — Leadership in Energy and Environmental Design — is a green-building rating program used worldwide.) This achievement is even more remarkable when you consider the challenge of building an energy-efficient structure in our extreme climate. "We get the worst of everything," Pauls remarks cheerfully. "We get the coldest winters and hot summers."
Along with that whopping 70-degree temperature range, we also get lots of sunlight hours and strong southerly winds that can help with heating, cooling and ventilation. With Hydro Place, the trick was to work with our climate instead of against it.
Energy efficiency isn't everything, though. Pauls, who has a master's degree in Climate Engineering, was the Commissioning Engineer during the design and building process and is now the Building Energy Management Engineer at Manitoba Hydro. "Energy is one very significant part of the LEED rating system," he explains. "You get a lot of points for an energy-efficient building, but that's not enough for Platinum certification. To get that you have to look at a holistic view of sustainability.
"A big piece of the LEED sustainability rating system is user comfort," he states. "That was critical for the project as well. You get big points for having great thermal control — it's not too hot, it's not too cold. You get big points for air quality — and that's been super-critical in the last couple of years.
"We build buildings for human occupancy," Pauls points out. "The most energy-efficient building would be a sealed windowless box." But who would want to work there?
During the design process, KPMB partnered with local firm Smith Carter Architects & Engineers (now part of Architecture49), as well as a multidisciplinary battalion of engineers and specialists. The KPMB architects worked with the team right from the get-go to integrate the overall design with the functionality needed to meet Hydro's ambitious green building program.
"The collaborative process was really important to achieving the end goal with Manitoba Hydro Place," Pauls believes.
Office buildings of some kind have been around since Roman times. The modern office tower has roots in the form-follows-function architectural developments of the late 19th-century, which later transformed into the 20th-century corporate skyscraper. For decades, office design focused on efficiency and productivity, trending towards cramped rabbit warrens of cubicles or big open floors with grids of desks where employees worked away, hoping to one day to rise through the company hierarchy and maybe get a nice office with a door and a view.
Recently, more attention has been given to the ways design can improve employee satisfaction, by sparking creativity, encouraging connection and collaboration, decreasing stress and enhancing physical and emotional well-being.
At Manitoba Hydro Place, for example, the double glass facade lets light pour in. Managed by a sensitive biodynamic system, this structural envelope decreases heating costs in winter and cooling costs in summer. But natural sunlight is also a big energy booster for employees, especially compared to flickering overhead fluorescent lights.
The building's six-story "waterfall" also epitomizes what Pauls calls the "harmonization of architectural and engineering intent." This curtain of water humidifies the air in the winter and dehumidifies it in the summer. It's also soothing and beautiful to listen to and look at.
In contrast to so many tightly sealed office buildings, Hydro Place's design brings in a continuous supply of fresh air, something that's become even more important with the pandemic. "At Manitoba Hydro Place, we have no recirculation of air," Pauls says. "It's one path of air flow — it comes in, it gets inhaled, exhaled and then shot out the north end of the building."
Even a simple thing such as windows that actually open can have a big effect on a building's users. "One of the most powerful engineering psychological principles when it comes to buildings is the 'forgiveness factor,'" explains Pauls. Most office buildings don't give occupants any influence over their environment.
"They don't have a thermostat to adjust, a fan to turn on, a heater to turn on or off. You just say, 'Nope, we're going to take care of it. We're going to give settings that are right for you.'
"And, of course, people are all different. They have different preferences. If you have standard set of comfort conditions, you'll have 20 to 30 per cent of people who will be uncomfortable. The forgiveness factor gives occupants the means to adjust. In Hydro Place, they can adjust the airflow for their vent, they can open and close windows, open and close blinds.
"People will feel more comfortable if they have more autonomy."
The other really crucial thing, for Pauls, is the ability to connect to the natural environment, through the building's indoor "wintergardens" and its rooftop terraces. An Indigenous employee group has started to grow the "Three Sisters" – corn, beans and squash — along with sweetgrass, sage and other ceremonial plants on one of the rooftop gardens. "It adds an interesting programmatic element to the building," Pauls suggests. These natural elements do reduce energy costs, "but it's not just about energy sustainability. It's also more about human, cultural sustainability."
Pauls has also been interested in watching the ways Hydro Place interacts with its urban environment. "The other thing that jumps out, that I personally find very rewarding, is just how the building's downtown location has supported a change in many employees' mindset for commuting," he says. Back when the Hydro headquarters was on Taylor Ave., "we used to have about 95 per cent of staff drive themselves to work. Now 50 or 60 per cent are taking the bus to work. Last summer we would have 200 or 300 cyclists." (Hydro Place has showers and lockers to support active-transport commuting.)
"From a sustainability perspective, if you're looking at carbon emissions, the building is one thing," Pauls goes on. "But that pales in comparison with the functional energy use of the building over 60 years. What often gets ignored is the circle around the building. The biggest impact we have in North America is the energy and the carbon emissions used to get to the building.
"If you have 2,000 employees and you plunk your building in the suburbs somewhere, and every day those employees are travelling an average of 10 kilometres in a single-person vehicle, that will very quickly overwhelm anything you do with the building itself."
Thinking about how everything works together is one of the ways Hydro Place has achieved its goals for sustainability, actually exceeding its initial target of a 60 per cent reduction in energy consumption compared to the standard Canadian Model National Energy Code for Buildings. "One of the themes about the Hydro Place project is that it's a system. It's not a collection of disconnected parts," says Pauls.
Remembering that everything is connected, that we're all connected, is a great way to mark Earth Month.