The Globe and Mail: Pension fund, Crown corporation join forces to develop huge tract of land in Toronto – Downsview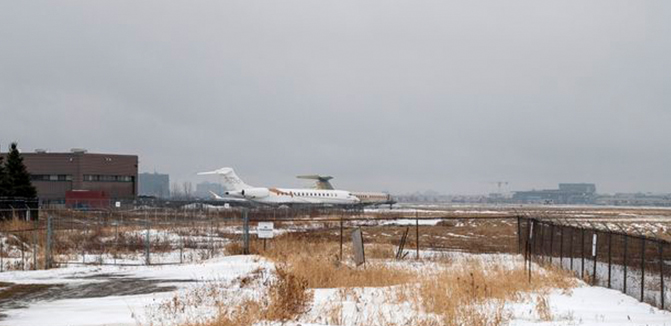 March 2, 2020
Click here to view The Globe and Mail
by Alex Bozikovic + Rachelle Younglai
A major public pension fund and a Crown corporation have teamed up to develop 520 acres northwest of downtown Toronto, in what will be the largest urban development project in the country.
Public Sector Pension Investment Board (PSP Investments) – the pension plan for federal public servants – and federal landowner Canada Lands Company are in the early stages of figuring out plans for a new business and residential community on neighbouring lands they each own in the Downsview area.
The vast site has been used by the Canadian Forces and by aircraft manufacturers since the 1920s. Its current use by Bombardier Inc., including a 2.25-kilometre runway, has kept much of the land empty and imposed height limits on nearby buildings.
The pension fund recently created a real estate development company called Northcrest Developments to work on the project.
"This is about creating a new centre in the city," said Chris Eby, the executive vice-president of Northcrest and former chief of staff for Toronto Mayor John Tory. "It has the potential to be a place that has it all."
The plans will require the land to be rezoned because they are meant to be employment lands, a process that could prove controversial. An arbitrator has turned down a rezoning application for the area once already and a city councillor has already objected.
Northcrest and Canada Lands are just the latest to announce ambitious plans to develop offices and residential properties in a city that is growing rapidly and suffering from a housing shortage. In Toronto, rents are soaring and the average selling price of a detached house is well over $1-million.
Northcrest, Canada Lands and its architects all said they want to transform the land into a vibrant community for residents, workers and businesses. Their ambitions mirror those of other large urban and suburban landowners, such as SmartCentres Real Estate Investment Trust with its Vaughan Metropolitan Centre project north of downtown Toronto.
At Downsview, PSP owns 370 acres, which now houses a Bombardier aircraft facility due to move by the end of 2023. Canada Lands owns 150 acres of land that is now part of the redevelopment, as well as the federally run Downsview Park, which occupies nearly 300 acres. The parkland is not included in the redevelopment.
The site, which was first used by De Havilland Aircraft of Canada in 1929, contains more than a dozen heritage buildings and is now home to a college campus and a variety of retail and recreational facilities.
Canada Lands started talking to PSP in 2018, after the pension fund bought its land from Bombardier for nearly $1-billion – at the time, the highest-value land deal in Canadian history. The removal of Bombardier's runway is a "big game-changer," said David Anselmi, senior director of real estate for Canada Lands; by removing height restrictions on the area, it allows for taller buildings and denser development.
At 520 acres, the combined site is about the size of Toronto's downtown core. It is adjacent to three municipal subway stations and a GO Transit commuter train station.
However, most of the area is zoned by the City of Toronto as employment lands. The developers aim to remake the site with a mix of residential, commercial and office uses, along with park space.
This could be controversial. The provincial land arbitrator recently ruled to keep the site as employment lands, which is viewed as important to protecting industrial jobs. But the Downsview site is still subject to another appeal.
"Negotiations [about] other land uses are part of that process," said Toronto chief planner Gregg Lintern. "The process will include consideration of current land use, the potential for new employment, the three subway and one GO stations that serve the area."
While local city councillor James Pasternak has expressed concern about development on the site, Mr. Tory says he is now open to a review of the site.
"We have always expected and anticipated that the redevelopment of this Downsview site will [include] thousands of jobs," said the mayor's spokesman, Don Peat. "It will also, more than likely, include a significant number of residential units, including affordable housing." He cited the precedent of the Christie's Bakery site in Etobicoke, where employment lands are being rezoned for a major mixed-use development by First Capital Realty Inc.
In Downsview, the developers will begin an application process with the City of Toronto this year to change the zoning on their lands. It could take more than 30 years to develop the entire site, they said. Mr. Eby and Mr. Anselmi started preliminary meetings with the city this year. They characterized their meetings as positive.
The developers have hired a design team including Danish architects Henning Larsen, Toronto's KPMB Architects, Danish landscape and architecture firm SLA and Toronto planning firm Urban Strategies Inc. Most of these consultants are also working on another major Toronto redevelopment project, East Harbour. That 39-acre site near downtown was recently bought by the real estate arm of the Ontario Teachers' Pension Plan.