The Globe and Mail on the proposed development at the office and retail building at 300 Queens Quay, a master plan for a unique live-work community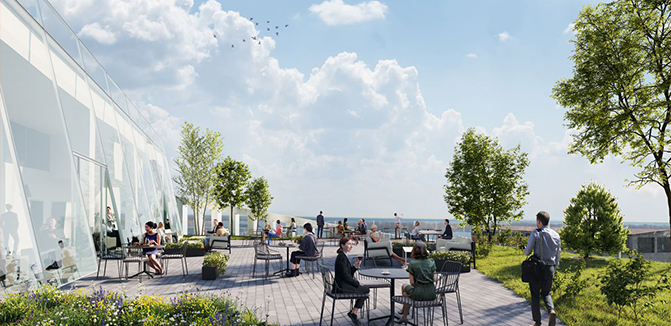 Article content
September 14, 2021
Around The Bend: Office building anchors a waterfront community
by Wallace Immen
Canary Wharf:
A team including KPMB Architects, architectsAlliance, Claude Cormier + Associés and Britain's Canary Wharf planners, Foster + Partners, developed a master plan for a unique live-work community.
The plan has been refined several times over the past decade by Adamson Associates Architects, which designed a signature mid-rise office building at 300 Queens Quay East. Adamson's previous work includes Canary Wharf in London, 2 World Trade Center in New York and St. Lawrence Market North in Toronto.
The idea of connecting the city to the water's edge has always been central to all the thinking, says Bruce Kuwabara, a founding partner of KPMB Architects.
"But a waterfront café isn't going to work in January, so we said: How do we create an environment that works year-round?"
A plaza in the centre of the site has been designed to be the heart of the district and will feature a public building. The footprints and heights of the 12 proposed buildings have been refined to increase the amount of publicly accessible space in the district, from an original 41 per cent to 65 per cent. The result is a plan with pedestrian streets 10 metres wide, protected from the wind with heated pavers that will remain dry and safe even in the winter, Mr. Kuwabara says.
To read more visit The Globe and Mail.