The Global Hub's undulating facade turns toward Lake Michigan for inspiration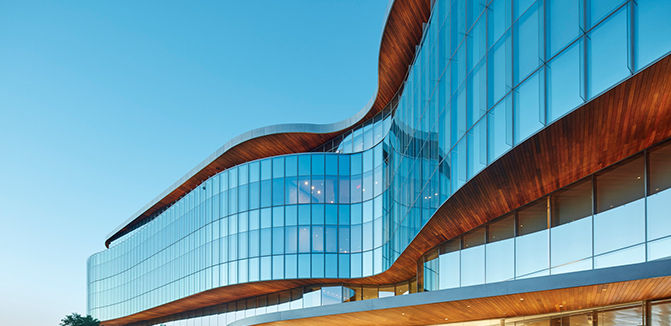 October 17, 2018
Click here to view The Architect's Newspaper
by Matthew Marani
The newest major addition to Northwestern University in Chicagoland, the 415,000 square-foot Kellogg School of Management's Global Hub, establishes a formidable cornerstone for the campus's border with Lake Michigan. KPMB Architects, a Toronto-based firm with a significant background in sustainable institutional design, addressed the region's weather extremes with a well-executed layout and an undulating triple-glazed glass curtain wall.
According to Senior Associate Kevin Thomas, the first inspiration for the building's six-story curvilinear form is the rolling movement stemming from the adjacent Lake Michigan. The nearby shoreline stabilization system, composed of boulders and precast concrete, has been consistently smoothed over by wave patterns. For KPMB, "the use of glass helps break down the mass of the large structure while maximizing visual connections to the adjacent lake and Chicago skyline."
The 160,000 square-foot curtain wall is designed with horizontal and vertical anodized aluminum mullions, and a reflective glass coating. While sections of the facade are curved, the design team worked closely with the manufacturer to incorporate narrow curtain wall modules and vertical glass fins at every frame to blur hard edges. Each triple-glazed glass panel is tied to the structural frame with modified steel angles painted to match the curtain wall and aluminum anchor hooks. The result is a sweeping surface that simultaneously reflects other wings of the building and the ever-changing environmental conditions.
Although glass panels of various sizes are the primary material element, KPMB Architects added certain details to diversify the dominating blue-green color palette. The elevations are unified by reddish-brown Brazilian walnut soffits that crest and wrap around the building. Brazilian walnut, a hardwood, was chosen for its durability and minimal maintenance.
The Global Hub's layout consists of four wings, perceived by the design team as independent buildings, rotating around a centrally placed atrium. Swooping white balconies, interconnected by pale-yellow wood bridges and an expansive two-story stairwell, are the main conduits of interior circulation. The glass curtain wall and a band of rooftop clerestories, clad with high-performance translucent glazing, flood the interior with natural light without significantly producing thermal heat.
The project, part of KPMB Architects' long-running collaboration with Transsolar KlimaEngineering, was designed with a number of features to boost environmental performance. These measures include a geothermal energy system embedded beneath an adjacent football field, a ventilation system that circulates fresh air, and an automated shading system. In 2018, the Global Hub received LEED platinum certification.