BU: The building of the future. For the field of the future. Boston University, Center for Computing & Data Sciences.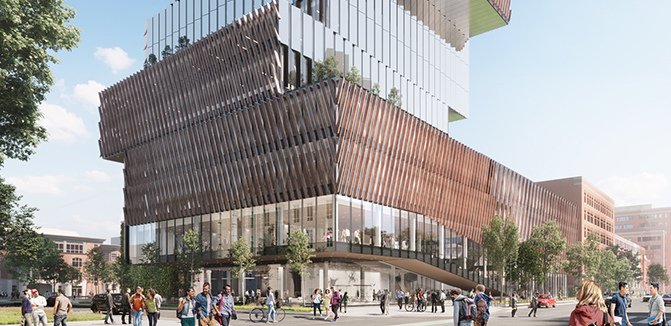 Article content
Click here to view the Center for Computing & Data Sciences / BU.edu | the project on KPMB's website
Due to open in 2022, the center will be state of the art in every way: striking architecture, advanced resources, environmental sensitivity, and interior spaces designed to facilitate collaboration. Rising above Central Campus, the 19-story structure will house our mathematics, statistics, and computer science programs, as well as the renowned Rafik B. Hariri Institute for Computing and Computational Science & Engineering. It's just the latest commitment to data sciences by a university already acknowledged as a leader in this booming field.
Where an icon meets collaboration.
Make no mistake about it. Boston University plans to lead in the booming field of data sciences. How? For starters, by building a dramatic 19-story tower on Commonwealth Avenue to house the new Center for Computing & Data Sciences. "This is the science that's going to change the way we behave, driving our behavior for the next 50 or 100 years," says BU President Robert A. Brown.
By bringing the prowess of our mathematics and statistics and computer science departments under one roof, BU will also further its efforts to become one of the leading urban interdisciplinary research institutions in the country.
A number of factors drove our decision to invest aggressively in computing and data sciences. First is that the world has changed so fast, becoming increasingly global, diverse, and connected through the personal data of anyone who uses the internet.
Also, we heard from faculty and staff a desire, indeed a need, for more and better data analytics to advance their own fields. Students have chimed in too. Seeing a world where data analytics and computing skills are not merely helpful but essential to everything from work to health to fitness to entertainment, they wanted their University to provide them with the skills and tools to thrive.
To embed computing and data sciences across the University, we have established a new all-University Faculty of Computing & Data Sciences designed to support faculty, students, research, and academic programs that bridge traditional disciplines with these emerging fields. The goal is to position the faculty and its programs to attract world-class faculty and students unencumbered by traditional academic boundaries.
"We have an opportunity to lead in an emerging, important field that will impact essentially all the disciplines in the University," Brown says. "This building is a physical statement about our commitment to the field. Just as the new building will be the physical center of our efforts in the data sciences, I also hope that the Faculty of Computing & Data Sciences will be the connecting tissue for faculty, staff, and students working in these exciting areas."
A Vertical Campus.
Designed by the Toronto architectural firm KPMB Architects, the plans for the center start with a 5-story base, or "podium," topped by 12 floors occupied by departments and centers, plus 2 floors for mechanical systems. Blocks of 2–3 floors are slightly off center from the block below, so that the building resembles a stack of books. In addition to being home to a number of departments and faculty members from across the University, the Center for Computing & Data Sciences will also be an open, glass-enclosed space of learning labs, classrooms, and meeting spaces.
We think of the new building as a "vertical campus." That's because the departments will be arranged like ascending academic neighborhoods. The lower floors will house the mathematics and statistics department, recognized in part for decades-long contributions to the landmark Framingham Heart Study, the nation's longest-running epidemiological study, and run by BU since 1971. Computer science will mostly fill the middle floors, while the interdisciplinary Rafik B. Hariri Institute for Computing and Computational Science & Engineering will occupy the top floors. The building will also contain dedicated space for the Faculty of Computing & Data Sciences.
"This building is a physical statement about our commitment to the field." – President Robert A. Brown
The theme of the building is unquestionably "collaboration," starting with the central atrium, which runs almost the entire length of the building and features a series of terraced platforms intended for small-group interactions. Whiteboard walls will be everywhere to encourage scribbling and help turn hallway conversations into fleshed-out ideas. And a ramp will be dotted with small gathering spaces along the way for quick, spontaneous conversations.
"We wanted architecture that would signal to everyone that this was a special place, the center of campus," Brown says. "We wanted a building that in 2100 would stand up and mark the dynamic change in the University and reflect the century we're in."
The revolution will be digitized. So will everything else. 
Since the arrival of the internet, our personal information and online habits have been lighting up human behavior in ways never seen before. At BU, data analytics has infused all corners of inquiry from the arts and medicine to education and business. Our researchers have created digital methods to sharpen the accuracy of election polling and uncovered bias in algorithms. They're unpacking computer decision-making by understanding human brains. They're developing secure ways to share data in an effort to illuminate everything from wage gaps to ride-share traffic patterns. And as importantly, they're devising ways to safeguard personal information and protect our privacy. If data sciences is the next technological revolution, the front lines can be found right here on Commonwealth Avenue.