The Art Gallery of Nova Scotia announces the three finalists for the re-imagined Gallery as part of the Waterfront Arts District in Halifax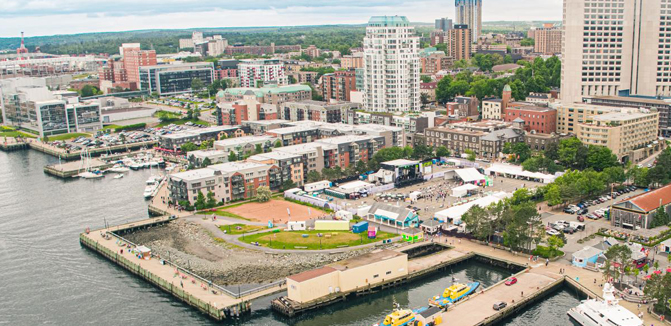 July 8, 2020
Click here to view the Art Gallery of Nova Scotia 
ARTS DISTRICT
In April 2019, the Art Gallery of Nova Scotia announced a project to re-imagine the Gallery in a new home, as part of an Arts District, on the Halifax Waterfront. The new Art Gallery of Nova Scotia and surrounding public space will make up the new Waterfront Arts District.
VISION
The Arts District will be a welcoming and inclusive public gathering place on the Halifax waterfront that showcases the best in contemporary art and public programs. Developed with Nova Scotians for Nova Scotians, the Arts District will increase opportunities for all to access and experience art, celebrate our diverse and unique stories through the arts, and enhance the overall waterfront experience.
DESIGN COMPETITION UPDATE
Phase one of the international Design Competition for the new Art Gallery of Nova Scotia and vibrant Public Space is now complete. In early July phase two of the competition will commence, when three successful teams compete by creating conceptual designs for the new provincial Art Gallery and Public Space that will anchor the new Arts District on the Halifax Waterfront.
The three finalists, infused with talent from Atlantic Canada, include:
Architecture49 with Diller Scofidio + Renfro and Hargreaves Jones
DIALOG + Acre Architects
KPMB Architects with Omar Gandhi Architect, Jordan Bennett Studio, Elder Lorraine Whitman (NWAC), Public Work and Transsolar
These teams were selected from 46 applications which came in from many corners of the globe. When evaluating the submissions, the review committee considered each team's vision for the new Art Gallery of Nova Scotia and Public Space, their demonstrated team experience, the demonstrated qualifications of key personnel, and the team's approach to the project.
Final conceptual designs will be due in September and will be made available for public viewing and engagement before the winning team is selected by a qualified jury of professionals. The new, iconic art gallery and vibrant public space will provide access to art, culture, world class exhibitions, events and programming for all Nova Scotians and visitors to the province.
SUPPORTING DOCUMENTS: