Saskatoon makes room for modern art with the new Remai Modern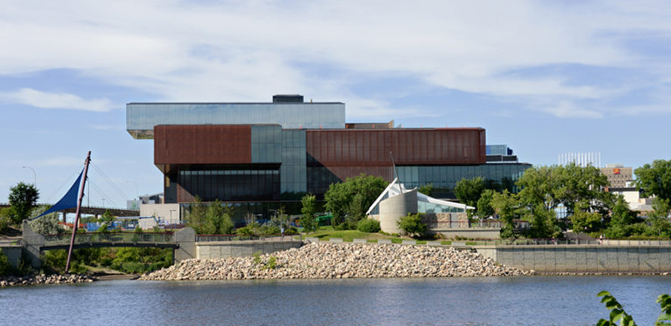 Article content
Click here to view NUVO magazine
Since June 2013, a modernist structure has been under construction on the banks of the South Saskatchewan River in Saskatoon's River Landing neighbourhood. Its low, flat topography mimics the surrounding Prairie landscape and its protruding glass wings and copper-coloured mesh exterior distinguishes it from any other building in the city. Designed by Bruce Kuwabara of Toronto-based KPMB Architects, the new Remai Modern ("pronounced 'ray-me'—as in 'do re mi,'" says the gallery's director of marketing, Alison Murawsky) is almost ready for its public launch on October 21, 2017 . Upon opening, it will become an artist-centred institution unlike any the province has seen.
Located in Treaty 6 Plains Cree territory and the traditional homeland of the Métis, the Remai Modern features a welcome sign in both English and Cree on its exterior, and further greetings in six indigenous languages near a fireplace in its reception atrium. Yet despite efforts to emphasize community orientation, the gallery has sustained local criticism. To start, some say it's visual identity, which sees a lowercase "r" and "m" preceding capitals ("rRemai mModern") and was developed by New York's Karlssonwilker studio, looks like a typo . The gallery's construction process was behind schedule and went over-budget, provoking ire. And then there is the issue of some Saskatoon locals feeling unconvinced an ambitious, ticketed contemporary gallery is really what they want.
Much of the public cavilling surrounding the Remai has pertained to its replacement of Saskatoon's Mendel Art Gallery —a squat, cozy museum with free entrance which opened in the sixties and is viewed as a nostalgic icon by locals who visited on childhood field trips or sought relief from winter in its tropical flower–filled Civic Conservatory. The Mendel's sentimental value has proved a sensitive point for the Remai team to navigate. "I talked to a donor recently who told me her and her brother went to the Mendel as children, and they went to the conservatory, and all the shows. For that family that was a mainstay in their lives for almost 50 years," says Murawsky. "But once people have a chance to build those kinds of relationships at the Remai Modern—going to the learning centre, going with their families, going for a latte in the café—they'll start to have that fondness too."
The truth is, the Mendel, located about a half hour's walk east of Remai, was too small to allow for ambitious programming, and despite three years of effort, its board was unable to raise the funds to expand it. The 130,000-square-foot Remai, conversely, has five times the space of Mendel, with 11 galleries, learning studios, and a theatre (in addition to that of the adjoining, pre-existing Persephone Theatre). It also promises the necessary climate control technology modern galleries require to negotiate loans of important international works that otherwise would never come to Saskatoon. In addition to allowing for exciting programming, the space will provide a cultural anchor for a neighbourhood the city is eager to develop—once a sprawl of parking lots and underused fields, River Landing will soon see the completion of an Alt St. Germain Hotel and a number of crisp, glass condo towers, too.
Portions of the total $85-million that made the Remai possible came from federal, provincial, and municipal governments and private donors, but the lion's share—a cool $55-million—was donated by the building's namesake, Ellen Remai, by way of her eponymous foundation (the family is involved in development). Included in this donation was the 406 Picasso linocuts that make the Remai Modern home to largest collection of Picasso linocuts in the world. An additional collection of 23 Picasso ceramics rounds out the attraction.
The inaugural exhibition, Field Guide, curated by executive director and CEO Gregory Burke and director of programs and chief curator, Sandra Guimarães, will animate the entire building with a changing display of works seeking to answer the question of what role the new museum itself will play in Saskatoon. Come March 2018, an exhibition of works by American indigenous artist Jimmy Durham will make its only Canadian stop at the Remai, straight from the Whitney Museum in New York.
Rounding out the Remai experience is a restaurant overseen by Oliver & Bonacini Hospitality (the group behind Toronto's Canoe, Bannock, and Canteen at TIFF Bell Lightbox, among others) which will seat 70 inside and an additional 50 on an outdoor patio come summer. The company will also provide catering for events on the rooftop and in the second-story Riverview Room—the latter's gorgeous 270-degree view over the river and down Saskatoon's Second Avenue purportedly incited more than a few brides to postpone their weddings until the gallery could accommodate them.