Globe Style Advisor selects Remai Modern for Saskatchewan's Canada 150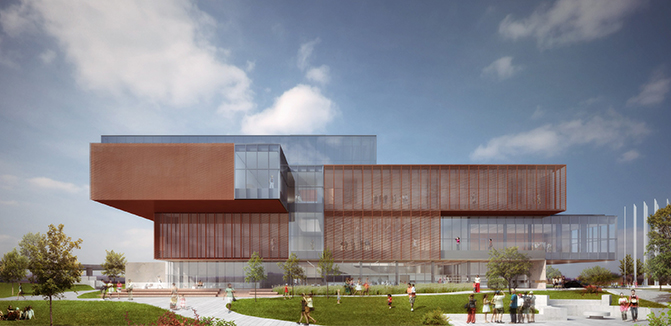 Article content
Click here to view The Globe and Mail
Saskatoon may seem like an unlikely place for a 130,000-square-foot art gallery. But when you consider the city's modernist history (the likes of Barnett Newman and Frank Stella have flocked to this town on their way north to the Emma Lake artist workshops), the home of the new Remai Modern makes perfect sense.
Set to open later this year, the striking four-level building, designed by Bruce Kuwabara of Toronto's KPMB Architects, is a nod to modernism, with its interlocking planes recalling the spirit of Frank Lloyd Wright's iconic Fallingwater house. "In many ways, the building gives a warm embrace to its surroundings," says Gregory Burke, Remai Modern's executive director and CEO. The gallery, covered in glass and copper-coloured steel mesh (a nod to the nearby Delta Bessborough Hotel's verdigris roof), stands proudly on the banks of the South Saskatchewan River downtown. The perforated cladding directs views towards the river and provides shade. "I think it's really beautiful – veil-like," says Kuwabara, who played off the city's idea of the gallery as "a community living room."
The Remai Modern wraps itself around the existing Persephone Theatre and will serve as the new home of the Mendel Art Gallery, previously the city's leading art institution regarded for its collection of Canadian and European modernism. Among the eleven gallery spaces will be the Picasso Gallery, with the world's largest collection of the artist's linocuts and a substantial catalogue of his ceramics.
Despite its name, Remai Modern's focus includes contemporary art, including the work of internationally acclaimed, Saskatoon-born multidisciplinary artist Althea Thauberger.
The inaugural exhibition will feature a diversity of works and act, as Burke puts it, as "a road map of what we want to do. For the size of the population of Saskatoon, it's a very big statement for the city."