Ronald O. Perelman Center for Political Science and Economics, University of Pennsylvania and The Brearley School are winners of the 2020 OAA Design Excellence Awards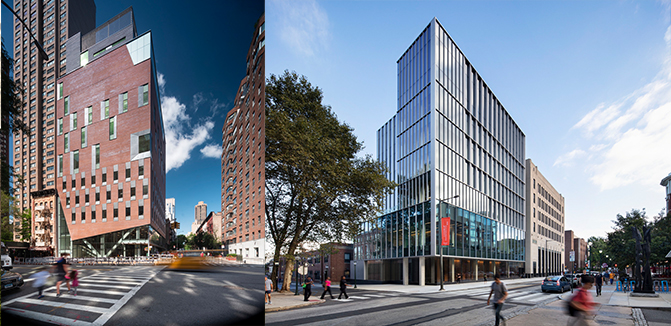 September 1, 2020
Click here to view OAA

OAA celebrates top projects by Ontario architects with People's Choice voting and special online public event on Thursday, October 1
Toronto, ON – The Ontario Association of Architects (OAA) has announced the winners of its 2020 Design Excellence Awards, as well as the recipients of this year's Service Awards. On Thursday, October 1, a special online Celebration of Excellence will honour these individuals and this prestigious selection of projects—from innovative public pools and stunning Ontario homes to sustainably designed education spaces and well-crafted government projects.
The biennial OAA Awards program offers Ontario architects an opportunity to present their work to the public and to a professional audience, demonstrating the excellence of both their work and the profession as a whole. This year, the program began requiring Energy Use Intensity (EUI) metrics for all submissions, reflecting that sustainable design is no longer a specialty, but rather a critical component of all building projects as the architecture profession strives for climate stability.
"I'm so excited to finally be able to share the OAA's 2020 award winners," says OAA President Kathleen Kurtin. "This year has required a great deal of resiliency from us all. For the architecture profession, we needed to quickly and safely close offices and construction sites, and then find new ways to work remotely."
"The Design Excellence projects showcase another example of resiliency—one that comes with creating beautiful spaces in which people can live, work, and play, while respecting the environment and acknowledging the need for long-term performance to address our climate change crisis," she adds. "Whether you are a fellow architect or a member of the public interested in learning more about the thought that goes into building design, I encourage you to learn more about these stellar projects."
Selecting from 79 eligible submissions, a jury of design and architecture experts chose the 10 winners, using criteria such as creativity, context, sustainability, business, and legacy. Throughout the week of September 14, these projects will be featured individually on the OAA's YouTube channel with short vignettes to share more about the work involved. Then, a special online voting period will open on Friday, September 18, with members of the public encouraged to select their personal favourite among the 10 winners. The top selection will receive a People's Choice Award as part of the OAA's Celebration of Excellence.
Taking place on October 1 at 4:30 pm, the free, online Celebration of Excellence will also recognize winners of the Design Excellence and Service Awards listed below, as well as reveal the recipients of the Michael V. and Wanda Plachta Award and Lieutenant Governor's Award for Design Excellence in Architecture. More information on how to attend the Celebration, and vote for People's Choice, will be shared on the OAA's Awards page, along with its Twitter, Facebook, LinkedIn, and Instagram channels.