Saskatoon's new Remai Modern is home to 405 Picasso linocut prints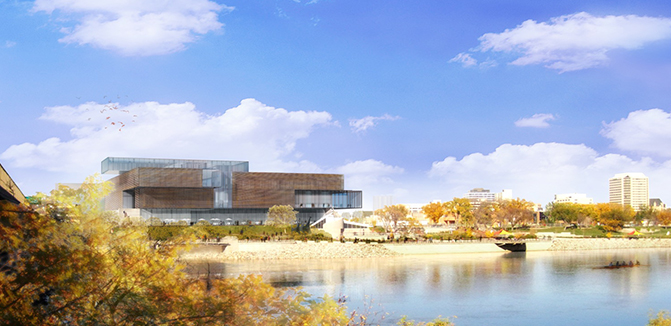 Article content
Click here to view enRoute Air Canada
The scent inside the Mendel Art Gallery's basement is a cocktail of paints, varnishes, metals and woods – intoxicating, though not unpleasant – but I'm only whiffing a fraction of Saskatoon's largest public art vaults. Most of the gallery's 7,500 works are encased in sedan-size wood coffins, insulated, cushioned, buckled, stacked and ready for their next destinations. A radiant Alex Janvier painting is headed for Ottawa's National Gallery. A Lawren Harris is Toronto-bound. But the vast majority will take a quick jaunt around the bend of the South Saskatchewan River to their palatial new home, the Remai Modern, the $85-million art museum that is set to become Canada's MoMA when it opens in October.
At least that's the audacious hope of Gregory Burke, its founding director, who's invited me to visit what might already be Saskatoon's most iconic building. (The Bruce Kuwabara design won a 2011 Award of Excellence from Canadian Architect magazine before construction even began.) I walk there from the now-closed Mendel in 15 minutes to meet Burke, whose shirt's backwards text would read "The End of the World" had I a mirror on hand. He leads me through the glassy cantilevered body that hugs the Persephone Theatre next door. Muffled drilling and screeching tape echo off the 40-foot-high white-oak ceiling, and orange-vested workers haul 12-foot-long baseboards on each shoulder as they add final touches. The result will be a clever tribute to the Prairies: Flat and long, boxy like old grain elevators stacked on their sides, with glass walls creating an openness that's more than sensory. A generous portion of the Remai is free space, including a communal atrium designed around a huge fireplace.
We ascend a tall staircase etched with the word "Welcome" in the six different languages of Saskatchewan's First Nations. Burke, a soft-spoken Kiwi, hopes the Remai (pronounced RAY-mee) will be one of the world's leading destinations for indigenous art, putting it on the continuum of contemporary international art instead of ghettoizing it in galleries. He's hush about the opening exhibitions but promises they will host the Canadian premiere of Cherokee artist Jimmie Durham's retrospective alongside what's sure to be a provocative show by mixed-media master Thomas Hirschhorn. (His gory meditations on censorship, commissioned for the Remai's website, have already shocked many.) The only Remai constant will be a showcase of 405 Picasso linocut prints, the world's largest collection, donated by the gallery's philanthropist namesake Ellen Remai.
While shows at the Mendel were often workarounds due to its inadequate size, elevators and internal climate, the Remai is a state-of-the-art temperature-controlled museum with a plump budget that's capable of showing just about anything from the last one hundred years. Many see Saskatoon as an anomalous place for Canada's premier contemporary art centre – nearly five times the size of the Museum of Contemporary Art Toronto Canada, also opening this fall. But Burke, a former video artist with fingerprints all over New Zealand's prestigious Govett-Brewster Art Gallery, sees a kindred spirit. "Saskatchewan is a province that's born in the 20th century of modernism," he tells me on the fourth floor, overlooking a panorama of Saskatoon and its refurbished river-valley promenade (once a coal dump). "It was founded as a province at the same time that Picasso was beginning his experimentation with cubism." No doubt the great artist should feel quite comfortable within this 130,000-square-foot institution.
That a city of a quarter million believes it can pull this off is a testament to Saskatoon's self-confidence. It's changing its agricultural and socialist stripes. It's still a delightfully DIY city full of makers, yes, but also go-getters and unabashedly capitalistic yuppies. A new yearning for life's finer things is evident outside the Remai's expansive windows, some of which overlook Riversdale, a formerly grungy neighbourhood that's now home to design shops and juiceries.
Later that day, Burke invites me to Ayden Kitchen & Bar (one of Canada's Best New Restaurants in 2014) for meaty plates and spirited conversations with artists like Marie Lannoo, ecstatic to finally have an institution large enough to house Saskatoon's artistic dreams. "The city just seems to be coming of age," she tells me. In a delicate Beetlejuice-esque striped blouse and coils of bangles, she stands out like a Prada store in a wheat field. But the Ontario-raised abstract painter has called this city home for over 40 years and has been waiting for a moment like this. "It's something that's been percolating. People are now willing to give up what they might have had in a bigger centre to sprinkle something here. It's not the size that matters; it's the spark." Maybe so when it comes to population, but when it comes to ambition, size does matter. And judging from the Remai, visual arts in this city are poised to leave a big imprint.