RAIC: Remai Modern is the recipient of a 2020 Governor General's Medal in Architecture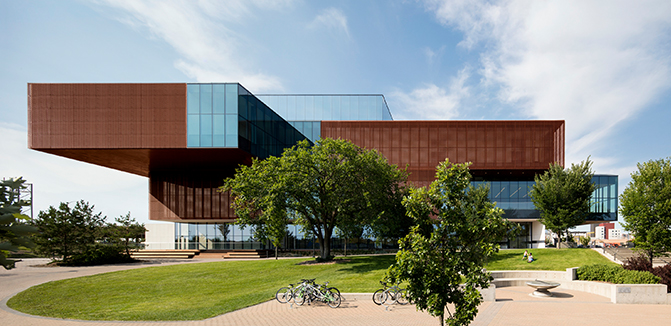 Article content
May 1, 2020
Click here to view The Globe and Mail
Architecture in Canada is going public. The winners of the profession's top honour, the Governor General's Medals in Architecture, were announced on Friday, and almost all of the winners are public facilities, ranging from two public libraries to a university athletic centre and a singular building for a faith community.
The latter building, and the standout in the list, is the Bahá'í Temple of South America in Santiago, Chile, designed by Toronto's Siamak Hariri and Hariri Pontarini Architects. "Obviously, this is no ordinary assignment," Hariri told me in 2016. "It had to be as perfect as is humanly possible." His response was a nine-sided dome made of translucent, hand-cast glass. It's a structure whose sense of calm belies its great technical complexity.
Two public libraries also made the list, including the recently completed Springdale branch of the Brampton Public Library by Toronto's RDHA and a new library in Drummondville, Que., led by Chevalier Morales of Montreal. These represent a wave of library buildings with high design ambition that serve as versatile public gathering places.
The City of Edmonton won two awards with projects by Toronto's GH3 architects, for the Borden Park natural swimming pool and a water-treatment building – the latter a rare recognition for a piece of infrastructure.
Two art galleries also made the list. Saskatoon's Remai Modern, which has been troubled as an institution, won a medal for its widely praised building, whose design was led by Toronto's KPMB. North Vancouver's Polygon Gallery by Patkau Architects, with its shimmering stainless-steel façade, is the other.
The Montreal firm Atelier TAG, which has thrived in Quebec's system of design competitions for public buildings, won for the Gilles-Vigneault Performance Hall in St. Jérôme, Que.
Vancouver's Michael Green Architecture won a medal for the Dock Building, a small, crisply designed service building at Jericho Beach in Vancouver.
And a subtle cemetery building near Edmonton, the South Haven Centre for Remembrance, earned Vancouver's SHAPE Architecture their first medal.
The award program is presented by the Canada Council for the Arts along with the Royal Architectural Institute of Canada. "The projects explore unique aspects of culture, context, and materiality across the vast expanse of our country," RAIC president John Brown, FRAIC said in a news release.
Only one residential building is included, a cottage by Shim-Sutcliffe Architects of Toronto. The Toronto firm has won a series of medals for projects of this kind. Urban houses and apartment buildings, the structures that make up most of any city, are absent from the list of winners.
For a description of the project and jury comments, please click here.