Q&A with KPMB Architects on design of Kellogg School Global Hub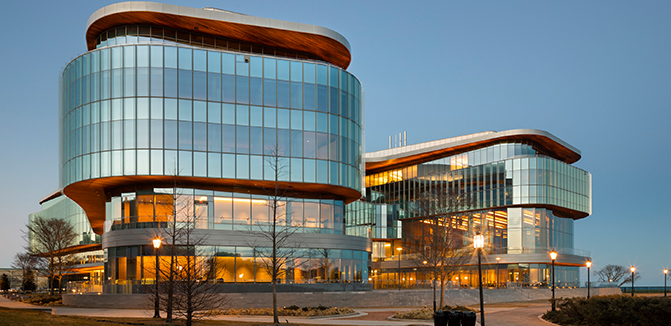 Article content
Click here to view Kellogg School of Management
We sat down with Founding Partners of KPMB Architects, Bruce Kuwabara and Marianne McKenna, to discuss their firm's design of the Kellogg School of Management's Global Hub.
What early guidance and vision did Kellogg provide your firm and how did that impact your design goals for the Global Hub?
McKenna: When we began working with Kellogg, Dean Sally Blount shared that she wanted a building that was edgy and flexible, a space that would take people out of siloes, engender important conversations and empower collaboration across the school. She was asking for a facility that would serve as a 'global hub', supporting courageous leadership and collaboration within Kellogg and Northwestern, as well as the business community at large.
What about the natural setting inspired your design for the Global Hub?
Kuwabara: In order to celebrate the building's lakefront location, we chose to pay homage to the environment in two ways – the curved exterior walls reflect the wave movement on the lake, while the glass reflects the blues of the water as well as the sky. Even on grey days when the environment is desaturated of color, the building is strikingly beautiful.
In addition, the Kellogg and Northwestern community is very connected to Chicago and shares a culture of boldness in business, innovation and architecture. We were inspired to design a building that reflected this connection while considering the history and traditions of the university, as well as the stature of the institution.
Tell us more about how you incorporated Kellogg's collaborative culture into the design of various spaces.
Kuwabara: The Global Hub is a 415,000-square-foot facility and the challenge was to design a building that feels welcoming, yet intimate, and offers multiple types of collaborative spaces. We had to learn how Kellogg's community works together, and to design a building that reflects the scales of collaboration. To accomplish this, we were thoughtful about designing open spaces, as well as four wings with unique places for research and study. Within these areas, you'll find a mixture of faculty offices, open-office floor plans, meeting spaces, kitchens and other communal areas that we have come to think of as neighborhoods.
As you move out of the neighborhood wings and into the core of the Global Hub, you shift into cross-departmental spaces such as the faculty summit, which is really spectacular and serene, and provides a central space for faculty to share ideas and insights. Additionally, you will find collaboration plaza on the first floor, which is extraordinary, because there are two glass openings that draw your attention toward Lake Michigan and Chicago's skyline.
Collaboration Plaza is the epicenter of the Global Hub. Why is this space important?
Kuwabara: One of the design challenges posed by Dean Blount was to create an extroverted and engaging focus for the facility. She was seeking a feature of the building to be "excessively public", in order to empower Kellogg and Northwestern to connect with Chicago and the global business community at large. Dean Blount began to describe a "global hub", in which people would enter a space that felt almost like a city square or piazza, connecting four unique wings, which later became unique neighborhoods.
Collaboration Plaza helped us create a building in which people encounter one another and avoid missed opportunities. We are promoting face-to-face, real-time interaction and conversation. For example, people can sit and work together on the grand Spanish steps, which were inspired by those found in Rome, and find inspiration from views of Lake Michigan and the Chicago skyline. Or they can meet in the Market, which offers an open floorplan complete with views of the lake, the Chicago skyline, and also features a fireplace.
How did you design an innovative building that offers the latest technology, but remains flexible enough to stand the test of time?
McKenna: We worked closely with Kellogg alum Gordon Segal, co-founder of Crate & Barrel, who pushed us to create more open, generous spaces, even within the corridors and hallways. The whole Kellogg team wanted flexibility for future innovation as well, so we designed larger classrooms without columns, so that the spaces can be modified later for a combination of large and small classrooms.
Now that the building is finished, how do you feel about the project?
Kuwabara: The Global Hub is truly a symphony. We've built something that is not only important, but will help support the Kellogg legacy.
McKenna: Dean Blount understood the power of an architectural legacy and she used the word courageous from the very beginning. She knew that together we were creating a building that will change peoples' lives. She also knew that the Global Hub would change the expectations people have for how a building's spatial and architectural elements can bring people together and encourage teamwork. It has been a great privilege.