Profile Series: Marianne McKenna, Lead Architect, Massey Hall Revitalization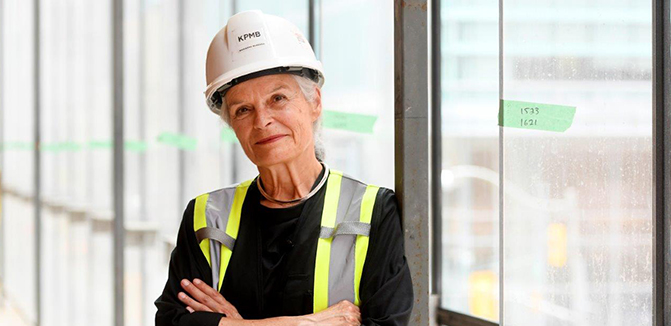 October 7, 2021
Click here to read more on Allied Music Centre & Massey Hall
Meet the incredible team of local trades and skilled artisans behind the project:
Massey Hall has been closed since July 2018 for the Massey Hall Revitalization Project, the most significant renovation in its 127-year history. This project will restore and renew both the interior of the Allan Slaight Auditorium and the exterior façade of the heritage building. The revitalization will also introduce a new 7-storey south tower that will collectively be known as, Allied Music Centre – Canada's premiere multi-purpose performance facility. Allied Music Centre will feature a total of four venues for artists, educators, and community groups plus extended programming opportunities. When this revitalization is complete, Massey Hall's legacy will shine for another century and beyond.
Over the next few weeks, as we lead up our reopening in November 2021, meet some of the influential people behind the project.
First up, Lead Architect, Marianne McKenna…
"Massey Hall is a gift to our city. It is architecture that lives from century to century and endures as part of the collective memory of music in Canada. It is uniquely thrilling to feel it adapt to our times – a great responsive room being readied for what comes next." – Marianne McKenna
Introducing Lead Architect of the Massey Hall Revitalization, Marianne McKenna, Founding Partner, KPMB Architects, who has been leading the charge alongside the incredible team at KPMB since 2012 – incidentally, the same year that McKenna received the Order of Canada for her outstanding achievements in architecture.
The Massey Hall Revitalization is a career highlight for this esteemed architect whose other projects include: