Remai Modern or "Prairie Modern" as seen in Frieze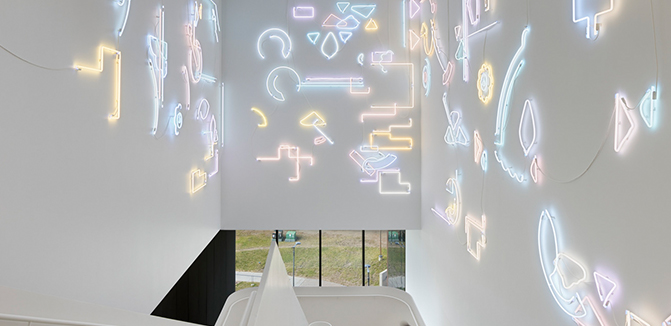 Article content
Saskatoon, the largest city in the vast prairie region of Saskatchewan, Canada, does not seem a likely stop on the international art world circuit. There are no direct flights from New York or Los Angeles. Yet it is now the home of Remai Modern, a new museum of modern and contemporary art, that recently opened in a spacious CAD$100 million building there, with an endowment matched only by Canada's largest institutions. Situated on the bank of the South Saskatchewan River in Riversdale, a historically low-income neighbourhood once plagued by a 46 percent commercial vacancy rate, the museum is emblematic of Saskatoon's dramatic transformation in recent years; Riversdale now boasts a symphony orchestra, a major theatre, several smaller art spaces and plenty of hip dining and retail spots. Remai Modern's riverside plot was designated by a 2004 municipal development plan as the site of a 'future destination centre' – an icon to draw tourists in, and a cultural anchor from which development would expand.
Facing pressure to fulfill the city's hopes for a major tourist destination, Remai Modern (named after its leading donor, Ellen Remai) needed an attention-grabbing building. But Canadian architect Bruce Kuwabara's design is less a flashy statement than a set of referential gestures that eschews the bravado of recent museum architecture. The building is governed by a horizontal energy, which looks back to Frank Lloyd Wright's Prairie-style designs. Wright's dwellings were meant to appear as if they had sprung organically from the American Midwest landscape. This relationship to context is true too of Kuwabara's structure: its rectilinear, cantilevered volumes, containing within them 126,000 square feet of floor surface, mimic the region's flat topography, while the largely glass exterior echoes the river as a mirror to the sky.
If Remai Modern's architecture is a paean to place, the institution it contains is dogged by the politics of location. During the opening weekend, people demurred at whether the museum could reconcile its remote location with its aspiration to be an international art destination. Its director, Gregory Burke, and chief curator, Sandra Guimarães, both bring extensive international experience to the project – but neither were trained in Canada nor have prior ties to the prairies. Those who consider this an issue were further encouraged by Andrew Hunter's resignation in September from the Art Gallery of Ontario in Toronto. In a public letter that followed, the esteemed Canadian curator criticized the predominance of non-Canadian curators at the institution, who he feels lack a true understanding of the country's art and its communities.
Burke and Guimarães's inaugural exhibition, 'Field Guide', places Canadian contemporary art firmly within an international context. Featuring more than 80 artists, the show is given reign over the entire building: its 11 modestly sized gallery spaces, light-filled hallways and stairwells, and a 150-seat theatre. The exhibition's contemporary portion attempts to sidestep the centre/periphery trap: it avoids geographical categorizations, arranging works instead in what Guimarães characterizes as a 'constellation'. The model succeeds in drawing out relations between recent practices across various axes, rather than along a single binary. The selection of Canadian art encompassed divergent practices and were dispersed across the show. For instance, Edward Poitras's Vita Brevis(1992), a coyote sculpted from bones, braying beneath hanging circuit boards and radio parts, is flanked by Kader Attia's Colonial Modernity: the first mass in Brazil and Algeria (2014), a diptych of replicated 19th-century colonial paintings, and Paulo Nazareth's Anthropology of black II (2014), a stark black and white video shot at the Hospital Colônia in Brazil where society's 'undesirables', largely people of Indigenous and African descent, were tortured through the 20th century until its closure in 1980. Placed in conversation, these works encouraged consideration of indigeneity and colonial experiences across different contexts.
One of Remai Modern's guiding principles, according to its website, is a 'commitment to interrogating the idea of 'modern' from multiple cultural, historical and contemporary positions.' Its inaugural programming boasts the inclusion of Picasso, with a presentation of the museum's collection of his linocuts curated by artist Ryan Gander. Making Picasso accessible to Saskatchewan's communities is welcome; relative to its large geography, Canada has few museums with the facilities and finances for exhibiting or acquiring canonical art. But this particular display showed no meaningful engagement with the work's history in relation to modernism, and in effect merely appeared as an effort to elevate a minor aspect of Picasso's practice by associating his fetishized name with that of another famous artist.
The show is more successful when it hones in on specific histories, as with its presentation of work by artists from, or inspired by, the Emma Lake Artists' Workshops, a famed series of classes led in the 1950s and '60s by major figures of postwar modernism, including Clement Greenberg, Barnett Newman and Frank Stella, just outside of Saskatoon. Emma Lake forged radical cultural ties between Saskatchewan and New York, and significantly shaped the region's art production. This legacy is represented by the pairing of Kenneth Noland's Flares "Fly" (1991) – a sculptural painting on three irregular-shaped Plexiglas panels – with a large monochrome titled by longtime Emma Lake participant Robert Christie (The Red Studio, 2012). In the midst of this boy's club, Saskatoon-based Tammi Campbell's gridded drawings Dear Agnes (2014) pay homage to the Saskatchewan-born Agnes Martin. Though it highlights an important local lineage, the compact selection left me wanting a more comprehensive and researched exhibition, the kind Remai Modern should be able to mount.
Indigenous people make up one sixth of the Saskatchewan's population, and 'Field Work' includes a notable commissioned project by Ontario-based artists Tanya Lukin Linklater and Duane Linklater that honours this heritage. Determined by the River comprises a large raft structure that gestures to the South Saskatchewan River, a traditional gathering place for millennia. The raft holds a smattering of works by the artists assembled from tipi poles, horsehair, local stones and river sand. Gathered on the raft are also over a dozen works by several generations of First Nations, Métis and Inuit artists from Remai's collection. This selection offers a real interrogation of the 'modern', with Kenojuak Ashevak's stonecut print Tundra Hawk (1970), for example, gesturing to the long history of experimental printmaking by Inuit artists in Cape Dorset.
In Remai Modern's inaugural show, such instances of strong, local perspectives provoked new questions of modernist canons and of contemporary cultural production. With solo shows by Thomas Hirschhorn and Jimmie Durham in the pipeline, it remains to be seen whether the museum will bring the region's particular historical and cultural legacies – both the colonial and the collectivist – to bear in a more significant manner on its international programme, or become merely another indistinctive stop on the contemporary art circuit. With a photogenic building and prodigious funding, Remai Modern makes a great cultural brand for the city; but unclear yet is whether it will root itself as a cultural space for the city, an institution that responds to the creative and radical energy of its communities.