Ponderosa Commons is designed to activate the commuter campus year-round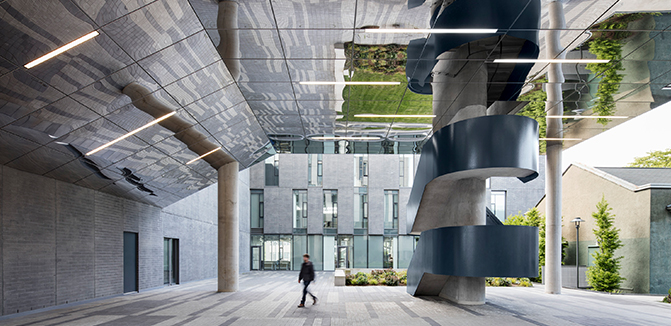 Article content
It's common for commuter campuses to become deserted at night. Ditto at the end of the academic year, as professors take vacations and students take summer jobs.
That used to be the case at the University of British Columbia (UBC), but not anymore. A new model for development is activating the commuter campus all day, every day.
The 604,436-square-foot Ponderosa Commons, which combines academic, commercial, recreational and residential uses, exemplifies this novel approach. Completed last year, the campus hub came at a total project cost of $167.4 million — $87.6 million in phase one and $79.8 million in phase two.
Gerry McGeough, director of planning and design at UBC, said the goal was "to bring housing and other mixes of uses into what has traditionally been the single-use academic core, to bring the energy and vitality that can come with mixed uses and student life into it."
The approach, which is laid out in the master plan for the campus, echoes the planning occurring in major urban centres, said McGeough, such as Toronto and Vancouver. There, residential towers rise from base buildings populated with amenities, offices and shops, creating what are commonly called "complete communities," where residents can live, work and play.
Ponderosa Commons similarly tops podiums containing academic and commercial uses with residential towers. The three buildings, which maintain transparent sight lines at street level, carve out courtyards with their footprints.
There is an environmental impetus behind this trend toward intensifying upward versus sprawling outward. In addition, the development is expected to attain LEED Gold certification — a requirement for all newly constructed, publicly owned buildings in B.C. — thanks to measures including heat and water recovery as well as the use of recycled materials.
Where environmental and planning principles influenced the form of development, the budget loomed large in the design of Ponderosa Commons, led by KPMB Architects in joint venture with HCMA Architecture + Design.
One of the major money-savers was the use of custom, pre-fabricated panels comprising exterior finishing, insulation and interior finishing. Lessons learned in phase one allowed the team to slash costs by $25 per square foot in phase two, said Karen Marler, principal at HCMA Architecture + Design.
The mixed-use hub was delivered at a total project cost of $274 per square foot in phase one and $249 per square foot in phase two. That compares with the $480 to $580 per square foot it typically costs UBC to complete academic buildings and the $220 to 330 per square foot it typically costs UBC to complete residences.
On the exterior, the panels fit into the broader context of the UBC campus, which is characterized by modernist white brick, said Shirley Blumberg, founding partner, KPMB Architects. On the interior, the panels were left exposed, simply receiving coats of paint on their smooth surface.
"There's absolutely no money in the budget for these buildings to be the least bit pretentious, and I think they [students] feel very much at home in something that is so stripped down but is also lively and animated with lots of light," said Blumberg.
"In a way, the buildings are very contemporary, a bit more European in their sensibilities, through the use of colour and graphics, which we don't do so much in North America."
The new residences absorbed some of the unmet demand for on-campus accommodations, which a student survey revealed was driven in part by a lack of comparably priced rentals close by. That hardly comes as a surprise as the surging cost of housing in Vancouver has stolen headlines in recent years.
The size standards for the residences, which include one-, two- and four-bedroom units, were revised downward, as were the size standards for the offices. With the under-side of its slab exposed, a full-height ceiling and a full-height window offset the impact of the reduced footprint within the offices, said Blumberg.
In addition to offices, Ponderosa Commons gave the Faculty of Arts an art gallery and art studios for graduate students. The Faculty of Education, the largest academic user in the new mixed-use hub, got conference facilities, and Geological Studies got a basement-level laboratory.
In phase one of the project, the various user groups, who were coming together for the first time, were somewhat territorial in staking out space, observed Marler. By phase two of the project, the groups were expressing real enthusiasm about the opportunities that would come with co-locating in the mixed-use development, she said, such as cross-pollination between disciplines.
"For example, in the art history and visual arts building, [residents] walk through the lobby, and so they're continually exposed to activities and events that are happening in the art history and visual arts program, even though they may not be involved in that program," Marler elaborated.
Also contained in the podiums are 'collegiums,' spaces that give commuter students a place to congregate on campus for a modest membership fee, with amenities such as bike storage and showers. Plus, popular hangouts Harvest and Mercante Pizzeria are financially viable food service operations that help subsidize academic initiatives.
The benefits of keeping the commuter campus bustling include improved safety at night and increased revenue during the summer months. Flexible spaces make it possible to rent out facilities and 'hotel' rooms (vacant residences) for conferences, while mixed uses allow for passive supervision from residences and social spaces when professors and students leave offices and classrooms after dusk.
There were some challenges, McGeough acknowledged, such as space planning with a view to managing access control among the different user groups. But there have also been signs that the approach is having its intended effect, with the new residences close to capacity and the social spaces well-used.
Despite these encouraging signs, this type of mixed-use model appears to be relatively rare on post-secondary campuses today.
"In Montreal, the Concordia University, they have some high-density academic projects; NYC on Roosevelt Island, you see that; and you see some light mixes of uses," said McGeough, "but I haven't seen this intensity, where you have big academic classrooms, laboratories, and then you have a whole bunch of services — restaurants, gym and then residential."
But Ponderosa Commons is poised to be replicated as the first of five mixed-use hubs that will ultimately be constructed around the academic core of the UBC campus. Orchard Commons is also now complete, with Gage Commons in planning and Old Armouries Commons in early planning.