We are committed to truth and reconciliation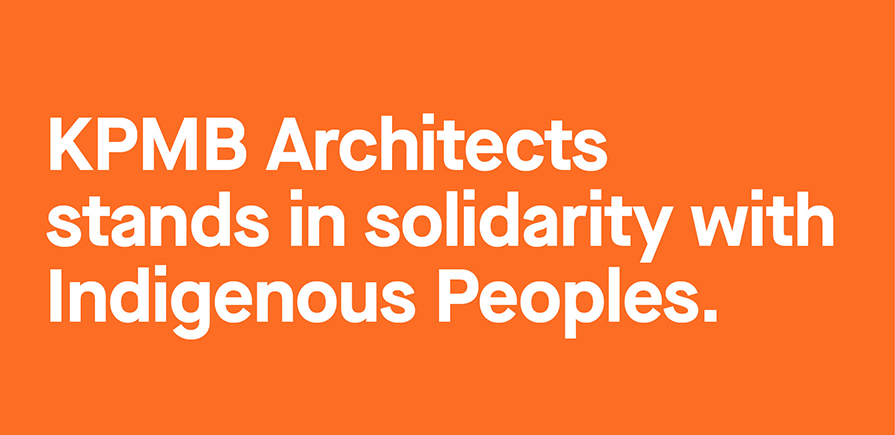 June 29, 2021
KPMB Architects stands in solidarity with Indigenous Peoples. We mourn the discovery of the remains found at former residential schools and acknowledge there are more unmarked and unreported graves across Canada. Our hearts go out to the survivors, their families and communities.
We recognize that the trauma and oppression of Indigenous Peoples and communities continues today. We are committed to listening, learning, and taking action on Reconciliation. The work of Reconciliation is an essential path for healing and systemic change.
It is imperative that we as an organization, as well as the architectural sector in Canada as a whole, continue to educate ourselves about the Truth and Reconciliation Commission's findings and 94 calls to action and the National Inquiry into Missing and Murdered Indigenous Women and Girls.
We are eager to build new relationships with our Indigenous communities, and to support in tangible, sustainable ways. Please reach out if you have opportunities to share, new partnerships we can engage in and/or work that you feel we would be well-suited to assist with. We have undertaken some important initiatives, and we are committed to doing even more.
In support of Indigenous Peoples who continue to mourn these devasting discoveries, KPMB has made a donation to The Gord Downie & Chanie Wenjack Fund. We encourage our peers to pledge their support and donate. On Wednesday, June 30th please take time for A Day to Listen, in partnership with The Gord Downie & Chanie Wenjack Fund.
For those directly impacted, The National Indian Residential School Crisis line is available 24/7 at 1-866-925-4419
To donate and take action, please find resources at the links below: