Our collaboration with Two Row Architect for A Resilient Duplex for Fort Severn First Nation has been awarded a 2021 Award of Excellence from Canadian Architect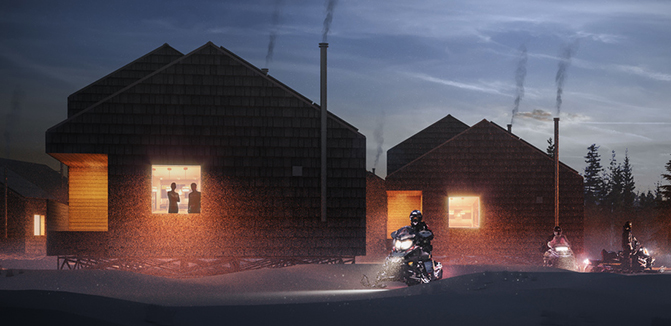 Article content
November 29, 2021
Click here to view Canadian Architect
We are pleased to announce that our collaboration with Two Row Architect for A Resilient Duplex for Fort Severn First Nation has been awarded a 2021 Award of Excellence from Canadian Architect. The jury recognized the project "as a design rooted in a robust consultation process with its northern Ontario community."
Indeed, central to this project was a series of community engagement sessions, including meetings with band leaders, site visits to housing units currently under construction, and a multi-generational community workshop in which we asked Fort Severn residents of all ages to describe what they love about their community, the challenges they face with their current homes, and how new housing could better meet their needs and aspirations. This input determined the project team's needs assessment and design strategies.
"We have tried to think of our research and design work as the product of a two-way exchange of knowledge and skills, rather than a case of settlers arriving with predetermined solutions. Two Row has been at the center of that exchange," says Laurence Holland, a project team member. "Brian and his team have been so adept at navigating multiple worlds, synthesizing the needs, wants, and aspirations of the community and ensuring that the resulting design is a result of both technical innovation and cultural specificity. "
The jurors bestowed five Awards of Excellence, seven Awards of Merit, two Student Awards of Excellence, one Photo Award of Excellence, and two Photo Awards of Merit. The program this year received 174 professional entries, 39 student entries, and 46 photo entries.
You can find the full list online and in the December 2021 issue here.