Opening of an extensive renovation and modernization of one of the most celebrated hotels in Canadian history — Park Hyatt, Toronto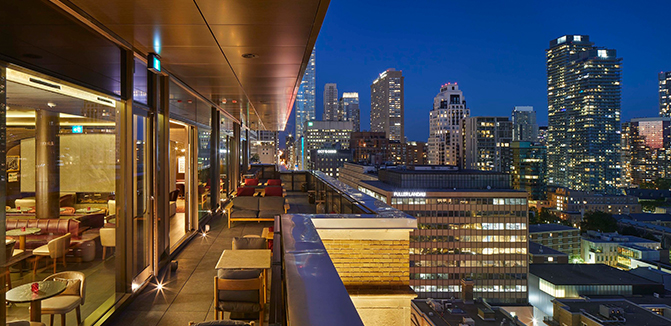 Article content
September 16, 2021
KPMB Architects is pleased to announce the completion of an extensive renovation and modernization of one of the most celebrated hotels in Canadian history — Park Hyatt, Toronto. Honouring the hotel's rich history while anticipating the City of Toronto's future growth, KPMB Architects with Studio Munge and Oxford Properties have restored the property, located just north from Queen's Park to its true landmark status and prime location for cultural and commercial convergence.
"We're honoured to bring new life to the iconic Park Hyatt, Toronto, a destination beloved by local Torontonians and visitors alike throughout the decades, from celebrated writers to opera singers, politicians, and more," says Andrew Dyke, Partner, KPMB Architects. "Our design preserves the heritage of the site while creating a forward-looking hotel experience that reflects Toronto's place as one of the most global cities in the world."
KPMB's transformation of the property boldly re-envisions the spatial sequencing of the hotel and residences, including notable structural changes such as a reconstructed link between the North and South Towers and a reconfigured elevator core with a custom profiled metal panel cladding in a bronze finish. The new layout provides a seamless and fluid guest experience from arrival through check-in to lounge, dining, ballroom, and the iconic roof top bar.
Joni, the new restaurant, is part of a completely reconstructed centre podium. Carved out of what was formerly the low-ceilinged lobby, the double-height, ellipse-shaped restaurant, and bar is bookended by a feature black stair to the south and a soaring fireplace to the north. The division between restaurant and lounge is blurred, a nod to the intimate ambiance that defines the Park Hyatt experience.
The softened perimeter of the dining space features several vitrines displaying works from the exquisite collection of the neighbouring, KPMB-designed Gardiner Museum. To complement, Tatar Art Projects led the art program that sees works on display by Canadian artists including Shannon Bool, Nadia Myer, Douglas Coupland and An Te Liu. Comfort and privacy in the space is further enhanced by eight-foot-tall architectural wood louvers that shield the lights of passing vehicles in the new car court while maintaining connectivity to the vibrant neighbourhood.
The third floor of the new podium features an entirely new, state of the art ballroom and a skylit pre-function space with large windows providing spectacular views of the city.
What's more, the 17th-floor Writer's Room – rooftop bar, a beloved icon in the city for decades, is reinvigorated and expanded to re-establish its prominence as a social and cultural destination. Guests are treated to unparalleled views of the city and a completely redesigned and expanded rooftop terrace by KPMB. The new rooftop bar creates a sense of connection between guests and the city beyond.
For press inquiries, please contact
kpmb@camronpr.com
For all other inquiries, please contact
news@kpmbarchitects.com