OCAD University Launches Jordan Bennett Mural and Exhibition With Support from KPMB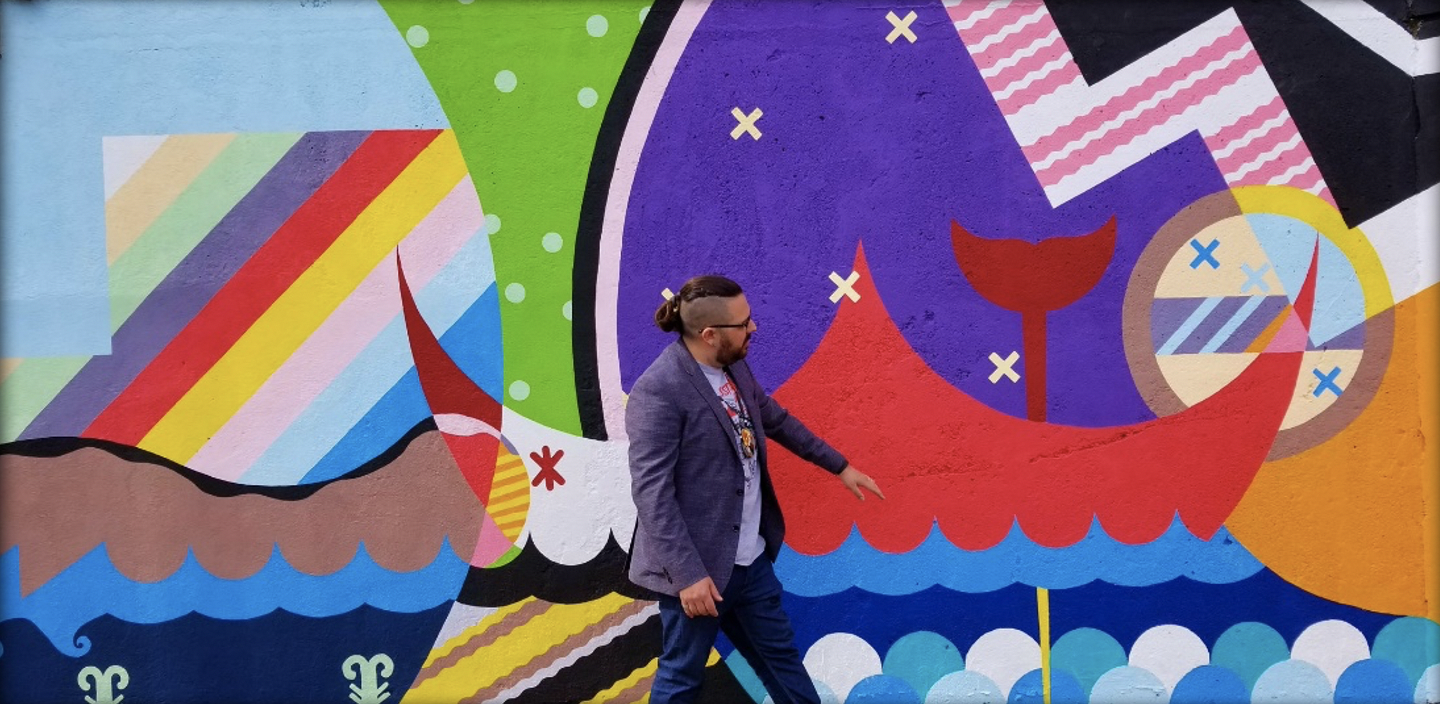 June 16, 2022
In Toronto, artist Jordan Bennett grounds the space at OCAD University in Indigenous material culture. For Jordan Bennett X2, the Mi'kmaq artist unveils not one, but two remarkable projects this spring. As part of the city's ArtWorxTO program, Bennett's large, vibrant mural transforms the south wall of the university's main campus and at Onsite Gallery, his solo exhibition responds to the innovative heritage embedded, woven and veiled in the richness of Mi'kmaq culture and design.
As a part of ArtWorxTO and curated by Onsite Gallery's Lisa Deanne Smith, the mural, titled pi'tawita'iek: we go up river is on view now. Inspired by Bennett's relationship with Mi'kmaq porcupine quillwork, a vibrant colour palette combined with rhythmic silhouettes and bold geometric shapes evokes a celebratory expression of Indigenous culture and heritage. 
Also on view now, and until December 10, is Bennett's solo exhibition, Souvenir. Curated by Ryan Rice at OCAD U's Onsite Gallery, this exhibition brings together new site-specific works by Bennett that celebrate the design, symbolism and history of the intricate art form of quillwork of the Mi'kmaq culture. 
"This show is radiant, from the colour to the scale," said founding partner Bruce Kuwabara and advisory member for ArtWorxTO. "People should spend time here and really look at the original artefacts – I've spent my life trying to construct my identity and this show does that. It is an intergenerational show, and it is our responsibility to absorb it and come to terms with it on your own terms." 
"Over the last two and a half years, we've worked closely with Jordan on the design for the Art Gallery of Nova Scotia and we've learned so much about the deep history of Nova Scotia and Mi'kmaq culture and we've learned even more through your work here," remarked founding partner Shirley Blumberg. "This is a wonderful exhibition made special through Jordan's stories about his work, culture, and heritage."
KPMB Architects is delighted to be supporting Jordan Bennett X2. 
For more information on Jordan Bennett's mural and exhibition at OCAD University click here.
Jordan Bennett is a Mi'kmaq visual from Stephenville Crossing, Ktaqamkuk (Newfoundland) His practice explores land, language, the act of visiting, familial histories and challenging colonial perceptions of indigenous histories and presence with a focus on exploring Mi'kmaq and Beothuk visual culture of Ktaqamkuk. KPMB Architects is currently collaborating with Jordan Bennett Studio, Omar Gandhi Architect, Elder Lorraine Whitman, Public Work, and Transsolar on the integrated design team for the Art Gallery of Nova Scotia.