OAA reveals 2020 Design Excellence Awards finalists: Ronald O. Perelman Center for Political Science and Economics, University of Pennsylvania | The Brearley School, New York | Wilson School of Design, Kwantlen Polytechnic University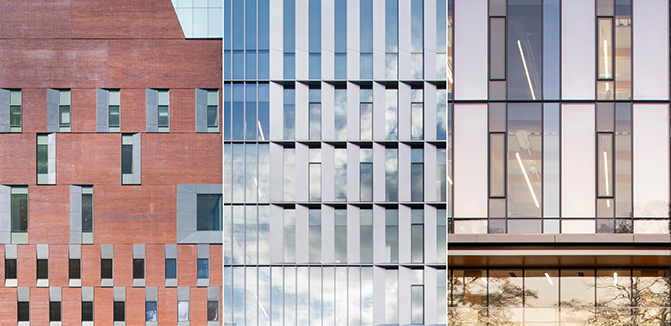 Article content
March 10, 2020
Click here to view Canadian Architect
The Ontario Association of Architects (OAA) has announced the 20 finalists for the OAA Design Excellence Awards. This year's short-listed projects include public swimming pools, Ontario homes, sustainably designed education spaces, and well-crafted government projects.
Chosen by a jury of design and architecture experts, the selection of projects will be further refined into a list of 10 winners. The winners—as well as the recipients of the Best Emerging Practice, G. Randy Roberts Service Award, Lifetime Design Achievement, and Order of da Vinci—will be announced on Friday, April 3. The awards will be given out during the 2020 OAA Conference, "Shifting Paradigms," which takes place in Toronto from May 27 to 29.
The biennial OAA Awards program offers Ontario architects an opportunity to present their work to the public and to a professional audience, demonstrating the excellence of both individual award winners and the profession as a whole.
This year, for the first time, the program required Energy Use Intensity (EUI) metrics for all submissions. This reflects the OAA's belief that sustainable design is no longer a specialty, but rather a critical component of all projects as the architecture profession strives to find ways to ensure the built environment contributes to climate stability.
"I'm excited about the jury's selections for this year's 2020 Design Excellence Awards, and I am pleased to be able to finally share them with you today. These projects are exemplary of the outstanding work being done by Ontario architects," says OAA President Kathleen Kurtin. "I was particularly happy to see the quality and innovation in this year's finalists, given that it was the first time EUI was included as a mandatory requirement of the submission process. Climate stability is a priority for the Association, and these awards demonstrate that Design Excellence is not limited by building responsibly for the future, but rather enriched."
Selected from 79 eligible submissions, the 20 finalists were judged on creativity, context, sustainability, good design/good business, and legacy.
KPMB finalist projects are:
Ronald O. Perelman Center for Political Science and Economics, University of Pennsylvania
The Brearley School, New York
Wilson School of Design, Kwantlen Polytechnic University