OAA blOAAg: Mike & Ophelia Lazaridis Quantum-Nano Centre, University of Waterloo (2012)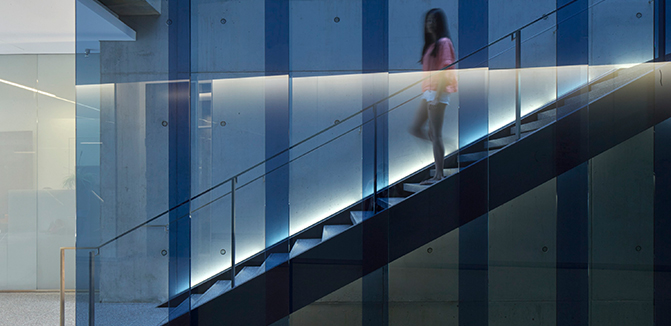 Article content
Location:
Waterloo, Ontario
Architects:
KPMB Architects
Date of Completion:
2012

OAA Awards 2017 Design Excellence Finalist
The design of the Mike & Ophelia Lazaridis Quantum-Nano Centre (QNC) at the University of Waterloo creates a sophisticated platform for the Institute for Quantum Computing (IQC) and the new undergraduate Nanotechnology program.It was designed to showcase Canadian innovation and industry in two cutting edge fields that promise to transform the ways we work, communicate, play and live. The entire facility comprising spaces for science and socialization, is strategically designed to realize the vision to 'attract the brightest minds in the world with an inspiring and state-of-the-art environment in which to work, collaborate, and catalyze breakthroughs.The QNC celebrates two branches of science that explore the realm of the invisible and are typically conducted in isolation. Quantum physics deals with atomic and subatomic levels where things can exist in two places at the same time. Nanotechnology deals with the fabrication and behaviour of materials, devices and systems of 100 nanometres or smaller. It is the first in the world to combine the two disciplines into one facility. It is located on the main campus and set within an existing network of routes, courtyards and two adjacent science buildings. Its central location allows collaboration between affiliated departments.
The IQC is housed in a 'bar' building and its glass patterned façade plays on concepts of 'superpositioning'. Conceptually inspired by the Newton Institute in Cambridge England, the design organizes 'mind spaces' – lounge, office and meeting rooms – around the atrium. The plan of the Nanotechnology Engineering volume is based on a traditional laboratory building layout. The perimeter of the volume is supported by an exterior structural steel "honeycomb" suspended from concealed steel trusses in the penthouse. The pattern was inspired by the intrinsically stable hexagonal carbon structure of the nanotube and allows column free, flexible office space.
The design prioritizes the human experience with access to fresh air, natural light, views, and most importantly opportunities for social interaction throughout. Its overall strategy focuses on reducing energy use and carbon emissions.
Locally it represents a tipping point in raising the standards of design excellence and quality on the University of Waterloo campus. Globally, it demonstrates the significant role architecture has to play in moving the world in new directions of interdisciplinary research and innovation. As world renowned physicist Stephen Hawking described the building as a "work of architectural genius," on the occasion of its opening.