Northwestern's Kellogg School of Management reviewed by Blair Kamin of the Chicago Tribune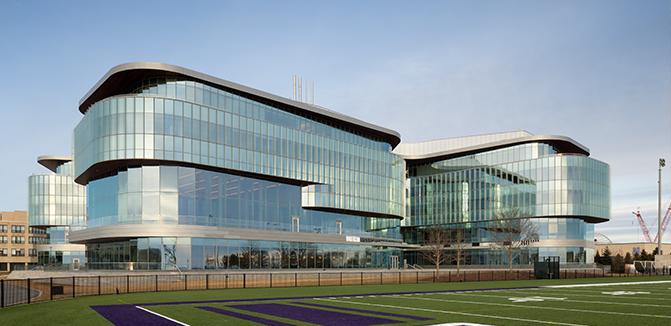 Article content
Click here to view Chicago Tribune
Pay no attention to the fact that the curvy new home of Northwestern's Kellogg School of Management resembles the letter "K" when seen from the air. The $250 million building, which formally opens to students Monday, is not an architectural one-liner that utters one loud cry and then has nothing else to say.
This is a carefully wrought, spatially complex design that promises to teach future executives valuable lessons about collaboration, boldness and flexibility. Those lessons, one hopes, will seep in, considering the stakes involved. The 2008 collapse of Lehman Brothers almost took down the world's financial system and led to the worst recession in 80 years. If business leaders matter, the architecture of the schools in which they learn their trade should matter, too.
This one looks coolly commercial at first glance, as though it had been air-lifted in from a corporate campus in Schaumburg or Rolling Meadows. Yet it warms up at close range and as you move through its deftly composed, sometimes spectacular collection of interior spaces. The architecture isn't going to prevent future financial crashes, of course, but it might just inculcate a better way of doing business.
Located on lakefill that Northwestern built in the 1960s and portentously named the Global Hub, the five-story, 415,000-square-foot building consists of four interconnected wings that pinwheel around stacked atriums — one for the approximately 2,000 people who will use the building each day, the other reserved for faculty. One of the reasons that Toronto-based KPMB Architects won the job is that it didn't call for a single, five-story atrium, as other finalists did. Kellogg's dean, Sally Blount, thought such a space would have been visually impressive but socially impersonal.
The architects' basic diagram is sound, if not particularly original. Every business school these days seems to have a knock-your-socks-off atrium. To cite just one example, New York architect Rafael Vinoly gathered his 2004 University of Chicago business school around a spectacular atrium supported by steel vaults that evoke the university's Collegiate Gothic style.
Nonetheless, the Kellogg diagram breaks down the mass of what could have been a monolithic monster. And KPMB's Bruce Kuwabara and Marianne McKenna have done much to elevate the building beyond the banality of office buildings that line highways in the suburbs.
Like the ship-shaped Ryan Center for the Musical Arts that Northwestern opened in 2015, the business building represents a long-overdue step forward for a university that in the 1970s was erecting concrete structures which cut off inhabitants from natural light and views of the lake. The design is also a major upgrade from Kellogg's old home, the cramped and dreary Donald P. Jacobs Center at 2001 Sheridan Road. That subpar building must have weighed on school administrators as their peers at other institutions built flashy new quarters to help lure top students and faculty.
The contrast between old and new is especially evident once you step into the Global Hub's atrium, a striking, light-filled space with three levels above ground, one below and another weird name — Collaboration Plaza.
Bringing the exterior's curves inside, smooth white balconies swoop around the room and link the four wings. Bridges clad in wood also join them. Two flights of wide wood steps (increasingly a design cliche) spill from the second floor to the lower level, offering theater seating and a place for students to hang out. There are tantalizing vistas and visual surprises, like a room that seems to be floating in space. Curving stairs shoot from one level to another. The space simultaneously manages to be visually dynamic and calmly ordered. Once the students arrive, we'll see how it really works — a lively village square or a cavernous hall that's too big for its own good.
This much is clear: The atrium kicks off a rich assortment of interior spaces that vary in scale but share the underlying characteristics of spatial excitement and access to daylight. Among them: a flexible, double-height auditorium on the second floor with fabulous lake and city views; thin, multistory meeting rooms that act like light wells in the center of the wings; and student lounges, complete with fireplaces and classic midcentury modernist furniture, at the wings' tips. The idea is variety — to stave off boredom for students who will spend most of their day in the building.
"We wanted there to be choices so it is not the same every day," Kuwabara said.
Other bright spots also deserve a mention. With an admirable eye toward flexibility, tiered classrooms can be reconfigured over the course of a summer to flat-floored rooms. Faculty offices, which line the perimeter of the upper floors, have fine views as well as the acoustic and visual privacy teachers crave. Warm wood wall coverings and accents are effectively used throughout, reflecting the Danish modern influence of Northwestern trustee Gordon Segal, co-founder of Crate & Barrel, who worked with Blount on the project. And the energy-efficient building is seeking the highest levels of LEED (for Leadership in Energy and Environmental Design) status.
To be sure, some of the concrete work is uneven in quality, but that's a quibble. The bigger picture is that the complex geometry of this design is of the digital age even as the atrium and other gathering spaces push students and faculty to engage in old-fashioned face-to-face contact. The biggest issue of all is how this formally effective design will function — and what impact it will have on learning, teaching and research.
The stakes are high. Just think back to 2008.