Northwestern University builds a new curving, glassy home for its business school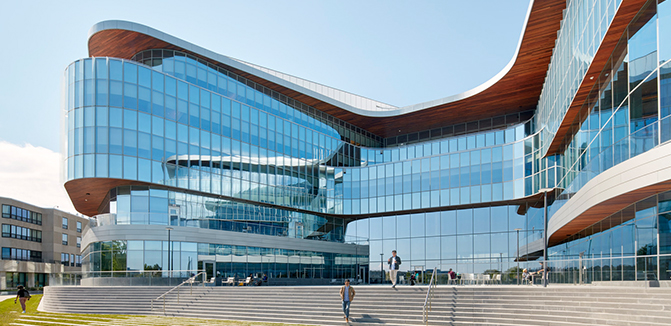 Article content
Click here to view The Architect's Newspaper
Dubbed the Global Hub, Northwestern University's latest addition to its Evanston campus is a grand new home to the Kellogg School of Management. The recently opened five-story building sits immediately along the shore of Lake Michigan on land reclaimed by the university decades ago. Defined by four large wings, which produce a plan that resembles the letter K, the curving form of the building makes no small reference to the waves on the water it overlooks.
"The first inspiration was the action of the water and the waves, and how they round off materials and forms to make them smooth," explained Bruce Kuwabara, partner at Toronto-based firm KPMB, which designed the new building. "It was beautiful, the power of Lake Michigan and nature."
The project is composed of a series of vastly different-sized spaces, accumulating to a whopping 415,000 square feet. The building is the new home to full-time business students, faculty, and administration offices. Collaboration areas throughout can accommodate from two to twenty individuals, and larger gathering spaces can handle from 200 to 2,000.
The largest space in the complex is the massive multistory center atrium, where all four wings connect. The structure's exterior curves continue into this space in the form of flowing balconies and staircases. Two of the large wooden staircases at the heart of the building double as seating for formal and informal events. Another atrium on the upper levels acts a second major space. Both allow for copious amounts of natural light.
 The building's high-tech envelope not only allows in all of that light, but also contributes to the project's goal of achieving LEED Gold certification. Throughout, double and triple glazing provide daylight and energy efficiency, while automated shading controls glare and solar gain. A series of undulating fritted glass fins adds an additional layer of shading. On the interior, borrowed light is distributed through glassed office partitions. Perhaps even more than daylighting and energy efficiency, the glass facade provides something the building takes ample advantage of: unmatched views of the lake and the downtown, 15 miles to the south.
Called the "Global Hub," it is part of the University's larger building program that includes the 2015 Goettsch Partners–designed Patrick G. and Shirley W. Ryan Center for the Musical Arts. Both new additions to the campus run counter to its existing catalogue of Brutalist and gothic-revival structures.
The stark contrast between old and new on Northwestern's campus is the school's physical manifestation of its vision for the future of education. And Northwestern is not alone—dark wood–lined halls and oak tree–filled quads are being replaced by brighter, more transparent and generous collaboration spaces at many traditional campuses. It is only a matter of time before the image of the elite campus is less about spires and more about sunlight.