New Home For Northwestern's Kellogg School Aims To Spark Creativity, Collaboration – Forbes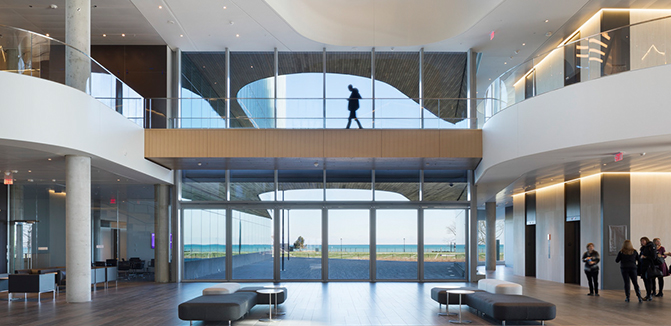 March 30, 2017
It's a truism of all new university buildings that they come with a term paper's worth of architectural mumbo jumbo. But Northwestern University's Global Hub, new home for the vaunted Kellogg School of Management, seems to deliver on its design promise to be a catalyst for creative, collaborative thinking.
The building is designed for the core needs of a business school, with plenty of classroom and conferencing space. But it also encourages interaction.
"The thing that we're all talking about is the collaboration," said Linda Darragh, a Kellogg faculty member who also heads the school's Levy Innovation and Entrepreneurship Initiative. "I've seen students I hadn't seen in months."
"At the core of the design is people working together," she said.
The five-story, 410,000 square-foot building spreads out in four directions around two atriums and a cleverly designed array of common spaces, flexible classrooms and conference areas. There are traditional study lounges and a cafeteria, as well as a coffee shop. But there's also a design lab featuring a maker space – with the obligatory 3D printer – and a studio for a yet-to-be-named artist in residence.
Leann Paul, the lead project manager for the building, emphasized that several spaces don't yet have a specific use in mind. The artist's studio, for example, is there because "the dean feels very strongly about teaching people with different kinds of approaches."
Designers from Toronto-based KPMB Architects steered clear of one huge central atrium, creating instead a series of spaces that weave in and out of the four wings of the building. The result is not only a place that invites students to settle in and find places to work, either alone or in groups, but that also takes advantage of some spectacular lakefront views of the Chicago skyline.
Chicago Tribune architecture critic Blair Kamin, praised the design.
"This is a carefully wrought, spatially complex design that promises to teach future executives valuable lessons about collaboration, boldness and flexibility," Kamin wrote.
Kellogg Dean Sally Blount, addressing a crowd of dignitaries gathered for the official opening of the building, said Kamin's words validated all the work that went onto the school's new home.
"The architects and I looked at each other and I said: 'That's like our project brief.'" she said. "We must have all done something right."
Darragh, who is active in Chicago's startup community, said many parts of the building remind her of successful co-working spaces, where people can interact, share ideas, feed off a creative spirit and work together on challenging problems.
"For entrepreneurs, I feel you have to be in the milieu," she said.
That "milieu" was quietly on display as I walked around the building recently. Four weary students sat at a table near the coffee shop, leaning in toward each other with furrowed brows, clearly thinking hard about something.
"So," one of them said as he stared at his laptop, "what exactly is the problem?"
"That's a good question," said another.
"Maybe that's the problem," said a third, after a pause.
John Carpenter is a Chicago-based journalist covering technology and innovation in the Midwest.