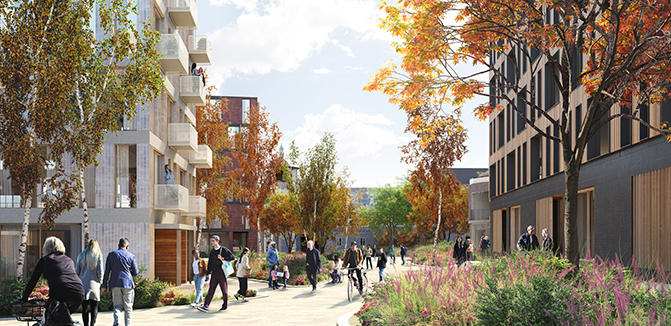 Article content
November 22, 2021
"Imagine if architects came together to solve the global housing crisis," Shirley Blumberg, founding partner, recently wrote. "The pandemic has exposed the lack of housing for those experiencing homelessness, and the overcrowded living conditions in underserved neighbourhoods." 
Today is National Housing Day in Canada and KPMB is committed to helping build social and economic well-being in all communities, responding to the priorities of people for whom racial injustice, inequality and the lack of affordable housing are facts of everyday life. Our buildings are designed to enrich the social fabric, to be accessible and welcoming, and to provide opportunities, large and small, for communities to grow and prosper. 
"Canada has an incredible opportunity here and it is so important for our profession to respond. Moreover, it is super important to bring diverse voices to the table to be part of the decision making. This is critical to how we shape our cities moving forward," says partner Bruno Weber.   
From family-focused affordable rentals and mixed-used housing for Toronto Community Housing Corporation to the residential revitalization of such neighbourhoods as Regent Park, Canary District, Tyndale Green, and Downsview in Toronto and our research on missing-middle developments to our collaboration with Two Row Architect and the Fort Severn First Nation for the National Research Council Canada's Path to Healthy Homes program, we are committed to shaping a sustainable and equitable future to improve people's lives through design.  
In the spirit of collaboration, we invite you to please reach out if you have opportunities to share, new partnerships we can engage in, or work that you feel we would be well-suited to assist with.