Manitoba Hydro & Elementary Teachers' Federation of Ontario Headquarters named among Canadian Architect's Earth Day stories on sustainability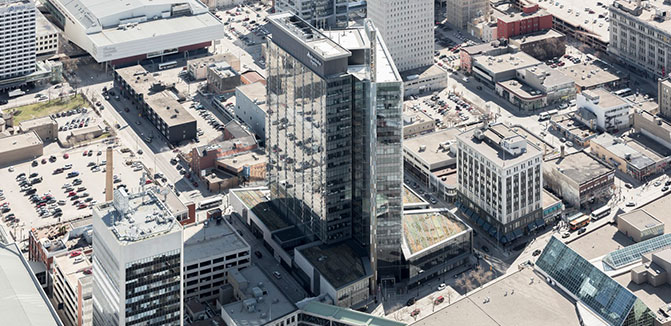 Article content
Click here to view Canadian Architect
April 22, 2019 is the 49th annual Earth Day, and with reports of climate change's accelerating pace, we have all the more reasons to pay head to the environment's state of health. We've rounded up eight must-read stories about sustainability in Canadian architecture to mark Earth Day 2019.
The OAA is leading by example in taking on a net-zero energy retrofit for its headquarters.
Architecture's Climate Crisis
Last fall, the IPCC issued a special report detailing what needs to happen for the globe to reach a maximum of 1.5 degrees Celsius of warming—the threshold beyond which catastrophic effects (such as sea level rises that obliterate island nations and coastal cities) are considered inevitable. Here's what Canadian architects need to know about the report and its recommendations.
The Bill Fisch Forest Stewardship and Education Centre by DIALOG is a certified "Living Building." Photo by Cindy Blazavic.
Improving energy efficiency in new and existing buildings is essential in Canada's efforts to counter the effects of climate change. Douglas Macleod reports on how to move forward – including why national energy benchmarking and the "unsexy, hard, grunt work" of deep energy retrofits are mission critical.
A concept design for Sidewalk Toronto's mass timber buildings. Rendering by Snohetta.
One of the most promising technologies towards reducing the carbon footprint of buildings is mass timber—wood sequesters carbon, and using it in buildings locks it from the atmosphere, and frees land for planting new trees that repeat the cycle. Several high-profile tall timber buildings are due to land in Toronto, including a proposed set of a dozen highrises in the Sidewalk Toronto proposal, and George Brown's Arbour (the latter won a Canadian Architect Award of Excellence last December).
Manitoba Hydro Place. Photo by Maris Mezulis, courtesy KPMB Architects.
Canada's sustainable past
 We've got some sustainable pioneers to be proud of. KPMB and Smith Carter's Manitoba Hydro Place is among the world's most sustainable high-rises, and KPMB's more recent Elementary Teachers' Federation of Ontario Headquarters brings its innovations to a mid-rise structure. Manitoba Hydro includes multi-storey atriums with waterfalls that regulate humidity, while the ETFO Headquarters includes an innovative geothermal installation that was installed with compact drill-rigs after the structure was complete.
The PEI Ark in 1974. Photo by Nancy Willis.
Back in the 1970s…
Looking back a few decades, Canada was on the top of the sustainability game. The Prince Edward Island Ark was a radical vision for off-the-grid, fully sustainable living – complete with a greenhouse and aquaculture. Steve Mannell's recent book and exhibition documents  the story behind the PEI Ark (complete with an appearance by Prime Minister Trudeau père at its opening).
A farmhouse upgraded to Passive House standards by Jonathan Kearns.
Passive House from the frontlines
Jonathan Kearns of Kearns Mancini Architects offers a first-person perspective on what it takes to implement Passive House design in a trio of projects—from a small, highly complex renovation to a large-scale proposal for a student residence.
The kitchen of writer Ann Cavlovic's Passive House, designed by Ottawa architect Mark Rosen. Photo by Mark Rosen.
Passive-Aggressive Haus
And here's what Passive House design can look like from the client's perspective. Ann Cavlovic recounts what it takes to build an Ottawa-area house that can operate with the energy of a hair-dryer, while raising a young child.
The renovated courtyard of Parliament Hill's West Block. Photo by Tom Arban.
The House is in Session
Sometimes the most sustainable solution is reusing an existing building. Our review of Parliament Hill's West Block renovation shows what that can entail—when the existing structure is one of the country's most significant heritage structures. The West Block now houses the temporary House of Commons. Next up in large-scale projects on Parliament Hill will be a decade-long renovation of the Centre Block.