Laurentian University honours Marianne McKenna for improving lives and communities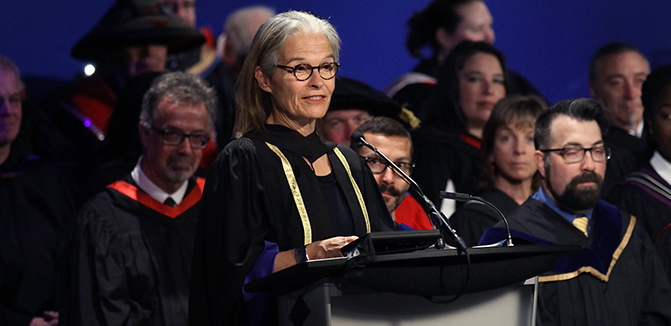 Article content
Click here to view Laurentian University
Laurentian University will award honorary doctorates to four distinguished Canadians during its 2017 Spring Convocation ceremonies in Sudbury. This year's recipients have dedicated themselves to helping people and improving their communities through the fields of healthcare, education, architecture, and law.
"The honorary doctorate recipients this spring have contributed to the betterment of society through their wisdom, dedication, and commitment," said Dominic Giroux, President and Vice Chancellor, Laurentian University.  "Their selfless contributions and achievements have touched the lives of many and we are thrilled to welcome them as part of our Laurentian Alumni family."
Among those who will receive honorary doctorates are; noted nursing researcher and advocate Louise Picard, Indigenous Elder and educator Rita Corbiere, internationally renowned architect Marianne McKenna, and Toronto lawyer and philanthropist Perry Dellelce.
"These distinguished Canadians have spent their lives doing good for others," said Laurentian University Chancellor Steve Paikin. "I am delighted to award these honorary doctorates to these outstanding people who have excelled in their own fields while also turning their talents to improving the world around them."
The following individuals will be awarded Honorary Doctorates at Convocation ceremonies to be held at Laurentian's Sudbury campus:
Marianne McKenna
Doctorate of Laws (honoris causa) – Convocation for the charter class of the McEwen School of Architecture
Marianne McKenna founded KPMB Architects with her partners in 1987 as a hybrid model of practice based on gender equity, collaboration, diversity and excellence. Today KPMB is globally recognized as an award-winning Canadian practice. Born in Montreal, and educated at Swarthmore College and Yale University, Marianne has devoted her career to design excellence in architecture. In 2010, Marianne was named one of Canada's Top 100 Most Powerful Women and in 2014, one of the 50 Most Powerful People in Canada by Maclean's. In 2012, she was invested as an Officer of the Order of Canada for creating "architecture that enriches the public experience." Marianne is internationally acclaimed as the architect of the Royal Conservatory TELUS Centre and its iconic Koerner Hall, which has been praised by artists ranging from Chick Correa to Yo-Yo Ma. Her distinguished projects include the Rotman School of Management at the University Toronto, the Mike & Ophelia Lazaridis Quantum-Nano Centre at the University of Waterloo, and the Kellogg School of Management at Northwestern University, described by the Chicago Tribune as a "spatially complex design that promises to teach valuable lessons of collaboration." Currently Marianne is working on projects for the Brearley School in New York, historic Massey Hall in Toronto, and the Banff Centre for Arts & Creativity in Banff National Park, Alberta. Marianne's love of architecture extends to teaching, mentoring, and advocacy. In the fall of 2016, she was the Lord Norman R. Foster Visiting Professor at Yale University and she currently serves on the Board of Directors for Metrolinx.