KPMB named one of Canada's Top Employers for new graduates by The Career Directory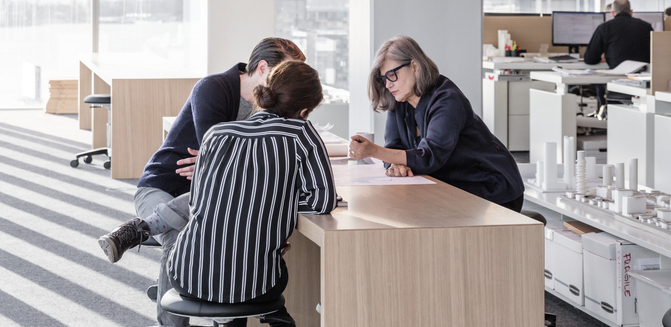 Article content
March 29, 2023
The Career Directory, one of Canada's longest-running guides to entry-level positions for recent college and university graduates, has selected KPMB Architects as a 2023 Top Employer. Now in its 31st year, The Career Directory recognizes employers across Canada committed to attracting and retaining young talent.  
We were commended for the wide range of opportunities and benefits we offer to students (paid internships, summer jobs, and co-op opportunities), new graduates (subsidies for professional accreditation, in-depth orientation programs, online and in-house training, and mentoring), and current employees (robust health benefits, flexible work hours, career development and leadership training). Our employees are also able to support their local communities through various charitable initiatives, such as Canstruction and Gingerbread for the City. 
Since the firm's beginnings, we've been committed to opening doors for new graduates and providing them with a supportive environment for professional growth. Many of our staff joined the firm as student interns and have since progressed to more senior positions – including associates, senior associates, and principals. 
"At KPMB, we strive to promote a culture where all students meaningfully contribute to projects and most importantly, learn and grow as young designers," said Tyler Loewen, associate and member of the student hiring committee. "Our goal is to ensure a fulfilling experience while supporting and building valued relationships with our students." 
Associate Roxane Bejjany who also sits on the student hiring committee added, "Students are integral to the work in the office, bringing diverse perspectives while being exposed to all facets of a project. We have seen many of our students extend their terms or come back over the years to continue their career with us." 
Additionally, we're passionate about investing in diverse, young talent. Partnering with Indspire, we've funded bursaries for Indigenous people in Canada pursuing post-secondary education in architecture, landscape architecture, urban planning, and related design fields. We also created the KPMB Indigenous Design Excellence Award (IDEA) to help provide financial support to Indigenous students at Laurentian University. 
Interested in joining our team? Visit our Careers page to see current opportunities.