Meet our seven new partners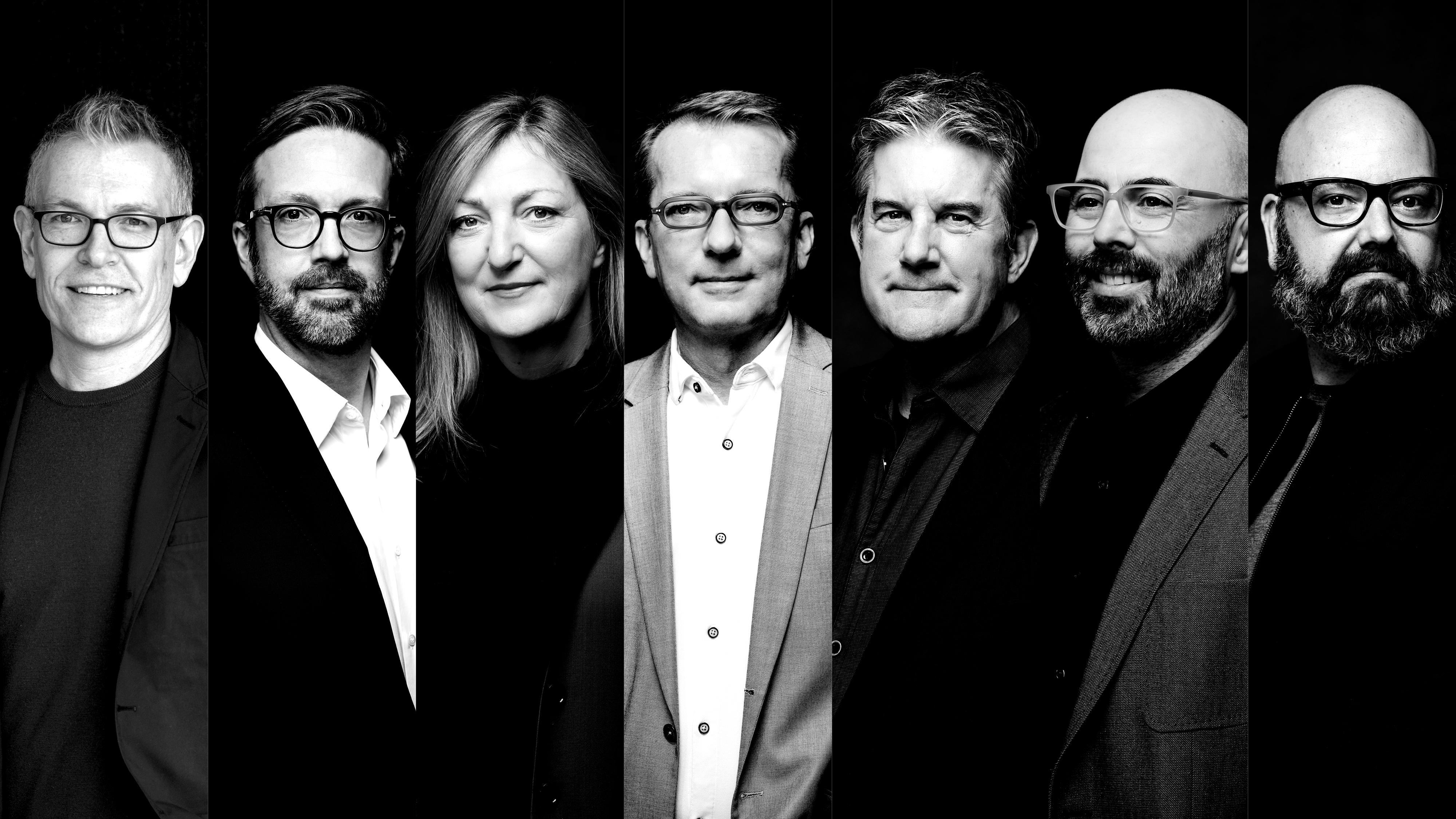 Article content
August 27, 2021
Click here to read more about our evolution
For more than three decades, KPMB has evolved in response to a changing world – and worked to change it for the better. Our firm hasn't simply kept pace with change; we've taken every opportunity to inspire, shape and advance it. Because that's what good architecture does.
Now we're pleased to announce the next major milestone in our evolution: a significant expansion of the KPMB leadership team. Seven senior members of the firm have been named partners alongside our three founders. We've also named four new principals and three new directors. This expanded team, bringing together diverse perspectives and a wealth of experience, is ready to guide a new generation of creative problem-solvers.
Meet the New Partners
Kevin Bridgman, OAA, MRAIC
For nearly 25 years, Kevin has helped drive the design and development of some of KPMB's most recognized projects across North America, from the Banff Centre to Boston University. His portfolio crosses all typologies and sectors, including academic, adaptive reuse, civic, cultural, hospitality, and master planning. Currently, Kevin is leading KPMB's collaboration with Henning Larsen Architects and SLA to transform a 520-acre former airport and its surrounding lands in Toronto, into a vibrant and resilient neighbourhood. "We bring a collective open-mindedness to every project, large or small. Our unique design thinking has always been about inspiring change and challenging one another. The future of KPMB will involve even deeper collaborations," says Kevin.
Steven Casey, OAA, MRAIC
Since joining KPMB in 2002, Steven has helped significantly extend our portfolio of institutional and architectural interiors work. His passion for excellence in design and construction is epitomized in projects such as the award-winning Centre for International Governance Innovation in Waterloo. "What we do best is create opportunities that advance the building of a better world," says Steven. He is currently creating a new workplace strategy and design for Scotiabank headquarters at the Bay Adelaide Centre. Steven also works closely with the Marketing and Business Development teams. Steven is a supporter of the Toronto's arts community, and he sits on the development committee for the St. Lawrence Neighbourhood Association.
Phyllis Crawford, CPA, CGA
Since 2008, Phyllis has supported our architectural work with her expertise in finance, risk management, process engineering and the systematic sharing of knowledge – all critical to the evolution of our practice. "Building on KPMB's legacy of excellence, we're cultivating a supportive, inspiring culture that will lead to previously unimagined design ideas and solutions," she says. Phyllis' expertise has greatly impacted our relationships with such clients as Brookfield Properties, the Aga Khan Foundation of Canada, Princeton University, and Northwestern University, to name a few. She has been essential to the growth of our firm across North America.
Andrew Dyke, OAA, MRIAC
Since 1990, Andrew has led multidisciplinary teams on a range of major institutional, government, and developer-driven projects. The 2015 Pan/Parapan American Games Athletes' Village, subsequently converted to a neighbourhood of affordable, market-value and student housing, reflects his passion for social sustainability. "There's a heart to KPMB in the relationships we build with collaborators, communities, and each other," says Andrew, who is also a leader and participant in the firm's CSR initiatives. He is currently leading the restoration and mixed-use redevelopment of Bloor Street United Church in Toronto and the reimagination of the Park Hyatt hotel in Toronto for Oxford Properties, opening in September 2021.
Mitchell Hall, OAA, FRAIC
Since joining KPMB in 1989, Mitchell has brought his unique brand of design excellence to a wide array of projects, from a Niagara winery and Canada's National Ballet School to Bridgepoint Active Healthcare. He has a passion for buildings devoted to healthcare and scientific inquiry. He believes that architects must offer agency, acting in the best interests of people and place, to help make a better world. "We need to create environments that inspire people as they face life-changing challenges and work to solve the global pandemic," says Mitchell. Currently, he is leading KPMB's collaboration with Stantec on the architectural design for Project Horizon, The Hospital for Sick Children's 10-plus year campus redevelopment that aims to create an inspired hospital of the future.
Paulo Rocha
Driven by detail, Paulo began here as a student in 1995 and has played a key role in KPMB's evolution through his work on numerous and diverse projects, including Toronto's Gardiner Museum, the Rotman School of Management, and the Remai Modern art museum in Saskatoon. His pursuit of excellence is rooted in the artistry in massing and composition. "I'm excited about the future as we build on our strong architectural foundations, balancing good design with our vision of sustainability," he says. Currently, Paulo is the Design Architect for the new Center for Computing and Data Sciences at Boston University, a building designed to achieve Zero Net Energy and become the largest fossil fuel-free building in the Boston area.
Bruno Weber
Bruno joined KPMB in 2000 and has since worked on projects ranging from Hamilton's Pier 8 and TIFF Bell Lightbox to the University of British Columbia's Ponderosa Commons and Robert H. Lee Alumni Centre. Bruno has helped KPMB create architecture that unites diverse groups around shared goals. "We want our work to create a positive impact on the social and wellbeing of our communities – and that includes mentoring the next generation of designers and architects." Bruno's commitment to the intersection of socio-economic justice and design has led to meaningful collaborations with diverse groups and clients, including Indigenous leaders and communities in Hamilton and Northern Ontario, Canada.
Olga Pushkar, Kael Opie, David Constable, and Judith Taylor become principals joining David Jesson, Goran Milosevic, and Robert Sims, while Maryanne Iwamura, Amanda Sebris and Nina Boccia become directors, joining Dawn Stremler, Phil Marjeram, and Geoffrey Turnbull.
This is an important step forward. At the same time, it's an affirmation of what remains unchanged: the shared values and core beliefs that have always defined KPMB. Read more about our evolution here.