KPMB Architects / Stantec Architecture, Architects in Association receive editors' pick in The Architect's Newspaper Best of Design Awards' for Isttaniokaksini / Science Commons at University of Lethbridge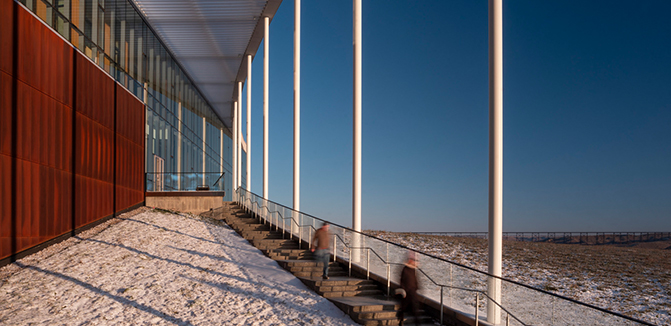 Article content
December 2, 2020
Click here to view The Architect's Newspaper
In their editorial accompanying last year's Best of Design magazine, AN editor in chief Bill Menking and then-executive editor Matt Shaw observed a tendency toward muted color and understated form among the winners. They asked if this was evidence of a broader trend or if 2019 was "just a quiet year."
As we close out 2020, we might flip the interrogative emphasis around. Do this year's Best of Design honorees reflect the tumultuous events of the previous 12 months? The short answer is yes: Both the Project of the Year and the first runner-up—the Memorial to Enslaved Laborers at the University of Virginia and the 1199SEIU member spaces in New York, respectively—address America's fraught history of race, albeit in different ways. The former circumscribes a space for mournful contemplation by making an earthly incision, while the latter emanates the moral optimism of another age.
And yet the answer could just as easily be no. The majority of the winning projects were completed in mid-to-late 2019 or early this year, just skirting the construction lockdowns of April and May and the street protests of June and July. These forces—"exogenous," perhaps, to the AEC sectors but not to society at large—were most likely to affect the operations of the buildings and interiors compiled in the following pages, rather than their final form.
So, if we are unable to draw any determinative aesthetic trends, what can we say about these projects? What attributes connect these 47 discrete works, representing a total of 50 categories and culled from more than 800 submissions? To begin with, the quality of the submissions has rarely been stronger or, as mentioned above, more timely. A few were especially creative in the face of current constraints, particularly Outpost Office's Drawing Fields, the winner in the Temporary Installation category; the project employs roving robots to reimagine a performance venue for the COVID-19 era.
Meanwhile, Koning Eizenberg's MuseumLab in Pittsburgh and Adjaye Associates' Webster retail store in Los Angeles underscores the importance of mood to interior spaces. Marlon Blackwell Architects' Thaden School Bike Barn, which took the top prize in the Institutional–Kindergartens, Primary & High Schools category, is the cheeriest—and, thanks to its wood slat enclosure, breeziest—project. And is there a more ideal locale for self-isolating than PRODUCTORA's Bautista House, whose residents are shielded by a Yucatán nature reserve?
In closing, we'd like to thank our talented cast of jurors, who gave our submissions the discerning scrutiny they all deserve. We'd also like to point the reader to the 2020 Best of Product winners. While many are particularly well suited to the new normal, they certainly aren't constrained by it. We hope that all the work contained in this issue inspires and provokes in equal measure.
Institutional Higher Education
Editors' Picks
Isttaniokaksini/Science Commons at University of Lethbridge
KPMB Architects
Stantec Architecture
The Commons at Tulane university
WEISS/MANFREDI
Waggonner & Ball