Koerner Hall still dazzles after almost a decade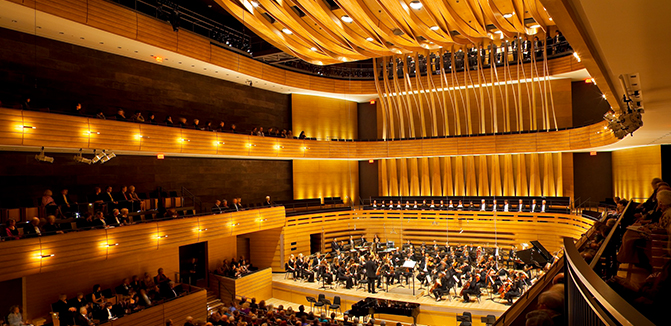 July 8, 2017
Click here to view The Toronto Star
Third in a series taking a second look at Toronto's architectural showpieces 10 years after the building boom.
Though Koerner Hall only opened in 2009, it somehow seems Stewart Goodyear was always meant to perform there.
The pianist wanted to be a musician from his earliest memories and, growing up in the Annex, the block occupied by the Royal Conservatory of Music was "always a part of (his) life." When Goodyear eventually trained there before continuing to complete his master's at the Juilliard School in New York, "it was almost like fate."
A similar feeling of serendipitous destiny found Goodyear performing in Koerner Hall for the first time on Nov. 28, 2010, just over a year after its opening. Nearly seven years later, his recollection of the evening remains note-perfect.
"I remember every moment of that performance," Goodyear said. "First of all, rehearsing in that space right before the concert, I fell in love with the acoustics of the hall. It was very inviting, very clear and very comfortable.
"When I performed, there was such a warm welcome from the audience. They gave me a rousing ovation even before I played. That alone put me at ease. It became more than a concert hall. It almost became a living-room setting, playing for friends: a salon."
In fact, "more than a hall" is a near-perfect description for the lofty goals initially laid upon the Royal Conservatory rejuvenation project and what would become the 1,135-seat Koerner Hall, a dazzling shoebox-style gem that Toronto celebrated upon opening with uncharacteristically unanimous admiration.
"Koerner Hall was never conceived as another hall; it was conceived to be the ultimate hall," says Peter Simon, president and CEO of the Royal Conservatory.
The ambitious project to redevelop the Royal Conservatory was first delivered by Marianne McKenna and her team at KPMB Architects in 1991, Simon's first year leading the organization. At the time, the Royal Conservatory occupied a 19th-century Harry Langley-designed Victorian building at 273 Bloor St. W., originally used as a Baptist college for women, that was both extraordinary and deteriorating.
The roof was on the verge of collapse; the heating, cooling and wiring systems needed replacing, and other so-called "updates" — linoleum installed over wooden floors, metal piping layered over the building's beautiful back wall — had not aged well.
"It was really, as one architect told me, near the end of its useful life as a building," Simon recalled.
McKenna, meanwhile, saw a building with "good bones." Still, she knew she was facing a considerable challenge. The new building always had a dual mission to function as a top-notch educational facility and peerless performance space. McKenna was being tasked with creating a new 1,000-plus-seat theatre with flawless acoustics and esthetics as well as 40-plus new practice studios, a handsome café and multiple public spaces, all around a heritage building on a cramped site that featured little room for anything new.
"It was like a Rubik's Cube getting everything in there," McKenna recalls.
Worried that Koerner, an "elephant," would overwhelm the "delicate" McMaster Hall, McKenna's solution was to wrap the new hall in smaller lobbies and studios to soften the scale of the project. The new building connects unobtrusively with sheets of glass that slip into razor-thin vertical slices on the old building, and the new building pulls away where appropriate to showcase beautiful stone and brick walls. She wanted the addition to be "reciprocal" and "respectful," and the nimble touch with which McKenna interwove a contemporary design with the historic original still merits raves.
"The integration of the old with the new is very good," said Marco Polo, former editor of Canadian Architect magazine and professor in Ryerson University's department of architectural science. "There's no attempt to mimic the historic building but, at the same time, the contemporary intervention is quite sympathetic to it. It's not upstaging it and it's not discordant with it."
Then there's the graceful, gorgeous interior of Koerner Hall, with its undulating wooden waves billowing just below the ceiling and sumptuous autumnal hues (you'd be forgiven if Koerner Hall's seductive cameo is about all you remember of Atom Egoyan's Chloe). That ceiling veil was a creative solution to McKenna's concerns about how an acoustical canopy would look. Because, of course, compromising on the hall's acoustics was never an option.
Koerner is now renowned for its sound and, if notes travel with unencumbered clarity inside the hall, it seems word travels fast outside, too.
"Internationally, it is known that you want to play Koerner Hall," Simon said.
Certainly, Koerner has been a persuasive enough draw to lure the disparate likes of Yo-Yo Ma, Lang Lang and Meryl Streep. In fact, Simon was chatting only hours after providing a tour of the building to famed Russian soprano Anna Netrebko, who had heard of the hall's unparalleled acoustics from Dmitri Hvorostovsky.
Simon recalls when during a performance by Garrick Ohlsson at Koerner, he was surprised when the American pianist included Debussy's "Clair de Lune" in his encore. He asked the pianist about the "gutsy" choice later and Ohlsson replied that he made the decision spur of the moment when he realized Koerner's acoustics were so clear he actually could "play something that soft."
Goodyear, too, has been inspired to take risks at Koerner. He's premiered all of his personal projects there and, in 2012, he staged his first-ever Beethoven marathon there, performing all 32 of the German composer's piano sonatas in one day from memory.
"I feel like every time I play at Koerner Hall, I'm home," he said. "It's how my life as a musician began in Toronto. I feel like inspiration as a performer begins at Koerner Hall.
"It is," he added later, "one of the very top halls in the world in my opinion."